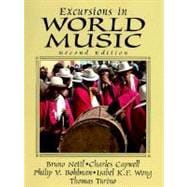 Questions About This Book?
What version or edition is this?
This is the 2nd edition with a publication date of 9/1/1996.
What is included with this book?
The New copy of this book will include any supplemental materials advertised. Please check the title of the book to determine if it should include any CDs, lab manuals, study guides, etc.
Summary
This dynamic introductory book takes readers on a vivid exploration into the major musical cultures of the world by first presenting a lively vignette of a musical occasion, and then placing that occasion in the context of a general description of the society and musical culture. KEY TOPICS The book divides the world into ten major culture areas and devotes a chapter to each, exploring the musical cultures of such fascinating lands as India, the Middle East, Indonesia, Sub-Saharan Africa, and Latin America. The presentation features a synthetic treatment of musical life and ideas about music, musical style, music history, and musical instruments; briefly describes additional musical genres or contexts; and considers recent developments. For individuals interested in the music of the world.
Table of Contents
Preface
xi

| | |
| --- | --- |
| | Introduction: Studying Musics of the World's Cultures |

1
(13)

| | |
| --- | --- |
| | Our Purpose: Presenting the World of Music |

1
(2)

| | |
| --- | --- |
| | Notes on The Marriage of Figaro |

3
(1)

| | |
| --- | --- |
| | Certain Basic Assumptions |

4
(2)
6
(1)

| | |
| --- | --- |
| | Musical Change, Transmission, and History |

7
(1)
8
(1)

| | |
| --- | --- |
| | Why Different Cultures Have Different Kinds of Music |

9
(2)

| | |
| --- | --- |
| | The Field of Ethnomusicology |

11
(3)
14
(28)

| | |
| --- | --- |
| | Attending a Music Conference in Calcutta |

14
(8)
22
(7)

| | |
| --- | --- |
| | The Karnatak Recital and Types of Pieces |

29
(4)
33
(4)

| | |
| --- | --- |
| | The Realm of Indian Music |

37
(2)
39
(3)
42
(27)
42
(6)

| | |
| --- | --- |
| | Musical and Cultural Values |

48
(6)

| | |
| --- | --- |
| | Middle Eastern Culture and History |

54
(4)
58
(2)
60
(9)
69
(35)
69
(9)

| | |
| --- | --- |
| | Instrumental Performance at a Teahouse in Shanghai |

78
(4)
82
(6)
88
(1)

| | |
| --- | --- |
| | Prominent Features in Culture and Music |

89
(3)
92
(1)
93
(11)
104
(27)

| | |
| --- | --- |
| | Hogaku Performance in Tokyo |

104
(8)
112
(7)
119
(4)

| | |
| --- | --- |
| | A Concert and a Court Tradition |

123
(5)

| | |
| --- | --- |
| | General Tendencies and Characteristics of Hogaku |

128
(3)
131
(30)

| | |
| --- | --- |
| | Javanese Music in Chicago |

131
(2)
133
(6)

| | |
| --- | --- |
| | The Cultural and Historical Significance of Javanese Gamelan Music |

139
(6)
145
(6)

| | |
| --- | --- |
| | The Influence of Foreign Artists and Tourists |

151
(3)

| | |
| --- | --- |
| | Four Kinds of Popular Music in Java |

154
(4)
158
(3)

| | |
| --- | --- |
| | The Music of Sub-Saharan Africa |

161
(30)

| | |
| --- | --- |
| | A Shona Mbira Performance in Zimbabwe |

161
(4)

| | |
| --- | --- |
| | The Mbira and Some General Principles of African Music |

165
(3)

| | |
| --- | --- |
| | Africa General and Africa Specific |

168
(1)

| | |
| --- | --- |
| | Musical Values, Practices, and Social Style |

169
(12)

| | |
| --- | --- |
| | A Sampling of Instruments |

181
(3)

| | |
| --- | --- |
| | Urban-Popular Music Traditions |

184
(7)

| | |
| --- | --- |
| | The Musical Culture of Europe |

191
(32)

| | |
| --- | --- |
| | Music in the Life of Modern Vienna |

191
(5)

| | |
| --- | --- |
| | Europe as a Music Culture |

196
(6)
202
(7)
209
(5)

| | |
| --- | --- |
| | History and Social Structure in European Musical Life |

214
(2)

| | |
| --- | --- |
| | European Music in the Late Twentieth Century |

216
(7)
223
(28)

| | |
| --- | --- |
| | An Andean Mestizo Fiesta in Paucartambo, Peru |

223
(4)

| | |
| --- | --- |
| | Sociocultural Heritages and Historical Background |

227
(2)

| | |
| --- | --- |
| | Mestizo Musical Values and Musical Style |

229
(9)

| | |
| --- | --- |
| | Native American Musical Values and Musical Style |

238
(6)

| | |
| --- | --- |
| | African-American Musical Values and Styles |

244
(7)
251
(18)

| | |
| --- | --- |
| | ``North American Indian Days'' |

251
(4)

| | |
| --- | --- |
| | Some Older Ceremonial Traditions |

255
(1)

| | |
| --- | --- |
| | The World of Native American Cultures and Music |

256
(2)
258
(2)
260
(3)

| | |
| --- | --- |
| | Aspects of the History of Native American Music |

263
(6)
269
(40)

| | |
| --- | --- |
| | Music at the Urban Folk Festival |

269
(3)

| | |
| --- | --- |
| | The Multiplicity of Musics in North America |

272
(3)
275
(8)
283
(5)

| | |
| --- | --- |
| | Social Structure/Musical Structure |

288
(3)

| | |
| --- | --- |
| | The Music of an African-American Community |

291
(10)

| | |
| --- | --- |
| | Contemporary and Popular Ethnic Musics |

301
(8)
Glossary
309
(22)
Index
331