Note: Supplemental materials are not guaranteed with Rental or Used book purchases.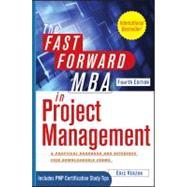 The Fast Forward MBA in Project Management
ISBN13:
9781118073773
by
Verzuh, Eric
Questions About This Book?
What version or edition is this?
This is the 4th edition with a publication date of 12/6/2011.
What is included with this book?
The eBook copy of this book is not guaranteed to include any supplemental materials. Typically only the book itself is included.
Related Products
Summary
A bestselling guide to managing projects. For any professional responsible for coordinating projects among different departments, executive levels, or projects with technical complexity, this book clearly explains how to do it on time and on budget. From finding the right sponsor to clarifying objectives to setting a realistic schedule and budget projections, this book will help everyone better manage the relationships and process needed to get the project done. This fourth edition is updated to reflect changes in the business environment in the past few years including: A new chapter on Software and IT projects, includes agile techniques (common problems and strategies for applying project management principles) The Project Management Institute's Guide to the Project Management Body of Knowledge, 4th Edition, was released in late 2008; The Fast Forward MBA in Project Management will be updated to stay aligned with this document Microsoft Project 2010/Project 2012 updates and references to Microsoft Project tutorials in the scheduling chapters or control chapters More downloadable forms
Author Biography
ERIC VERZUH is President of The Versatile Company, which provides project management training and consulting to thousands of professionals each year. His clients include major government agencies, small and large companies, and nonprofit organizations in such diverse industries as aerospace, health care, information technology, and education.
Table of Contents
ACKNOWLEDGMENTS
xvii
ABOUT THE AUTHOR xix
PREFACE xxi
DOWNLOADABLE FORMS xxiii
PART 1 INTRODUCTION
CHAPTER 1—PROJECT MANAGEMENT: THE KEY TO THRIVING IN THE NEW PROJECT-DRIVEN WORLD 2
Introduction 2
The Art and Science of Project Leadership 7
The Practical Foundation for Successful Projects: How This Book Will Help You 9
Project Management Relies on Other Disciplines 11
End Point 12
Stellar Performer: OrthoSpot 13
Stellar Performer: PM4NGOs 14
CHAPTER 2—FOUNDATION PRINCIPLES OF PROJECT MANAGEMENT 16
Introduction 16
Projects Require Project Management 16
The Challenge of Managing Projects 18
The Evolution of a Discipline 19
The Definition of Success 23
Project Management Functions 25
Project Life Cycle 26
Organizing for Projects 30
Project Managers Are Leaders 34
End Point 34
Stellar Performer: Seattle Children's Hospital and Regional Medical Center 36
PMP Exam Prep Questions 40
PART 2 DEFINING THE PROJECT
CHAPTER 3—KNOW YOUR KEY STAKEHOLDERS AND WIN THEIR COOPERATION 42
Introduction 42
Stakeholders Are the Heart of a Successful Project 43
Stakeholder Roles: Project Manager 43
Stakeholder Roles: Project Team 44
Stakeholder Roles: Management 45
Stakeholder Roles: The Customer 49
Stakeholder Roles: Representatives of External Constraints 51
Stakeholder Roles: Advocates, Opponents, and Innocent Bystanders 52
Make Stakeholder Identification a Repeatable Process 52
Lead the Stakeholders 53
End Point 53
Fast Foundation in Project Management 54
PMP Exam Prep Questions 58
CHAPTER 4—WRITE THE RULES: FIVE KEY DOCUMENTS TO MANAGE EXPECTATIONS AND DEFINE SUCCESS 60
Introduction 60
Project Rules Are the Foundation 61
Publish a Project Charter 63
Write a Statement of Work 65
Statement of Work: Minimum Content 66
Responsibility Matrix 73
Creating a Communication Plan 76
The Project Proposal Launches the Project 82
End Point 83
Fast Foundation in Project Management 84
PMP Exam Prep Questions 95
PART 3 THE PLANNING PROCESS
CHAPTER 5—RISK MANAGEMENT: MINIMIZE THE THREATS TO YOUR PROJECT 99
Introduction 99
All Project Management Is Risk
Management 100
The Risk Management Framework 103
Step One: Identify the Risks 104
Step Two: Analyze and Prioritize the Risks 108
Step Three: Develop Response Plans 113
Step Four: Establish Contingency and Reserve 118
Step Five: Continuous Risk Management 121
Unexpected Leadership 122
End Point 122
Fast Foundation in Project Management 123
Stellar Performer: Washington State Department of Transportation 124
PMP Exam Prep Questions 130
CHAPTER 6—WORK BREAKDOWN STRUCTURE: BREAK YOUR PROJECT INTO MANAGEABLE UNITS OF WORK 132
Introduction 132
Defining the Work Breakdown Structure 133
Building a Work Breakdown Structure 136
Criteria for a Successful Work Breakdown Structure 140
Work Package Size 143
Planning for Quality 145
Breaking Down Large Programs 147
WBS Guidelines Vary 147
Contractors or Vendors Can Provide a WBS 148
End Point 148
PMP Exam Prep Questions 150
CHAPTER 7—REALISTIC SCHEDULING 152
Introduction 152
Planning Overview 152
Planning Step Two: Identify Task Relationships 154
Planning Step Three: Estimate Work Packages 157
Planning Step Four: Calculate an Initial Schedule 165
Planning Step Five: Assign and Level Resources 175
Small Projects Need Smaller Plans 184
End Point 184
Fast Foundation in Project Management 185
PMP Exam Prep Questions 188
CHAPTER 8—THE ART AND SCIENCE OF ACCURATE ESTIMATING 190
Introduction 190
Estimating Fundamentals 191
Estimating Techniques 197
Building the Detailed Budget Estimate 206
Generating the Cash Flow Schedule 213
End Point 214
Fast Foundation in Project Management 215
Stellar Performer: Tynet, Inc. 216
Stellar Performer: Adobe Systems 219
PMP Exam Prep Questions 226
CHAPTER 9—BALANCING THE TRADE-OFF AMONG COST, SCHEDULE, AND QUALITY 228
Introduction 228
Three Levels of Balancing a Project 229
Balancing at the Project Level 230
Balancing at the Business Case Level 242
Balancing at the Enterprise Level 247
End Point 248
Stellar Performer: Safeco Field 250
Stellar Performer: Boeing 767-400ER Program 254
PMP Exam Prep Questions 256
PART 4 CONTROLLING THE PROJECT
CHAPTER 10—BUILDING A HIGHPERFORMANCE PROJECT TEAM 260
Introduction 260
A Framework for Building High-Performance Teams 264
Leadership Responsibilities 268
Building a Positive Team Environment 272
Ground Rules 273
Team Identity 275
Team Listening Skills 279
Meeting Management 283
Summary of Building a Positive Team Environment 286
Collaborative Problem Solving 287
Problem Analysis 287
Decision Modes 290
Conflict Management 294
Continuous Learning 298
Summary of Collaborative Problem Solving 300
Job Satisfaction 300
End Point 301
Stellar Performer: Habitat for Humanity 303
PMP Exam Prep Questions 304
CHAPTER 11—CLEAR COMMUNICATION AMONG PROJECT STAKEHOLDERS 305
Introduction 305
Embrace Your Role as a Leader 306
Communicating within the Project Team 309
Communicating with Management and Customers 317
Control Documents 318
The Change Management Process 318
Configuration Management 322
Change Management Guidelines Are Essential for Managing Expectations 325
Closeout Reporting 325
End Point 326
Fast Foundation in Project Management 327
PMP Exam Prep Questions 340
CHAPTER 12—MEASURING PROGRESS 342
Introduction 342
Measuring Schedule Performance 342
Measuring Cost Performance 347
Earned Value Reporting 349
Cost and Schedule Baselines 357
End Point 359
PMP Exam Prep Questions 360
CHAPTER 13—SOLVING COMMON PROJECT PROBLEMS 362
Introduction 362
Responsibility beyond Your Authority 362
Disaster Recovery 363
Reducing the Time to Market 364
When the Customer Delays the Project 365
The Impossible Dream 366
Fighting Fires 367
Managing Volunteers 367
Achieving the Five Project Success Factors 368
End Point 368
PART 5 ADVANCING YOUR PRACTICE OF PROJECT MANAGEMENT
CHAPTER 14—ENTERPRISE PROJECT MANAGEMENT: COORDINATE ALL PROJECTS AND PROJECT RESOURCES IN YOUR ORGANIZATION 373
Introduction 373
Defining Enterprise Project Management 375
Three Tiers of Management within EPM 377
The Four Components of EPM 379
Establish Consistent EPM Processes 380
Technology Enables EPM Processes 383
The People Who Deliver Projects 387
Support Project Management: The Project Office 388
End Point 396
CHAPTER 15—REQUIREMENTS ENGINEERING: THE KEY TO BUILDING THE RIGHT PRODUCT 398
Introduction 398
Requirements Engineering and Project
Management Are Intimately Connected 399
Requirement Types Illustrate the Evolving Product Vision 400
Requirements Engineering Scope and Processes 403
Requirements Development Activities 405
Requirements Management Activities 407
Requirements Documentation Techniques 409
Requirements Engineering Demands Discipline 409
End Point 411
CHAPTER 16—PROJECT INITIATION: TURNING A PROBLEM OR OPPORTUNITY INTO A PROJECT 412
Introduction 412
Project Initiation's Place in the Project Life Cycle 413
Enterprise Requirements Drive Project Initiation 415
Common Principles for Project Initiation 416
Basic Project Proposal Content 419
Designing a Realistic Initiation Process 422
End Point 423
Stellar Performer: The Logical Framework Approach 424
CHAPTER 17—INFORMATION TECHNOLOGY PROJECT SUCCESS FACTORS 434
Introduction 434
The Many Kinds of Software Projects 435
Why Are Information Technology Projects So
Challenging? 435
Current Best Practices in IT Project Management 439
Using an Agile Approach 442
End Point 442
Stellar Performer: The Agile Approach to Software Development 443
CHAPTER 18—PROJECT PORTFOLIO MANAGEMENT: ALIGN PROJECT RESOURCES WITH BUSINESS STRATEGY 454
Introduction 454
The Scope and Goals of the Portfolio 456
Stakeholders: Roles in Project Portfolio Management 457
PPM Information Supports Decisions 459
Project Selection and Prioritization 460
Ongoing Portfolio Management 463
Monitor the Results of Projects and the Portfolio 464
Culture Change 465
End Point 466
CHAPTER 19—PMP EXAM PREPARATION 467
Introduction 467
Requirements to Earn the PMP 468
Top 10 Study Tips for the PMP Exam 469
End Point 473
CHAPTER 20—MICROSOFT PROJECT: GUIDELINES FOR EFFECTIVE USE 474
Introduction 474
Project Management Software Supports the Discipline 475
Looking under the Hood: The Design of Project 475
Set Up the Project First 477
Follow the Planning Model in This Book 479
Task Types: Fix the Duration, Work, or Resource Level 482
Assigning Resources to a Project 484
Resource Leveling Your Schedule 486
Maintaining the Plan throughout the Project 487
Communicating with Your Team and Management 489
Project Server and Project Web App 491
End Point 492
APPENDIX: THE DETAILED PLANNING MODEL 493
NOTES 503
INDEX 507