Note: Supplemental materials are not guaranteed with Rental or Used book purchases.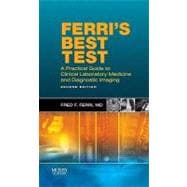 Ferri's Best Test: A Practical Guide to Clinical Laboratory Medicine and Diagnostic Imaging
ISBN13:
9780323057592
by
Ferri, Fred F.
Elsevier Science Health Science div
Summary
Written by Fred F. Ferri, MD, FACP, author of many best-selling books for primary care practice, Ferri's Best Test, 2nd Edition, equips you to quickly choose the most efficient and cost-effective diagnostic approach, including imaging or lab tests. Updates throughout, including more than 180 new tests...additional diagnostic modalities...and new algorithms...make this unique and user-friendly reference a must for determining which diagnostic tests to order. A portable, pocket-sized format allows for convenient consultation anytime, anywhere. Offers concise, well-organized guidance to the most common lab tests and diagnostic imaging modalities, all in one single resource, that makes reference remarkably fast and easy. Describes the most common imaging studies for each organ system, reviewing their indications, advantages, disadvantages, and approximate costs to simplify your decision-making process. Examines over 384 laboratory tests, describing the normal range of results in adult patients, typical abnormalities (positive tests, increased or decreased values), and the likeliest causes. Explores 222 common diseases and disorders, providing algorithms to help you select the single best test for diagnosing each condition. Features a portable, pocket-sized format that allows for convenient consultation anytime, anywhere. Features 184 new tests in an expanded laboratory test section; 8 additional diagnostic radiological modalities, including computed tomographic colonography, video capsule endoscopy, and intravascular ultrasonography; and 30 new algorithms in an expanded algorithm section, to provide you with the latest options for obtaining optimal diagnostic outcomes. Includes IU units added to all laboratory tests, to make the guidance more useful to clinicians practicing outside of the US.
Table of Contents
Diagnostic imaging
Abdominal/GI imaging
Abdominal film, plain (kidney, ureter, and bladder [KUB])
Barium enema
Barium swallow (esophagram)
Upper GI series (UGI)
Computed tomographic colonoscopy (CTC, Virtual colonoscopy)
CT of abdomen/pelvis
Helical or spiral CT of abdomen/pelvis
Hepatobiliary (iminodiacetic acid [IDA]) scan
Endoscopic retrograde cholangiopancreatography (ERCP)
Percutaneous biliary procedures
Magnetic resonance cholangiography (MRCP)
Meckel scan (TC-99m pertechnetate scintigraphy)
MRI of abdomen
Small-bowel series
Tc99m sulfur colloid scintigraphy (Tc99mSC) for GI bleeding
Tc-99m-labeled RBC scintigraphy for GI bleeding
Ultrasound of abdomen
Ultrasound of appendix
Ultrasound of gallbladder and bile ducts
Ultrasound of liver
Ultrasound of pancreas
Ultrasound of spleen
Video capsule endoscopy (VCE)
Breast imaging
Mammogram
Breast ultrasound
Magnetic resonance imaging of breast
Cardiac imaging
Stress echocardiography
Cardiovascular radionuclide imaging (Thallium, Sestamibi, Dipyridamole [Persantine] scan)
Cardiac MRI (CMR)
Multidetector computed tomography
Trans-esophageal echocardiogram (TEE)
Trans-thoracic echocardiography
Chest imaging
Chest x-ray
CT of chest
Helical (Spiral) CT of chest
MRI of chest
Endocrine imaging
Adrenal medullary scintigraphy (meta-iodobenzylguanidine [MIBG] scan)
Parathyroid scan
Thyroid scan
Thyroid ultrasound
Genitourinary imaging
Obstetrical ultrasound
Pelvic ultrasound
Prostate ultrasound
Renal ultrasound
Scrotal ultrasound
Transvaginal (endovaginal) ultrasound
Urinary bladder ultrasound
Hysterosalpingography (HSG)
Intravenous pyelography (IVP) and retrograde pyelography
Musculoskeletal and spinal cord imaging
Plain x-ray films of skeletal system
Bone densitometry (dual-energy x-ray absorptiometry [DEXA] scan)
MRI of spine
MRI of shoulder
MRI of hip
MRI of pelvis
MRI of knee
CT of spinal cord
Arthrography
CT myelography
Nuclear imaging (Bone scan, Gallium scan, WBC scan)
Neuroimaging of brain
CT of brain
MRI of brain
Positron emission tomography (PET)
Single photon emission computed tomography (SPECT)
Vascular imaging
Angiography
Aorta ultrasound
Arterial ultrasound
Captopril renal scan (CRS)
Carotid ultrasonography
Computed tomographic angiography (CTA)
Magnetic resonance angiography (MRA)
Magnetic resonance direct thrombus imaging (MRDTI)
Pulmonary angiography
Transcranial Doppler
Venography
Venous Doppler ultrasound
Ventilation/perfusion lung scan (V/Q Scan)
Oncology
Whole body integrated (dual modality) positron emission tomography (PET) and CT (PET/CT)
Whole body MRI
Laboratory values and interpretation of results
ACE level
Acetone (serum and plasma)
Acetylcholine receptor (AchR) antibody
Acid phosphatase
Acid serum test
Activated clotting time (ACT)
Activated partial thromboplastin time (APTT)
Adrenocorticotropic hormone
Alanine aminopeptidase
Alanine aminotransferase
Albumin (serum)
Alcohol dehydrogenase
Aldolase (serum)
Aldosterone (plasma)
Alkaline phosphatase (serum)
Alpha-1-antitrypsin (serum)
Alpha-1-fetoprotein (serum)
ALT
Alu minum (serum)
AMA
Amebiasis serological test
Aminolevulic acid (d-ALA) (24 h urine collection)
Ammonia (serum)
Amylase (serum)
Amylase, Urine
Amyloid A pro
Table of Contents provided by Publisher. All Rights Reserved.