Note: Supplemental materials are not guaranteed with Rental or Used book purchases.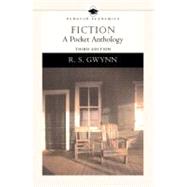 Fiction: A Pocket Anthology (Penguin Academics Series)
ISBN13:
9780321087621
by
Gwynn, R.S.
Summary
The perfect alternative to lengthy fiction anthologies, this brief, inexpensive, and diverse collection of 42 short stories provides a concise yet complete introduction to the study of fiction. Chronologically organized, the diverse selection includes the discipline' s most popular short stories. An " Introduction to Fiction" provides an overview of the genre, defining key literary terms in context. " Writing about Fiction" offers instruction for writing essays and covers MLA style citation. Biographical headnotes highlight common themes and ideas in the author's body of work. Individuals who want a brief overview of the study of poetry.
Table of Contents
Alphabetical List by Author
xiii
Preface
xvii
Introduction
1
(1)
1
(2)
3
(3)

| | |
| --- | --- |
| | Reading and Analyzing Short Fiction |

6
(1)
7
(4)
11
(2)
13
(2)
15
(1)
16
(2)
18
(3)
Writing About Short Fiction
21
(8)
Fiction
29
(402)

| | |
| --- | --- |
| | Nathaniel Hawthorne (1804-1864) |

31
(13)

| | |
| --- | --- |
| | Edgar Allan Poe (1809--1849) |

| | |
| --- | --- |
| | The Fall of the House of Usher |

44
(19)

| | |
| --- | --- |
| | Guy De Maupassant (1850--1893) |

63
(7)
70
(3)

| | |
| --- | --- |
| | Anton Chekhov (1860--1904) |

73
(8)

| | |
| --- | --- |
| | Edith Wharton (1862--1937) |

81
(13)
94
(19)
113
(5)

| | |
| --- | --- |
| | D. H. Lawrence (1885--1930) |

118
(15)

| | |
| --- | --- |
| | Katherine Anne Porter (1890--1980) |

| | |
| --- | --- |
| | The Jilting of Granny Weatherall |

133
(9)

| | |
| --- | --- |
| | Zora Neale Hurston (1891--1960) |

142
(12)

| | |
| --- | --- |
| | William Faulkner (1897--1962) |

154
(10)

| | |
| --- | --- |
| | Ernest Hemingway (1899--1961) |

| | |
| --- | --- |
| | Hills Like White Elephants |

164
(5)

| | |
| --- | --- |
| | Jorge Luis Borges (1899--1986) |

| | |
| --- | --- |
| | The Gospel According to Mark |

169
(6)

| | |
| --- | --- |
| | John Steinbeck (1902--1968) |

175
(11)

| | |
| --- | --- |
| | Richard Wright (1908--1960) |

| | |
| --- | --- |
| | The Man Who Was Almost a Man |

186
(12)
198
(14)

| | |
| --- | --- |
| | John Cheever (1912--1982) |

212
(3)

| | |
| --- | --- |
| | Albert Camus (1913--1960) |

215
(13)

| | |
| --- | --- |
| | Ralph Ellison (1914--1995) |

| | |
| --- | --- |
| | A Party Down at the Square |

228
(7)

| | |
| --- | --- |
| | Shirley Jackson (1919--1965) |

235
(9)

| | |
| --- | --- |
| | Flannery O'Connor (1925--1964) |

| | |
| --- | --- |
| | A Good Man is Hard to Find |

244
(16)

| | |
| --- | --- |
| | Gabriel Garcia Marquez (B. 1928) |

| | |
| --- | --- |
| | A Very Old Man with Enormous Wings |

260
(7)
267
(4)
271
(26)
297
(7)

| | |
| --- | --- |
| | Raymond Carver (1938--1988) |

304
(23)

| | |
| --- | --- |
| | Joyce Carol Oates (B. 1938) |

| | |
| --- | --- |
| | Where Are You Going, Where Have You Been? |

327
(17)

| | |
| --- | --- |
| | Margaret Atwood (B. 1939) |

344
(4)

| | |
| --- | --- |
| | Bobbie Ann Mason (B. 1940) |

348
(14)
362
(9)
371
(17)
388
(11)
399
(11)

| | |
| --- | --- |
| | Sandra Cisneros (B. 1954) |

410
(2)
412
(10)

| | |
| --- | --- |
| | How to Talk to Your Mother (Notes) |

422
(9)
Acknowledgments
431
(4)
Index of Critical Terms
435