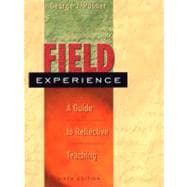 Related Products
Summary
Designed to provoke reflection and commitment, Field Experience, Fifth Edition, guides students through teaching field experiences, includingbut not limited tostudent teaching. Highly practical in its focus, Field Experience, 5/e moves beyond a list of do's and dont's to help students create, reflect upon, and refine a set of goals and teaching principles that will guide them through their future teaching experiences.
Table of Contents
I. ORIENTATION.
1. Types of Field Experience.
2. Concerns and Personal Goals.
3. Reflecting on Field Experiences: Fieldwork Logs.
II. WHAT DO YOU BRING TO THE EXPERIENCE.
4. Personal Influences on a Perspective.
5. Contributions of Foundational Studies.
6. Contributions of Methods Courses.
7. Initial Perspective.
III. WHAT IS THE SITUATION WHERE YOU WILL TEACH?
8. The Community and the School.
9. The Classroom and the Curriculum.
10. The Students.
11. The Cooperating Teacher.
IV. WHAT HAVE YOU LEARNED?
12. The Fieldwork Portfolio.
Appendix A: Instruments.
Appendix B: Sample Logs and Fieldwork Portfolios.
Suggested Readings.
Index.