Note: Supplemental materials are not guaranteed with Rental or Used book purchases.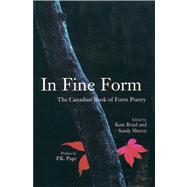 Summary
With this groundbreaking anthology, poets and teachers Kate Braid and Sandy Shreve set out to explore Canadian form poetry. The result is a thrilling collection of 175 poems, over 140 poets from the 18th century to the present day, and 20 distinct poetic forms (sonnets and ghazals, triolets and ballads, epigrams, pallindromes, blues and more) that will appeal to every poetry-lover as well as teachers and students of poetry. Poets include Bliss Carman, Sir Charles G. D. Roberts, Dennis Lee, George Elliott Clarke, Alden Nowlan, Gwendolyn MacEwan, Molly Peacock, Lorna Crozier, Anne Simpson, smile Nelligan, Adam Sol, Barbara Nickel, Christian Bok and over 100 more."No verse is free for the poet who wants to do a good job." -T. S. Eliot
Author Biography
Kate Braid is a poet. Her poetry books have won the Pat Lowther and VanCity Book Prizes and have been shortlisted for the Dorothy Livesay Prize. She teaches at Malaspina University-College. Sandy Shreve is a poet whose collections have received the Earle Birney Prize for Poetry and have been shortlisted for the Milton Acorn People's Poetry Award and a National Magazine Award for Poetry. She founded Poetry in Transit in British Columbia and is the communications officer for the Legal Services Society. They both live in Vancouver, British Columbia. P. K. Page was a renowned Canadian poet who has been honored with the Governor General's Award, the first Lieutenant Governor's Award for Literary Excellence, and with the status of Companion of the Order of Canada. She was the author of over 30 published books of poetry, fiction, travel diaries, essays, children's books, and an autobiography.
Table of Contents
Preface
11
(2)
Introduction
13
(8)
21
(15)
23
(1)
24
(1)
25
(2)

| | |
| --- | --- |
| | The Cremation of Sam McGee |

27
(3)
30
(1)
31
(1)
32
(2)

| | |
| --- | --- |
| | The Ballad of Echolocation |

34
(2)
36
(13)
38
(1)
39
(2)
41
(1)
42
(1)
43
(1)
44
(1)
45
(1)

| | |
| --- | --- |
| | Jump Rope Rhyme of the 49er Daughters |

46
(1)
47
(2)
49
(11)
51
(1)

| | |
| --- | --- |
| | Sir Charles G. D. Roberts |

52
(1)
53
(1)
54
(1)

| | |
| --- | --- |
| | April Elegy (Sam Selvon d. 1994) |

54
(2)

| | |
| --- | --- |
| | James Clarence Mangan in Trinity College Library |

56
(2)

| | |
| --- | --- |
| | Jaham Sings of the Fear of the Moon |

58
(1)
59
(1)
60
(8)
61
(1)
62
(1)
63
(1)
63
(1)
64
(1)
64
(1)
65
(1)

| | |
| --- | --- |
| | Tourist Stricken at the Uffizi |

65
(1)
66
(1)
66
(1)
67
(1)
68
(10)
71
(1)

| | |
| --- | --- |
| | The Ballad of the Pink-Brown Fence |

72
(1)

| | |
| --- | --- |
| | The Children Are Laughing |

73
(1)
74
(1)
75
(1)
76
(1)

| | |
| --- | --- |
| | Madrigal, a Lullaby for Xan |

77
(1)
78
(10)
81
(1)
81
(1)
82
(1)

| | |
| --- | --- |
| | from A Linen Crow, A Caftan Magpie |

83
(1)
84
(1)

| | |
| --- | --- |
| | Excellence in the small. Tears frozen on your face |

85
(1)

| | |
| --- | --- |
| | Tonight the Sky Is My Begging Bowl |

85
(1)

| | |
| --- | --- |
| | Landscapes and home/Ghazal 22 |

86
(2)
88
(15)
90
(2)
92
(1)
93
(3)
96
(2)
98
(1)
99
(2)

| | |
| --- | --- |
| | Norgberto Hernandez --- Photographed Falling September Eleventh |

101
(2)

| | |
| --- | --- |
| | Haiku and Other Japanese Forms |

103
(13)
106
(1)
106
(1)
107
(1)

| | |
| --- | --- |
| | Shouting Your Name Down the Well |

108
(1)
109
(2)

| | |
| --- | --- |
| | from Hortus Urbanus/Urban Garden |

111
(1)
112
(1)
113
(1)

| | |
| --- | --- |
| | Haiku Monument for Washington, D.C. |

114
(1)
115
(1)
116
(14)
118
(1)
118
(2)

| | |
| --- | --- |
| | Sir Charles G. D. Roberts |

120
(1)

| | |
| --- | --- |
| | My Beloved is Dead in Vietnam |

121
(1)
122
(1)
123
(2)
125
(1)
126
(1)

| | |
| --- | --- |
| | Life, Having Become Still |

126
(1)
127
(1)
128
(1)
128
(2)
130
(19)
132
(2)
134
(10)

| | |
| --- | --- |
| | The Back Seat of My Mother's Car |

144
(1)
145
(1)
146
(2)
148
(1)
149
(14)
151
(2)
153
(1)
154
(1)

| | |
| --- | --- |
| | In the Spring of No Letters |

155
(1)
156
(1)
157
(1)
158
(3)
161
(2)
163
(12)
166
(1)
167
(1)
168
(1)
169
(1)
170
(2)
172
(1)
173
(1)
174
(1)
175
(13)
177
(1)
178
(2)

| | |
| --- | --- |
| | The Beauty of Job's Daughters |

180
(1)
181
(2)
183
(1)
184
(2)

| | |
| --- | --- |
| | Sestina of the Geographic Tongue |

186
(2)
188
(19)
191
(1)
192
(1)
193
(1)
194
(1)
195
(1)

| | |
| --- | --- |
| | An Era of Easy Meat at Locarno |

196
(1)
197
(1)
198
(1)

| | |
| --- | --- |
| | Head and Torso of the Minotaur |

199
(2)
201
(1)
202
(1)
203
(1)
204
(1)
205
(1)
206
(1)
207
(20)
210
(1)
210
(1)
211
(2)

| | |
| --- | --- |
| | The City of the End of Things |

213
(3)
216
(1)
217
(1)
218
(1)
219
(1)
220
(1)
221
(1)
222
(1)
223
(1)
224
(1)
225
(2)
227
(9)
230
(1)
231
(1)
232
(1)
233
(1)
233
(1)
234
(1)
235
(1)
236
(10)
238
(1)
239
(1)
240
(1)
241
(1)
242
(1)
243
(1)
244
(2)
246
(6)
248
(1)
248
(2)

| | |
| --- | --- |
| | Triolet for the Amphetamine Afflicted |

250
(1)
250
(1)
251
(1)
251
(1)
252
(9)
254
(1)
255
(1)
256
(1)
257
(1)
258
(1)
259
(1)

| | |
| --- | --- |
| | The Ferry to South Baymouth |

260
(1)
261
(13)

| | |
| --- | --- |
| | from A Flame on the Spanish Stairs: John Keats in Rome |

264
(1)

| | |
| --- | --- |
| | Queen Mary, She's My Friend |

265
(1)
266
(1)
267
(1)
268
(1)
269
(2)
271
(1)
272
(1)
273
(1)
Notes to the Poems
274
(6)
Coming to Terms
280
(13)
Bibliography
293
(1)
Permissions
294
(5)
Indices
299
(4)
Acknowledgements
303