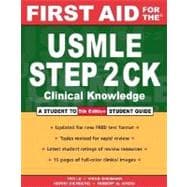 First Aid for the USMLE Step 2 CK
by
Le, Tao
Summary
This high-yield guide is designed to prepare students for part two (of four) of the United Stated Medical Licensing Examination (USMLE). Written by medical students and reviewed by top faculty, this unique book provides practical, tested advice for acing the USMLE Step 2 CK.
Author Biography
Tao Le, MD
is a Fellow in Allergy & Immunology at Johns Hopkins University.
Vikas Bhushan, MD is a practicing diagnostic radiologist.
Table of Contents
Contributing Authors
vii
Faculty Reviewers
ix
Preface
xi
Acknowledgments
xiii
How to Contribute
xv

| | |
| --- | --- |
| | SECTION I GUIDE TO EFFICIENT EXAM PREPARATION |

1
(12)
2
(1)

| | |
| --- | --- |
| | USMLE Step 2 CK--Computer-Based Testing Basics |

2
(6)
8
(2)
10
(2)
12
(1)
12
(1)

| | |
| --- | --- |
| | SECTION I SUPPLEMENT SPECIAL SITUATIONS |

13
(18)

| | |
| --- | --- |
| | First Aid for the International Medical Graduate |

14
(15)

| | |
| --- | --- |
| | First Aid for the Student with a Disability |

29
(2)

| | |
| --- | --- |
| | SECTION II DATABASE OF HIGH-YIELD FACTS |

31
(388)
32
(1)
33
(26)
59
(32)
91
(12)

| | |
| --- | --- |
| | Epidemiology and Preventive Medicine |

103
(10)
113
(4)
117
(30)
147
(20)
167
(30)
197
(20)
217
(24)
241
(26)
267
(28)
295
(28)
323
(18)
341
(16)
357
(20)

| | |
| --- | --- |
| | Selected Topics in Emergency Medicine |

377
(16)
393
(26)

| | |
| --- | --- |
| | SECTION III TOP-RATED REVIEW RESOURCES |

419
(34)
421
(2)
423
(4)

| | |
| --- | --- |
| | Online Comprehensive Review |

427
(1)
428
(5)
433
(2)
435
(4)
439
(3)
442
(4)
446
(4)
450
(1)

| | |
| --- | --- |
| | Commercial Review Courses |

451
(2)
Appendix: Abbreviations and Symbols
453
(6)
Index
459