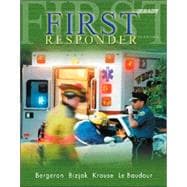 List Price: $70.67
Usually Ships in 2-3 Business Days
Questions About This Book?
What version or edition is this?
This is the 7th edition with a publication date of 1/1/2005.
What is included with this book?
The Used copy of this book is not guaranteed to inclue any supplemental materials. Typically, only the book itself is included.
Summary
This classic text has successfully trained first Responder students for over 25 years. It is the ideal resource for fire service, law enforcement, militray, civil, industrial, and emergency personal seeking First Responder training. The 7th Edition provides solid and thorough coverage of the First Responder National Standard Curriculum and retains features that both students and instructors have relied upon for years, including flow-of-care diagrams and a clear, straightforward reading style.
Table of Contents
Preparatory
p. 1
Introduction to EMS Systems
p. 1
Legal and Ethical Issues
p. 17
Well-Being of the First Responder
p. 33
The Human Body
p. 53
Lifting, Moving, and Positioning Patients
p. 67
Airway
p. 93
Airway Management
p. 93
Patient Assessment
p. 135
Assessment of the Patient
p. 135
Circulation
p. 181
CPR and Automated External Defibrillators (AEDs)
p. 181
Illness and Injury
p. 227
Medical Emergencies
p. 227
Bleeding, Shock, and Soft-Tissue Injuries
p. 281
Muscle and Bone Injuries
p. 351
Childbirth and Children
p. 419
Childbirth
p. 419
Infants and Children
p. 454
EMS Operations
p. 497
Gaining Access and Hazards on the Scene
p. 497
Multiple-Casualty Incidents, Triage, and the Incident Management System
p. 525
Appendices
Determining Blood Pressure
p. 541
Breathing Aids and Oxygen Therapy
p. 547
Pharmacology
p. 559
Swimming and Diving Incidents
p. 569
Response to Terrorism and Weapons of Mass Destruction
p. 577
First Responder Roles and Responsibilities
p. 581
Glossary
p. 583
Index
p. 597
Table of Contents provided by Rittenhouse. All Rights Reserved.
Excerpts
THE FIRST RESPONDER PROGRAM First Responder courses are designed to meet training needs in local communities. While all First Responder courses meet the same National Standard Curriculum objectives, jurisdictions may require that prerequisites be met before enrolling in the course. For the most part, emergency care procedures remain the same from EMS system to EMS system. However, many EMS programs may require completion of American Heart Association (AHA) CPR, or basic life support, before entering a First Responder program. While CPR guidelines are undergoing changes for the layperson, this textbook includes the most recent AHA guidelines for the emergency care provider, at the time of printing. AED procedures are also included in the CPR chapter. AED has become an important part of basic life support, and many public facilities are beginning to place them on the premises and train their personnel in their use. The content of the 7th edition is summarized below, with emphasis on "what's new" in each unit of this edition: UNIT I, PREPARATORY: CHAPTERS 1-5 The first unit sets a framework for all the units that follow by introducing essential concepts, information, and skills. The EMS system and the role of the First Responder within the system are introduced. Issues of First Responder safety, well-being, and legal and ethical issues are covered. So are basic anatomy and physiology and techniques of safe lifting and moving. What's New in the Preparatory Unit? In Chapter 1,Introduction to EMS Systems: "First Responder" is defined in relation to other rescue personnel who may be among the first on the scene of an emergency. List of patient-related duties has been expanded to include confidentiality and patient advocacy. Using an AED and working under direction of Incident Commander has been added to the list of First Responder skills. Appropriate barriers (masks and gloves) is now included in the list of DOT-recommended equipment. N-95 respirator has been added to the list of personal protective equipment. In Chapter 2,Legal and Ethical Issues: Difference between scope of care and standard of care is explained more fully. Documentation of refusal of care has been given more emphasis. "Vial of Life" is included as an example of a medical identification device. In Chapter 3,Well-Being of the First Responder: Information on stress has been folded into this chapter. It includes discussion of stressors, burnout, and long- and short-term stress. The term "critical incident stress management" has been added. In Chapter 4,The Human Body: Supine, prone, and lateral recumbent positions are now included in the discussion of terms. In Chapter 5,Lifting, Moving, and Positioning Patients: Full-body spinal immobilization devices and pedi-boards are included in , the list of equipment used to move patients. UNIT 2, AIRWAY MANAGEMENT: CHAPTER 6 There is only one chapter in Unit 2, but it may be considered the most important one in the text, because no patient will survive without an open airway. Basic airway management techniques are covered in detail. What's New in the Airway Management Unit? In Chapter 6,Airway Management: Discussion of barrier devices has been expanded. Section on mouth-to-barrier ventilation is now included. UNIT 3, PATIENT ASSESSMENT: CHAPTER 7 This unit explains and illustrates some of the most important skills of a First Responder. All the steps of the assessment and their application to different types of trauma and medical patients, plus the skills of measuring vital signs, taking a patient history, communication, and hand-off to EMTs are discussed. Wha