Note: Supplemental materials are not guaranteed with Rental or Used book purchases.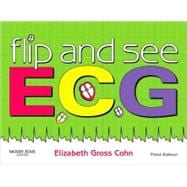 Summary
When it comes to learning 3-lead ECG interpretation, there's simply no faster or easier way to master basic rhythms than this unique book. Using a fun and easy-to-understand writing style, it uses humor, cartoons, and personal stories to walk you through the entire ECG process - from finding a heartbeat, to monitoring an electrocardiogram, to interpreting the heart rhythm. A unique "Flip and See" section allows you to view normal ECGs on one side of the page and abnormal ECGs on the other, along with concise text that clearly explains the differences between them. In addition, you'll find commonly asked questions and answers throughout the text. Thumb tabs and lay-flat spiral binding make it easy to use anywhere, and the small size fits easily into a lab coat pocket. Unique Flip and See section at the end of the book allows you to see each rhythm side-by-side with a normal ECG rhythm, and a written walkthrough explains the important differences between the rhythms. Conversational language and clear illustrations and cartoons make the information easily accessible and understandable - as well as easy to remember and fun to learn. Includes Cohn's Pocket Guide for ECG Interpretation, a plastic heart rate ruler that's useful for both students and practitioners as an aid in rhythm interpretation. Companion CD features 66 practice rhythm strips in PowerPoint format, plus coverage of pediatric and neonatal patients. Includes new treatment algorithms on the reverse side of Flip and See rhythm cards. New, easy-to-follow organization with raised tabs, so you can find information quickly. Updated to reflect the 2005 emergency cardiovascular care guidelines. Expanded coverage of key topics such as normal rhythms and torsades de pointes.
Table of Contents
Symbols Used in This Boo?
How to Approach ECG?
How the Heart Works
The Hear?
Location
Physiology (Function?
Anatomy (Structure?
Cardiac Cycle
Summary
Conduction Pathway?
Sinoatrial Node
Atrioventricular Node
The ECG
The ECG
Lead Placement and Vectors
Reading ECGs: P-waves, QRS Complexes and T Waves
P Wave
P-R Interval
QRS Complex
ST Segment
T Wave
Introduction to the Rhythms
Introduction to the Rhythms
Naming Rhythm?
Normal Sinus Rhythm
Sinus Arrhythmia
Sinus Bradycardia
Sinus Tachycardia
Atrial Flutter
Atrial Fibrillation
Supraventricular Tachycardia
Ventricular Tachycardia
Torsades de Pointes
Ventricular Fibrillation
Asystole
Heart Blocks - First Degree AV Heart Block
Second Degree AV Heart Block, also known as Mobitz Type I (Wenckebach?
Second Degree AV Heart Block, Also Known as Mobitz Type II
Complete Heart Block (Third Degree?
Artificial Pacemakers
How to Interpret ECGs
ECG Pape?
Normal ECG
Calculating Rat?
Measuring ECG Waveforms
ECG Calipers
The Isoelectric Line
Ectopic Activity - Premature Atrial Contraction
Premature Junctional Contraction - Pemature Ventricular Contraction Summar?
Clues to Identifying Rhythms
How to Use the Flip and See Portion of This Book
Flip and See Guided Tutorial
Mormal
Sinus arrhythmia
Sinus bradycardia
Sinus tachycardia
Premature atrial contractions
Premature ventricular contraction
Atrial flutter
Atrial fibrillation
Supraventricular tachycardia
Ventricular tachycardia
Torsades de Pointes
Ventricular fibrillation
Junctional or nodal rhythm
Asystole
First degree heart block
Second degree heart block, Mobitz type- I, or Wenckebach
Second degree heart block, Mobitz type II
Complete heart block
Artificial pacemaker with capture
Heart Blocks
Look-alike Rhythms
Nonrhythms
Pulseless Electrical Activity
Summary and a Few Golden Rules
Rhythms
Normal Sinus Rhyth?
Sinus Arrhythmi?
Sinus Bradycardia
Sinus Tachycardia
Premature Atrial Contraction?
Atrial Flutter
Atrial Fibrillation
Supraventricular Tachycardi?
Junctional (Nodal) Rhythm - Premature Ventricular Contractions
Ventricular Tachycardia
Torsades de Pointes
Ventricular Fibrillation
Asystole
First Degree AV Heart Bloc?
Second Degree Heart Block Mobitz Type I (Wenckebach)?
Second Degree Heart Block Mobitz Type II
Third Degree AV Heart Block: Complete Heart Bloc?
Pacemaker With 1:1 Captur?
Loose Lead/Cable Movement
60-Cycle Interference
Junctional Rhythm With Rate of 40 Beats per Minut?
Normal Sinus Rhythm With Rate of 100 Beats per Minute
Glossary
Glossary
Table of Contents provided by Publisher. All Rights Reserved.