Note: Supplemental materials are not guaranteed with Rental or Used book purchases.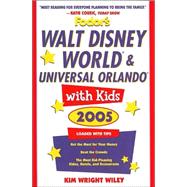 Fodor's Walt Disney WorldŽ and Universal OrlandoŽ with Kids 2005
ISBN13:
9781400014019
by
WILEY, KIM WRIGHT
Summary
An up-to-date guide to traveling with children to Walt Disney World and Universal Orlando includes insider tips, accessible maps to the various parks, restaurant and hotel descriptions, quick ratings for a wide variety of attractions, and other tips on traveling with the entire family. Original. 45,000 first printing.
Author Biography
Kim Wright Wiley is one of America's foremost Disney and Universal travel authorities. She's the online Disney expert for www.family.com and a contributing editor for Disney Magazine. She lives with her two children in Charlotte, North Carolina
Table of Contents
Helpful Phone Numbers
ix
Helpful Web Sites
xi
List of Maps
xi
List of Quick-Guide Reference Tables
xi
Abbreviations, Terms, and Icons
xii
Preface
xv
Chapter 1 Before You Leave Home
1
(30)
2
(2)

| | |
| --- | --- |
| | What Time of Year Should We Visit? |

4
(3)
7
(1)

| | |
| --- | --- |
| | Should We Take the Kids out of School? |

7
(3)
10
(5)

| | |
| --- | --- |
| | What Kind of Tickets Do We Need? |

15
(3)
18
(2)

| | |
| --- | --- |
| | Countdown to Disney World |

20
(3)

| | |
| --- | --- |
| | Things to Discuss with Your Kids Before You Leave Home |

23
(4)
27
(2)
29
(2)
Chapter 2 Choosing a Hotel
31
(40)

| | |
| --- | --- |
| | Map of Walt Disney World Hotels |

32
(2)

| | |
| --- | --- |
| | General Information About the On-Site Disney Hotels |

34
(1)

| | |
| --- | --- |
| | Is It Worth the Expense to Stay On-Site? |

35
(1)

| | |
| --- | --- |
| | Quick Guide to On-Site Hotels |

36
(4)

| | |
| --- | --- |
| | The Advantages of Staying On-Site |

40
(3)

| | |
| --- | --- |
| | Rating the On-Site Disney Hotels |

43
(23)

| | |
| --- | --- |
| | Off-Site Hotels: Which Location Is Best? |

66
(5)
Chapter 3 Once You Get There
71
(14)

| | |
| --- | --- |
| | Bare Necessities: Strollers, Babies, and First Aid |

72
(4)

| | |
| --- | --- |
| | More Things You Don't Want to Think About |

76
(4)
80
(2)

| | |
| --- | --- |
| | Meeting the Disney Characters |

82
(1)
83
(2)
Chapter 4 Touring Tips and Plans
85
(26)

| | |
| --- | --- |
| | General Disney World Touring Tips |

86
(7)

| | |
| --- | --- |
| | Touring Tips for Visitors Staying On-Site |

93
(1)

| | |
| --- | --- |
| | Touring Tips for Visitors Staying Off-Site |

93
(1)
94
(4)
98
(2)

| | |
| --- | --- |
| | Tips for Guests with Disabilities |

100
(2)
102
(1)

| | |
| --- | --- |
| | Birthdays and Special Occasions |

103
(1)

| | |
| --- | --- |
| | How to Customize a Touring Plan |

104
(7)
Chapter 5 The Magic Kingdom
111
(38)
112
(2)

| | |
| --- | --- |
| | Getting to the Magic Kingdom |

114
(1)

| | |
| --- | --- |
| | Getting Around the Magic Kingdom |

115
(1)

| | |
| --- | --- |
| | Tips for Your First Hour in the Magic Kingdom |

116
(1)
117
(3)

| | |
| --- | --- |
| | Quick Guide to Magic Kingdom Attractions |

120
(4)
124
(4)
128
(2)
130
(4)
134
(4)
138
(3)
141
(2)

| | |
| --- | --- |
| | Food Choices in the Magic Kingdom |

143
(2)
145
(1)

| | |
| --- | --- |
| | Best Vantage Points for Watching the Parade |

145
(1)

| | |
| --- | --- |
| | Tips for Your Last Hour in the Magic Kingdom |

146
(2)

| | |
| --- | --- |
| | Tips for Leaving the Magic Kingdom |

148
(1)
Chapter 6 Epcot
149
(30)
150
(2)
152
(1)
152
(1)

| | |
| --- | --- |
| | Tips for Your First Hour at Epcot |

153
(1)
154
(2)
156
(2)

| | |
| --- | --- |
| | Quick Guide to Epcot Attractions |

158
(10)
168
(4)
172
(2)
174
(3)

| | |
| --- | --- |
| | Afternoon Resting Places at Epcot |

177
(1)

| | |
| --- | --- |
| | Tips for Your Last Hour at Epcot |

177
(1)
178
(1)
Chapter 7 Disney-MGM Studios Theme Park
179
(24)

| | |
| --- | --- |
| | Map of Disney-MGM Studios |

180
(2)

| | |
| --- | --- |
| | Getting to Disney-MGM Studios |

182
(1)
182
(1)

| | |
| --- | --- |
| | Tips for Your First Hour at MGM |

182
(1)
183
(1)
184
(2)

| | |
| --- | --- |
| | Quick Guide to MGM Attractions |

186
(13)

| | |
| --- | --- |
| | Meeting the Characters at MGM |

199
(1)
199
(2)

| | |
| --- | --- |
| | Tips for Your Last Hour at MGM |

201
(1)
202
(1)
Chapter 8 The Animal Kingdom
203
(22)
204
(2)

| | |
| --- | --- |
| | Getting to the Animal Kingdom |

206
(1)

| | |
| --- | --- |
| | Getting Around the Animal Kingdom |

206
(1)

| | |
| --- | --- |
| | Tips for Your First Hour in the Animal Kingdom |

207
(1)

| | |
| --- | --- |
| | Quick Guide to Animal Kingdom Attractions |

208
(2)

| | |
| --- | --- |
| | Animal Kingdom Touring Tips |

210
(1)

| | |
| --- | --- |
| | Animal Kingdom Attractions |

211
(11)

| | |
| --- | --- |
| | Food Choices in the Animal Kingdom |

222
(1)

| | |
| --- | --- |
| | Tips for Your Last Hour in the Animal Kingdom |

223
(2)
Chapter 9 The Disney World Water Parks
225
(14)

| | |
| --- | --- |
| | Getting to the Water Parks |

226
(1)

| | |
| --- | --- |
| | Typhoon Lagoon and Blizzard Beach Touring Tips |

227
(2)
229
(5)
234
(5)
Chapter 10 The Rest of the World
239
(30)

| | |
| --- | --- |
| | Map of Downtown Disney and Pleasure Island |

240
(2)
242
(1)

| | |
| --- | --- |
| | Getting to the Rest of the World |

242
(2)
244
(1)

| | |
| --- | --- |
| | Downtown Disney Marketplace |

244
(2)

| | |
| --- | --- |
| | Downtown Disney Pleasure Island |

246
(2)

| | |
| --- | --- |
| | Downtown Disney West Side |

248
(1)
249
(2)
251
(1)

| | |
| --- | --- |
| | Boardwalk and the ESPN Club |

252
(1)
253
(9)

| | |
| --- | --- |
| | That Sportin' Life: on Water |

262
(2)

| | |
| --- | --- |
| | That Sportin' Life: on Land |

264
(3)

| | |
| --- | --- |
| | Disney's Wide World of Sports |

267
(2)
Chapter 11 Dining at Disney
269
(32)

| | |
| --- | --- |
| | Full-Service Restaurants at Disney |

270
(1)
271
(1)

| | |
| --- | --- |
| | Definition of Restaurant Ratings |

272
(1)
273
(1)

| | |
| --- | --- |
| | Quick Guide to Full-Service Restaurants in the Magic Kingdom |

274
(4)

| | |
| --- | --- |
| | Quick Guide to Full-Service Restaurants at Epcot |

278
(4)

| | |
| --- | --- |
| | Quick Guide to Full-Service Restaurants at MGM |

282
(2)

| | |
| --- | --- |
| | Quick Guide to Full-Service Restaurants in the Animal Kingdom |

284
(4)

| | |
| --- | --- |
| | Quick Guide to Full-Service Restaurants in the WDW Hotels |

288
(10)

| | |
| --- | --- |
| | Quick Guide to Full-Service Restaurants in the Rest of the World |

298
(3)
Chapter 12 Disney After Dark
301
(12)

| | |
| --- | --- |
| | Disney World After Dark with the Kids |

302
(3)

| | |
| --- | --- |
| | Disney World After Dark Without the Kids: Finding a Sitter |

305
(4)
309
(4)
Chapter 13 The Disney Cruise Line
313
(12)

| | |
| --- | --- |
| | The Disney Cruise Line Vacation Package |

314
(2)
316
(2)
318
(1)
319
(1)
320
(2)
322
(2)
324
(1)
Chapter 14 Universal Orlando
325
(34)
326
(3)
329
(2)
331
(4)

| | |
| --- | --- |
| | What Kind of Tickets Do We Need? |

335
(2)

| | |
| --- | --- |
| | Tips for Your First Hour at Universal Studios |

337
(1)

| | |
| --- | --- |
| | Universal Studios Touring Tips |

338
(3)

| | |
| --- | --- |
| | The Scare Factor at Universal Studios |

341
(2)

| | |
| --- | --- |
| | Universal Studios Attractions |

343
(1)

| | |
| --- | --- |
| | Quick Guide to Universal Studios Attractions |

344
(14)

| | |
| --- | --- |
| | Tips for Your Last Hour at Universal Studios |

358
(1)
Chapter 15 Islands of Adventure
359
(42)

| | |
| --- | --- |
| | Map of Islands of Adventure |

361
(2)

| | |
| --- | --- |
| | Getting Around Islands of Adventure |

363
(1)

| | |
| --- | --- |
| | How Scary Is "Scary"? As Dr. Seuss Would Say, "Very!" |

363
(3)

| | |
| --- | --- |
| | Tips for Your First Hour at Islands of Adventure |

366
(1)
367
(1)

| | |
| --- | --- |
| | Quick Guide to Islands of Adventure Attractions |

368
(3)
371
(7)
378
(3)
381
(5)
386
(5)
391
(3)
394
(1)
394
(1)

| | |
| --- | --- |
| | Tips for Your Last Hour at Islands of Adventure |

395
(1)
395
(6)
Chapter 16 SeaWorld and Discovery Cove
401
(10)
402
(7)
409
(2)
Index
411