Note: Supplemental materials are not guaranteed with Rental or Used book purchases.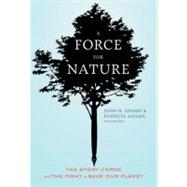 Summary
The world's preeminent environmental organization began with a layer of soot on the windowsill of a Greenwich Village apartment. Natural Resources Defense Council (NRDC) founder John H. Adams, a pioneer of environmental action, was working as a lawyer for the U.S. Attorney's office when he and fellow lawyers teamed up to form a grassroots environmental advocacy group. Since 1970, NRDC has grown into an international powerhouse with 1.2 million members and a staff of scientists and lawyers whose mission is to safeguard the planet. This inspiring memoir tells the story of the NRDC and the environmental movement it sparked.
Author Biography
John H. Adams was NRDC's executive director and, later, president from 1970 until 2006. He served on President Clinton's Council for Sustainable Development, and sits on the boards of numerous environmental organizations, including NRDC. He lives in New York.

Patricia Adams is a long-time supporter of NRDC and a steering committee member of NRDC's Partnership for the Earth campaign.
Table of Contents
Foreword
p. 7
Preface and Acknowledgments
p. 9
First Decade 1970-1980
Gathering Forces
p. 12
Here to Stay
p. 31
As We Live and Breathe
p. 44
Waters of Life
p. 53
Does a Tree Have Standing?
p. 63
This Land Is Our Land
p. 73
Second Decade 1980-1990
The Dark Ages (and How We Survived Them)
p. 86
A Terrible Power
p. 100
Going Underground
p. 109
The Poisoned Chalice
p. 124
An Apple a Day
p. 138
Third Decade 1990-2000
Uptown, Downtown, All Around the Town
p. 148
Smoke Alarm
p. 165
Our Toxic Legacy
p. 184
Contract on America
p. 197
The Last Wilderness
p. 217
Land of the Spirit Bear
p. 231
Fourth Decade 2000-2010
One Gem at a Time
p. 248
Water, Water Everywhere
p. 269
The Rule of Law
p. 287
We're Having a Heat Wave
p. 301
California Dreaming
p. 317
The China Syndrome
p. 335
A New Energy Economy
p. 350
Epilogue: Back to the Future
p. 370
Time Line of NRDC and the Modern Environmental Movement
p. 378
Index
p. 387
Table of Contents provided by Ingram. All Rights Reserved.