Note: Supplemental materials are not guaranteed with Rental or Used book purchases.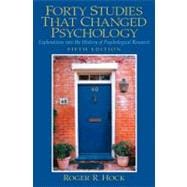 Forty Studies that Changed Psychology : Explorations into the History of Psychological Research
ISBN13:
9780131147294
by
Hock, Roger R.
Questions About This Book?
What version or edition is this?
This is the 5th edition with a publication date of 1/1/2009.
What is included with this book?
The Used copy of this book is not guaranteed to include any supplemental materials. Typically, only the book itself is included.
Summary
This unique book closes the gap between psychology books and the research that made them possible. Its journey through the "headline history" of psychology presents 40 of the most famous studies in the history of the science, and subsequent follow-up studies that expanded their findings and relevance. Readers are granted a valuable insider's look at the studies that continue to be cited most frequently, stirred up the most controversy when they were published, sparked the most subsequent related research, opened new fields of psychological exploration, and changed most dramatically our knowledge of human behavior. For individuals with an interest in an introduction to psychology.
Table of Contents
Biology and Human Behavior
One Brain or Two
The split brain in man. More Experience = Bigger Brain?
Brain changes in response to experience. Are You a Natural?
Sources of human psychological difference: The Minnesota study of twins raised apart. Watch Out for the Visual Cliff!
The "visual cliff"
Perception and Consciousness
What You See Is What You've Learned
Some observations regarding the experience and behavior of the BaMuti Pygmies To Sleep, No Doubt to Dream...
Regularly occurring periods of eye mobility and concomitant phenomena during sleep
The effect of dream deprivation. Unromancing the Dream...
The brain as a dream-state generator: An activation-synthesis hypothesis of the dream process. Acting as if You Are Hypnotized
Hypnotic behavior: A cognitive, social, psychological perspective
Learning and Conditioning
It's Not Just about Salivating Dogs!
Conditioned reflexes
Little Emotional Albert
Conditioned emotional responses
Knock Wood
Superstition in the pigeon
See Aggression...Do Aggression!
Transmission of aggression through imitation of aggressive models
Intelligence, Cognition, and Memory
What You Expect Is What You Get
Teacher's expectancies: Determinates of pupils' IQ gains. Just How are You Intelligent?
Frames of mind: The theory of multiple intelligences. Maps in Your Mind
Cognitive maps in rats and men
Thanks for the Memories
Leading questions and the eyewitness report
Human Development
Discovering Love
The nature of love. Out of Sight, but Not Out of Mind
The construction of reality in the child: The development of object concept. How Moral are You?
The development of children's orientations toward a moral order: Sequence in the development of moral thought
In Control and Glad of It!
The effects of choice and enhanced responsibility for the aged: A field experiment in an institutional setting
Emotion and Motivation
A Sexual Motivation...
Human sexual response. I Can See It All Over Your Face!P. EkmanEkman, P.V.W. Friesen, (1971)12(1971)12, V.W. Friesen,
Table of Contents provided by Publisher. All Rights Reserved.
Excerpts
Science moves through history along many routes and at many speeds. Slow times occur when the pace of scientific discovery seems to stagnate, making little or no progress. Then those exciting, dynamic periods suddenly burst upon the scientific scene; new breakthroughs spark waves of dialogue, attention, research, and progress. These discoveries quite literally change what we know about how the world works. The history of psychology is no different from any other science. Many studies of human behavior have made remarkable and lasting impacts on the various disciplines that comprise the science of psychology. The findings generated from these studies have changed our knowledge of human behavior, and they have set the stage for countless subsequent projects and research programs. Even when the results of some of these pivotal studies have later been drawn into controversy and question, their effect and influence in a historical context never diminishes. They continue to be cited in new articles; they continue to be the topic of academic discussion; they continue to form the foundation for textbook chapters; and they continue to hold a special place in the minds of psychologists. The concept for this book grew out of my many years of teaching psychology. Psychology textbooks are based on those key studies that have shaped the science of psychology over its relatively brief history. Textbooks, however, seldom give the original studies the attention they richly deserve. Usually the research processes are summarized and diluted to the point that little of the life and excitement of the discoveries remains. Sometimes, methods and findings are reported in way that can even mislead the reader about the study's true impact and influence. This is in no way a criticism of the textbook writers who work under length constraints and must make many difficult choices about what gets included and in how much detail. The situation is, however, unfortunate, because the foundation of all of psychology is research, and through a century of ingenious and elegant studies, our knowledge and understanding of human behavior have been expanded and refined to the level of sophistication that exists today. This book is an attempt to fill the gap between the psychology textbooks and the research that made them possible. It is a journey through theheadline historyof psychology. My hope is that the way the 40 chosen studies are presented will bring them back to life, so that you can experience them for yourself. This book is intended for anyone who wishes a greater understanding of the true roots of psychology. CHOOSING THE STUDIES The studies included in this book were carefully chosen from those found in psychology texts and journals and from those suggested by leading authorities in psychology's many subfields. The number wasn't planned, but as the studies were selected, 40 seemed to be about right both from a historical point of view and in terms of length. The studies chosen are arguably the most famous, the most important, or the most influential in the history of psychology. I use the wordarguably,because many who read this book may wish to dispute some of the choices. One thing is sure: Nosinglelist of 40 studies would satisfyeveryone.However, the studies included here are the ones that continue to be cited most frequently, stirred up the most controversy when they were published, sparked the most subsequent related research, opened new fields of psychological exploration, or changed most dramatically our knowledge of human behavior. These studies are organized according to the major psychology branch into which they best fit, includingBiology and Human Behavior; Consciousness; Learning and Conditioning; Intelligence, Cognition, and Memory; Human Development; Emotion and Motivation; Personality; Psychopathology; Psychotherapy;andSocial Psychology. PRESENTING THE STUDIES