Note: Supplemental materials are not guaranteed with Rental or Used book purchases.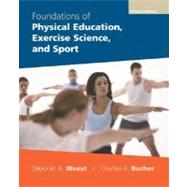 Foundations of Physical Education, Exercise Science, and Sport with PowerWeb
by
Wuest, Deborah A.
McGraw-Hill Humanities/Social Sciences/Languages
Questions About This Book?
What version or edition is this?
This is the 15th edition with a publication date of 6/21/2005.
What is included with this book?
The Used copy of this book is not guaranteed to include any supplemental materials. Typically, only the book itself is included.
Summary
Integrating the traditional presentation of the nature, scope, philosophy, and history of physical education and sport with the growing career opportunities available within this dynamic field, this text addresses the challenges and the future of the discipline. It emphasizes preparation for a diversity of careers, addressing areas such as teaching, coaching, exercise leadership, athletic training, sport management, and sport media.
Table of Contents
Preface
x

| | |
| --- | --- |
| | PART I Nature and Scope of Physical Education, Exercise Science, and Sport |

1
(134)
2
(37)

| | |
| --- | --- |
| | Contemporary Physical Education, Exercise Science, and Sport Programs |

5
(15)

| | |
| --- | --- |
| | Physical Education, Exercise Science, and Sport Defined |

8
(2)

| | |
| --- | --- |
| | Physical Education, Exercise Science, and Sport: The Fields |

10
(8)
18
(2)
20
(2)
20
(1)
21
(1)
22
(1)
22
(2)
24
(11)
24
(1)
24
(1)
25
(1)
26
(2)

| | |
| --- | --- |
| | Modern Educational Philosophy |

28
(1)

| | |
| --- | --- |
| | The Mind-Body Relationship |

29
(1)

| | |
| --- | --- |
| | Eclectic Approach to Philosophy |

30
(1)
30
(2)

| | |
| --- | --- |
| | Your Philosophy of Physical Education, Exercise Science, and Sport |

32
(3)
35
(1)
35
(1)
36
(1)
37
(2)
39
(39)

| | |
| --- | --- |
| | Role of Education in Society |

41
(7)

| | |
| --- | --- |
| | Goals and Objectives Defined |

42
(1)

| | |
| --- | --- |
| | Goals of Education: Historical Development |

43
(1)

| | |
| --- | --- |
| | Contemporary Goals of Education |

44
(3)

| | |
| --- | --- |
| | Physical Education and the Goals of Education |

47
(1)

| | |
| --- | --- |
| | Goals of Physical Education, Exercise Science, and Sport |

48
(6)
49
(3)

| | |
| --- | --- |
| | Contemporary Goals and Objectives |

52
(2)

| | |
| --- | --- |
| | Learning in the Three Domains |

54
(12)
56
(1)
56
(3)
59
(3)
62
(4)
66
(7)
66
(1)
66
(3)

| | |
| --- | --- |
| | The Role of Technology in Assessment |

69
(4)
73
(1)
74
(1)
74
(2)
76
(2)

| | |
| --- | --- |
| | Role in Society and in Education |

78
(57)
79
(6)

| | |
| --- | --- |
| | What Are the Implications of These Changing Demographics for Physical Education, Exercise Science, and Sport? |

82
(3)
85
(19)

| | |
| --- | --- |
| | What Are the Implications of the Wellness Movement for Physical Education, Exercise Science, and Sport? |

100
(4)

| | |
| --- | --- |
| | Physical Activity and Fitness Movement |

104
(18)

| | |
| --- | --- |
| | Fitness and Physical Activity of Children and Youth |

107
(4)

| | |
| --- | --- |
| | Fitness and Physical Activity of Adults |

111
(6)

| | |
| --- | --- |
| | What Are the Implications of the Fitness Movement for Physical Education, Exercise Science, and Sport? |

117
(5)
122
(8)

| | |
| --- | --- |
| | What Are the Implications of the Educational Reform Movement for Physical Education? |

125
(5)
130
(1)
130
(1)
131
(3)
134
(1)

| | |
| --- | --- |
| | PART II Foundations of Physical Education, Exercise Science, and Sport |

135
(234)
136
(40)
137
(3)
137
(1)
138
(1)
139
(1)
140
(1)

| | |
| --- | --- |
| | Early Modern European Programs |

141
(2)
141
(1)
142
(1)
142
(1)

| | |
| --- | --- |
| | Physical Education and Sport in the United States |

143
(17)

| | |
| --- | --- |
| | Colonial Period (1607 to 1783) |

143
(1)

| | |
| --- | --- |
| | National Period (1784 to 1861) |

144
(1)

| | |
| --- | --- |
| | Civil War Period until 1900 |

145
(5)
150
(2)

| | |
| --- | --- |
| | World War I (1916 to 1919) |

152
(1)

| | |
| --- | --- |
| | Golden Twenties (1920 to 1929) |

153
(1)

| | |
| --- | --- |
| | Depression Years (1930 to 1939) |

154
(2)

| | |
| --- | --- |
| | Mid-Twentieth Century (1940 to 1970) |

156
(4)

| | |
| --- | --- |
| | Significant Recent Developments (1970 to Present) |

160
(12)
160
(2)

| | |
| --- | --- |
| | Disease Prevention and Health Promotion |

162
(1)

| | |
| --- | --- |
| | School Physical Education |

162
(1)

| | |
| --- | --- |
| | Physical Fitness and Participation in Physical Activity |

163
(2)
165
(1)

| | |
| --- | --- |
| | Girls and Women in Sports |

166
(1)

| | |
| --- | --- |
| | Programs for Individuals with Disabilities |

167
(3)
170
(2)
172
(1)
173
(1)
173
(1)
174
(2)
176
(33)
176
(2)

| | |
| --- | --- |
| | Motor Learning and Motor Control |

178
(15)
178
(1)
179
(1)
180
(1)

| | |
| --- | --- |
| | Information-Processing Model |

180
(2)
182
(2)

| | |
| --- | --- |
| | Forces Influencing Learning |

184
(4)
188
(5)
193
(13)
193
(1)
193
(2)
195
(1)

| | |
| --- | --- |
| | Phases of Motor Development |

195
(2)

| | |
| --- | --- |
| | Selected Fundamental Motor Skills |

197
(5)

| | |
| --- | --- |
| | Development of Fundamental Motor Skills |

202
(4)
206
(1)
207
(1)
207
(1)
207
(2)

| | |
| --- | --- |
| | Biomechanical Foundations |

209
(29)

| | |
| --- | --- |
| | Kinesiology and Biomechanics |

210
(8)
211
(1)
212
(2)

| | |
| --- | --- |
| | Reasons for Studying Biomechanics |

214
(3)
217
(1)

| | |
| --- | --- |
| | Selected Biomechanical Terms Related to Human Motion |

218
(2)

| | |
| --- | --- |
| | Mechanical Principles and Concepts Related to Movement |

220
(7)
220
(2)
222
(1)
223
(1)
223
(1)
223
(4)
227
(7)
227
(3)
230
(4)
234
(1)
235
(1)
236
(1)
236
(1)
237
(1)

| | |
| --- | --- |
| | Exercise Physiology and Fitness |

238
(51)

| | |
| --- | --- |
| | Exercise Physiology: An Overview |

239
(2)
239
(1)
239
(2)
241
(7)
243
(1)

| | |
| --- | --- |
| | Physical Activity, Physical Fitness, and Health |

244
(4)
248
(4)

| | |
| --- | --- |
| | Energy Production for Physical Activity |

248
(1)

| | |
| --- | --- |
| | Principles of Fitness Training |

249
(2)

| | |
| --- | --- |
| | Planning a Fitness Program |

251
(1)

| | |
| --- | --- |
| | Health Fitness Components |

252
(20)

| | |
| --- | --- |
| | Cardiorespiratory Endurance |

253
(4)
257
(6)

| | |
| --- | --- |
| | Muscular Strength and Endurance |

263
(4)
267
(5)

| | |
| --- | --- |
| | Conducting Fitness Programs |

272
(2)
274
(1)

| | |
| --- | --- |
| | Physical Activity Recommendations for Good Health |

275
(1)

| | |
| --- | --- |
| | Special Considerations for Fitness |

275
(11)

| | |
| --- | --- |
| | Environmental Conditions and Fitness |

276
(1)
277
(3)
280
(6)
286
(1)
286
(1)
286
(2)
288
(1)
289
(49)
290
(4)
290
(2)
292
(1)
293
(1)
294
(2)
294
(1)
294
(1)
295
(1)

| | |
| --- | --- |
| | Sport in Educational Institutions |

296
(14)
297
(5)
302
(8)
310
(9)
319
(6)

| | |
| --- | --- |
| | Sport for Individuals with Disabilities |

325
(2)

| | |
| --- | --- |
| | Sport for Children and Youth |

327
(3)
330
(2)

| | |
| --- | --- |
| | Performance-Enhancing Substances in Sport |

332
(2)
334
(1)
334
(1)
335
(1)
336
(2)

| | |
| --- | --- |
| | Sport and Exercise Psychology |

338
(31)

| | |
| --- | --- |
| | Sport and Exercise Psychology |

339
(5)
339
(1)
339
(3)
342
(2)

| | |
| --- | --- |
| | Psychological Benefits of Physical Activity |

344
(2)
346
(4)
350
(2)
352
(2)
354
(2)
356
(4)
357
(1)
357
(1)

| | |
| --- | --- |
| | Principles of Effective Goal-Setting |

358
(2)

| | |
| --- | --- |
| | Enhancing Performance Through Self-Talk, A Cognitive Strategy |

360
(3)
361
(1)
361
(1)
362
(1)
363
(2)
365
(1)
365
(1)
366
(1)
367
(2)

| | |
| --- | --- |
| | PART III Careers and Professional Considerations |

369
(136)

| | |
| --- | --- |
| | Career and Professional Development |

370
(40)

| | |
| --- | --- |
| | Careers in Physical Education, Exercise Science, and Sport |

371
(20)
372
(5)

| | |
| --- | --- |
| | Maximizing Professional Preparation |

377
(8)

| | |
| --- | --- |
| | Attaining a Professional Position |

385
(6)

| | |
| --- | --- |
| | Leadership and Professional Development |

391
(9)
392
(1)

| | |
| --- | --- |
| | Leadership Qualities, Traits, and Skills |

392
(4)
396
(4)

| | |
| --- | --- |
| | Professional Organizations in Physical Education, Exercise Science, and Sport |

400
(6)

| | |
| --- | --- |
| | Why Belong to a Professional Organization? |

400
(2)

| | |
| --- | --- |
| | Professional Organizations |

402
(4)
406
(1)
407
(1)
407
(1)
408
(2)

| | |
| --- | --- |
| | Teaching and Coaching Careers |

410
(41)
411
(7)

| | |
| --- | --- |
| | Choosing a Teaching Career |

411
(1)

| | |
| --- | --- |
| | What Are the Benefits and Drawbacks Associated with Teaching? |

412
(1)

| | |
| --- | --- |
| | What Is Effective Teaching? |

413
(3)

| | |
| --- | --- |
| | Competencies for Beginning Teachers |

416
(2)

| | |
| --- | --- |
| | Teaching Responsibilities |

418
(5)
423
(11)

| | |
| --- | --- |
| | Teaching in the School Setting |

423
(7)

| | |
| --- | --- |
| | Teaching in Nonschool Settings |

430
(4)
434
(1)
434
(8)

| | |
| --- | --- |
| | Choosing a Coaching Career |

435
(1)

| | |
| --- | --- |
| | What Are the Benefits and Drawbacks of Coaching? |

435
(2)
437
(1)

| | |
| --- | --- |
| | Coaching Responsibilities |

437
(2)

| | |
| --- | --- |
| | Securing a Coaching Position |

439
(1)
440
(2)
442
(2)

| | |
| --- | --- |
| | Increasing Your Professional Marketability |

444
(4)
448
(1)
448
(1)
449
(1)
449
(2)

| | |
| --- | --- |
| | Fitness- and Health-Related Careers |

451
(28)

| | |
| --- | --- |
| | Fitness- and Exercise-Related Careers |

452
(14)
455
(3)

| | |
| --- | --- |
| | Commercial and Community Fitness Programs |

458
(2)
460
(1)

| | |
| --- | --- |
| | Strength and Conditioning Professionals |

460
(1)
461
(1)
462
(4)
466
(5)
466
(3)

| | |
| --- | --- |
| | Health and Weight-Control Clubs and Spas |

469
(2)
471
(3)
471
(1)
471
(1)
472
(1)
472
(2)

| | |
| --- | --- |
| | Increasing Your Professional Marketability |

474
(1)
475
(1)
476
(1)
476
(1)
477
(2)
479
(26)
481
(2)

| | |
| --- | --- |
| | Careers in Sport Management |

483
(7)
484
(2)

| | |
| --- | --- |
| | Director of Intramurals and/or Campus Recreation |

486
(1)

| | |
| --- | --- |
| | Director of Corporate Recreation |

486
(1)

| | |
| --- | --- |
| | Sport Facilities Management |

486
(2)
488
(1)

| | |
| --- | --- |
| | Career Opportunities in Professional Organizations |

489
(1)
489
(1)
490
(5)
490
(2)

| | |
| --- | --- |
| | Sportswriting and Journalism |

492
(1)
493
(1)

| | |
| --- | --- |
| | Sports Information Director |

493
(1)
494
(1)

| | |
| --- | --- |
| | Performance and Other Sport Careers |

495
(5)
495
(1)
496
(1)
496
(1)
497
(1)
498
(2)

| | |
| --- | --- |
| | Increasing Your Professional Marketability |

500
(1)
501
(1)
501
(1)
502
(1)
502
(3)

| | |
| --- | --- |
| | PART IV Issues, Challenges, and the Future |

505
(64)
506
(35)

| | |
| --- | --- |
| | Issues in Physical Education, Exercise Science, and Sport Today |

507
(16)

| | |
| --- | --- |
| | Leadership in Physical Activity |

510
(2)

| | |
| --- | --- |
| | Teaching Values in Physical Education and Sport |

512
(3)

| | |
| --- | --- |
| | Leadership in Youth Sport |

515
(5)
520
(1)

| | |
| --- | --- |
| | The Gap between Research and Practice |

521
(2)
523
(14)

| | |
| --- | --- |
| | High-Quality, Daily Physical Education |

523
(2)
525
(6)

| | |
| --- | --- |
| | Achievement of National Health Goals |

531
(3)

| | |
| --- | --- |
| | Lifespan Involvement for All People |

534
(3)
537
(1)
537
(1)
538
(1)
539
(2)
541
(28)

| | |
| --- | --- |
| | Societal Trends and Current Developments |

543
(14)

| | |
| --- | --- |
| | Health Promotion and Disease Prevention Movement |

544
(4)
548
(2)
550
(3)
553
(3)
556
(1)
557
(1)

| | |
| --- | --- |
| | Establishment of Jurisdiction Over Our Domain |

558
(1)

| | |
| --- | --- |
| | Enhancement of Our Delivery Systems |

559
(1)
560
(3)
563
(1)
564
(1)
564
(1)
565
(4)
Credits
569
(2)
Index
571