Note: Supplemental materials are not guaranteed with Rental or Used book purchases.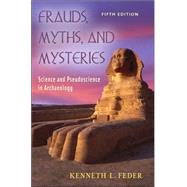 Frauds, Myths, and Mysteries : Science and Pseudoscience in Archaeology
ISBN13:
9780072869484
by
Feder, Kenneth L.
McGraw-Hill Humanities/Social Sciences/Languages
Related Products
Summary
Ancient astronauts? Atlantis? Psychic archaeology? Pharaoh's curses? Committed to the scientific investigation of human antiquity, this indispensable supplementary text uses interesting archaeological hoaxes, myths, and mysteries to show how we can truly know things about the past through science. The text presents examples of fantastic findings, and carefully, logically, and entertainingly describes the flaws in the purported evidence for each fantastic claim; readers can hone their own evaluative skills by example.
Table of Contents
Chapter 1: Science and Pseudoscience Belief in the Enbelievable Pseudoscience and Archaeology Why I Wrote This Book Chapter 2: Epistemology: How You Know What You Know Knowing Things Science: Playing by the Rules The Workings of Science The Case of Childbed Fever The Science and Nonscience: The Essential Differences The Art of Science Science and Archaeology Chapter 3: Anatomy of an Archaeological Hoax The Cardiff Giant: The Goliath of New York Why Did They Do It? Current Perspectives: Frauds Chapter 4: Dawsons Dawn Man: The Hoax at Piltdown The Evolutionary Context A Remarkable Discovery in Sussex The Piltdown Enigma Whodunnit? The Lesson of Piltdown Current Perspectives: Human Evolution Chapter 5: Who Discovered America? America's First People Who's Next? After the Indians, Before Columbus Europeans in America: The Norse Discovery of America Other Voyagers, Other Visitors America BC? Current Perspectives: The Peopling of the Americas Chapter 6. The Myth of the Moundbuilders The Myth of a Vanished Race Who Were the Moundbuilders? Identifying the Vanished Race The Moundbuilder Mystery Solved Rationale for the Myth of a Vanished Race Current Perspectives: The Moundbuilders Chapter 7: Lost: One ContinentReward Atlantis: Where Are You? Atlantis: The Source of the Legend After Plato Current Perspectives: Atlantis Chapter 8: Prehistoric E.T.: The Fantasy of Ancient Astronauts Gods in Fiery Chariots The Archaeology of Mars Current Perspectives:The von Daniken Phenomenon Chapter 9: Mysterious Egypt When Did People Get This Smart? Ancient Egypt Current Perspectives: Secrets of the Pyramids Chapter 10: Good Vibrations: Psychics and Dowsers Psychic Archaeology Dowsing Instead of Digging Current Perspectives: Archaeology Without Digging Chapter 11: Old-Time ReligionNew Age Visions Scientific Creationism The Shroud of Turin New Age Prehistory Current Perspectives: Religions Old and New Chapter 12: Real Mysteries of a Veritable Past The Cave Painters of Europe The Civilization of Europe The Civilization of the Maya Stonehenge Conclusion: A Past We Deserve