Note: Supplemental materials are not guaranteed with Rental or Used book purchases.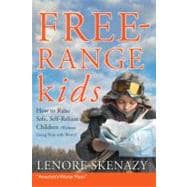 Free-Range Kids : How to Raise Safe, Self-Reliant Children (Without Going Nuts with Worry)
ISBN13:
9780470574751
by
Skenazy, Lenore
Questions About This Book?
What version or edition is this?
This is the 1st edition with a publication date of 4/19/2010.
What is included with this book?
The New copy of this book will include any supplemental materials advertised. Please check the title of the book to determine if it should include any CDs, lab manuals, study guides, etc.
Summary
FREE RANGE KIDS has become a national movement, sparked by the incredible response to Lenore Skenazy's piece about allowing her 9-year-old ride the subway alone in NYC. Parent groups argued about it, bloggers, blogged, spouses became uncivil with each other, and the media jumped all over it. This book debunks dangerous myths and advocates rational care with Free Range Parenting Commandments, including:Know When to Worry (And Not) -- Playdates and Axe Murders: How to Tell the DifferenceNever Listen to Experts -- Who Says You Are Doing Everything Wrong. Them. Who knows less than you do about you and your kids. ThemEat Chocolate -- Give Halloween Back to the Trick or Treaters. There's never been a single case of a razor blade in an Apple in history. Never.Turn off the 24 Hour News TURN OFF THE 24 HOUR NEWS -- Go Easy on "Law & Order" too. The inflammatory hysteria will make you crazy.Stop Thinking Like a Lawyer -- Some risks will not lead to litigation.Study History -- Your 10-year-old Would Have Been Forging Horse Shoes (or at least delivering papers)Fail -- It's the New Succeed. How else are you going to learn.Listen to Your Kids -- They're sick of Being Babied (except the actual babies, of course)Listen to Your Parents -- They raised you, right? And you're still alive.Relax -- Not every little thing you do impacts your child's development, unless you smother or inspire rebellionA lot of parents today, Skenazy says, see no difference between letting their kids walk to school and letting them walk through a firing range. Any risk is seen as too much risk. But if you try to prevent every possible danger or difficult in your child's everyday life, that child never gets a chance to grow up. We parents have to realize that the greatest risk of all just might be trying to raise a child who never encounters choice or independence.
Table of Contents
Acknowledgments
p. ix
Introduction: Welcome to-Yikes!
p. xi
The fourteen free-Range Commandments
p. 1
Know When to Worry
p. 3
Play Dates and Axe Murderers: How to Tell the Difference
Turn Off the News
p. 12
Go Easy on the "Law and Order," Too
Avoid Experts
p. 21
Who Knew You Were Doing Everything Wrong? ...Them!
Boycott Baby Knee Pads
p. 31
And the Rest of the Kiddie Safety-Industrial Complex
Don't think Like a Lawyer
p. 41
Some Risks Are Worth It
Ignore the Blamers
p. 50
They Don't Know Your Kid Like You Do
Eat Chocolate
p. 59
Give Halloween Back to the Trick-or-Treaters
Study History
p. 68
Your Ten-Year-Old Would Have Been Forging Horseshoes (or at Least Delivering Papers)
Be Worldly
p. 80
Why Other Countries Are Laughing at zee Scaredy-Cat Americans
Get Braver
p. 91
Quit Trying to Control Everything. It Doesn't Work Anyway
Relax
p. 103
Not Every Little Thing You Do Has That Much Impact on Your Child's Development
Fail!
p. 114
It's the New Succeed
Lock Them Out
p. 125
Make Them Play-or Else!
Listen to Your Kids
p. 135
They Don't Want to Be Treated Like Babies (Except the Actual Babies, of Course)
The Free-Range Guide Life
p. 145
Safe or Not? The A-to-Z Review of Everything You Might Be Worried About
p. 147
Animals, Being Eaten By
Bats (Metal)
Bats (Vampire)
Bottle Feeding: Formula for Disaster?
BPA Poisoning in Baby Bottles, Sippy Cups ... and Everything Else
Cell Phones and Brain Cancer (but Not, Alas, "Cell Phones and How Come Your Kids Never Answer When You Need Them To")
Choking on Food and All the Other Little Things Around the House
Cough and Cold Medicinitis
Death by Stroller
Eating Snow
Germs, Antigerms, and Shopping Cart Liners
Halloween Candy: Hershey's Kiss of Death?
Internet Predators and Other Skeeves Online
Lead Paint, Lead Toys, and Lead Everything from China
Licking the Batter off Beaters While They Ace Still Plugged In
Plastic Bags and Why There Are Warnings All over Them
Playground Perils
Pools and Water and Kids and Toilets (Not the Fun Part)
Raw Dough's Raw Deal
School Shootings
Spoilage (of Children)
Spoilage (of Lunch)
Sudden Infant Death Syndrome (SIDS)
Sunscreen, Vitamin D, Skin Cancer, You Name It
Teen Sex (Yes, Kids, We Know You're Reading This. Now Come and Ask Us All About Contraception)
The Woods, Playing In
Walking to School (or at Least the Bus Stop)
Zoo Animals (in Cracker Form and Otherwise)
Strangers with Candy: Even the Folks Who Put the Faces on Milk Cartons Aren't Too Worried
p. 180
Conclusion: The Other Problem That Has No Name-and Its Solution
p. 191
Sources
p. 197
Helpful Books, Blogs, Web Sites, and Some Inspiring Family Movies
p. 211
About the Author
p. 215
Index
p. 217
Free-Range Membership Cards
p. 227
Table of Contents provided by Ingram. All Rights Reserved.