Note: Supplemental materials are not guaranteed with Rental or Used book purchases.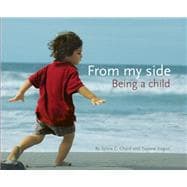 From My Side : Being a Child
ISBN13:
9780876590744
by
Unknown
Summary
These heartwarming photographs beautifully illustrate the lives of children from around the world.This beautiful book, filled with hundreds of color photographs from many different countries, invites us to look through a window into the lives of children everywhere.Children are never still. They are always acting and reacting, thinking and speaking, anticipating and reflecting. The photographs in this book illustrate and explore the experience of children, who learn to make sense of their world by interacting with people, places, and objects they encounter in their homes, in public places, in schools, and in childcare centers. We hear the laughter of children dressed for a festival dance, the coos and gurgles of infants in their mothers' arms, and squeals of delight as children skip rocks in a stream. The authors include captions and brief essays to expand on their photographs, but often the pictures speak for themselves.You will come away from this book changed. The compelling story of childhood, told here from the child's point of view, will enrich and inspire your work for and with children.Dr. Sylvia C. Chard is professor emeritus of Early Childhood Education at the University of Alberta, Canada. Dr. Chard teaches an online course from her website and lectures on interdisciplinary learning in Canada, the United States, and in many countries around the world.Yvonne Kogan has twenty-nine years of experience working as a teacher and administrator. She is the co-owner and principal of the Early Childhood and Lower Elementary departments of Eton School in Mexico City.