Note: Supplemental materials are not guaranteed with Rental or Used book purchases.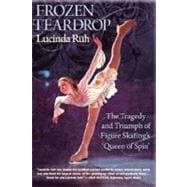 Summary
"Frozen Teardrop" is the autobiographical account of one of the most beloved and controversial personalities in the history of figure skating. In this straight-forward memoir, Lucinda Ruh takes her readers through the harsh and painful realities of the figure-skating world while exposing the never-before-released details of her own private pain and suffering which would ultimately turn this Guinness-listed international icon into a bed-ridden, suicidal, starved, agoraphobic and terrified young woman. "Frozen Teardrop" is a true-life tale of beauty, refinement, genius, and skill contrasted against the cut-throat starkness of world figure-skating competition in its bleakest, most tortuous, most mind-warping moments--as seen through the eyes of a developing young prodigy whose personal life would harbor its own menagerie of horrors, secrets, and personal violations.
Author Biography
Lucinda Ruh is a two-time National Champion, two-time World Professional figure skating Bronze Medalist, and the Guinness World Records Holder for the longest spins on ice. Dubbed the "Queen of Spin," she is, also well known for being the fastest spinner on ice, having clocked in at a remarkable six rotations per second. Lucinda made her mark on skating history by creating over twenty different spin positions. She has been twice listed among the "25 Most Influential Names in Figure Skating" by International Figure Skating Magazine.
Table of Contents
Preface
p. ix
Light from the Heavens
p. 1
Playground Beneath the Eiffel Tower
p. 14
The Three Curses or Blessings?
p. 25
Tokyo Alien Girl
p. 40
From the Outside Looking In
p. 57
Culture Shock
p. 85
Misunderstood and Crushed to Pieces
p. 97
Chinese Dumplings
p. 109
Unknown to Known
p. 127
Pains of Error at the Expense of the Innocent
p. 137
Beginning of an End
p. 159
Broken "Wing
p. 169
Deadly Frozen
p. 177
Terror
p. 186
Glitz Within the Terror
p. 196
Stars In or Out of Line
p. 210
Doctors Galore
p. 218
I Know
p. 227
Finale and Opening the "World to Me
p. 233
Afterword: Being the Mother ofLucinda
p. 239
About the Author
p. 243
Table of Contents provided by Ingram. All Rights Reserved.