Note: Supplemental materials are not guaranteed with Rental or Used book purchases.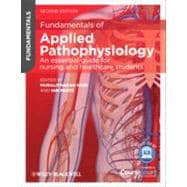 Fundamentals of Applied Pathophysiology An Essential Guide for Nursing and Healthcare Students
ISBN13:
9780470670620
by
Nair, Muralitharan
;
Peate, Ian
Questions About This Book?
What version or edition is this?
This is the 2nd edition with a publication date of 4/1/2013.
What is included with this book?
The New copy of this book will include any supplemental materials advertised. Please check the title of the book to determine if it should include any CDs, lab manuals, study guides, etc.
The eBook copy of this book is not guaranteed to include any supplemental materials. Typically only the book itself is included.
Summary
Fundamentals of Applied Pathophysiology , second edition, is designed specifically for nursing and health care students, providing a straightforward, jargon-free, accessible introduction to pathophysiology. With an applied, full colour visual approach, the new edition of this best-selling textbook provides clear explanations of the human anatomy of the human body, and the effects of disease or illness on normal physiology. To enhance the learning process, the book includes learning outcomes, test-your-learning, key words, glossary of terms, and clinical case scenarios, and is supported by an online resource centre with further activities and exercises. Key Features: Superb full colour illustrations, bringing this subject to life Full of extra features to help improve the learning process, including key words, test-your-knowledge, exercises, further reading and learning outcomes New case studies throughout to help you understand how to apply the knowledge in clinical practice Supported by an online resource centre with fantastic extras for both lecturers and students, including an image bank, interactive multiple choice questions, true/false exercises, word-searches, glossary flash-cards, label-the diagram activities, and more!
Table of Contents
About the series
Contributors
Acknowledgements
Copyright information
Preface
How to get the best out of your textbook
How to use the website
Introduction
Chapter 1 Cell and body tissue physiology
Anthony Wheeldon
Introduction
Anatomy of the cell
The cell membrane
Cytoplasm
Nucleus
Mitosis and meiosis
The organelles
Types of cells
Tissues
Tissue repair
Conclusion
Activities
Glossary of terms
References
Chapter 2 Cancer
Carl Clare
Introduction
Biology of cancer
Causes of cancer
Staging of cancers
Signs and symptoms of cancer
Treatment of cancer
Prevention of cancer
Examples of cancers
Conclusion
Activities
Further resources
Glossary of terms
References
Chapter 3 Inflammation, immune response and healing
Janet G. Migliozzi
Introduction
Infectious micro-organisms
Spread of infection
Types of infectious micro-organisms
The immune system
Organs, cells and proteins of the immune system
Inflammatory response
Conclusion
Activities
Further resources
Glossary of terms
References
Chapter 4 Shock
Janet G. Migliozzi
Introduction
Types of shock
Pathophysiology of shock
Stages of shock
Care of the patient in shock
Conclusion
Activities
Further resources
Glossary of terms
References
Chapter 5 The heart and associated disorders
Muralitharan Nair
Introduction
Location of the heart
Structures of the heart
Blood flow through the heart
Conducting system of the heart
Nerve supply of the heart
Diseases of the heart
Conclusion
Activities
Further resources
Glossary of terms
References
Chapter 6 The vascular system and associated disorders
Muralitharan Nair
Introduction
Overview of blood vessels
Structure of the blood vessels
Blood pressure
Diseases of the blood vessels
Conclusion
Activities
Further resources
Glossary of terms
References
Chapter 7 The blood and associated disorders
Muralitharan Nair
Introduction
Composition of blood
Properties of blood
Functions of blood
Plasma
Formed elements of blood
Haemostasis
Blood groups
Diseases of the blood
Conclusion
Activities
Further resources
Glossary of terms
References
Chapter 8 The renal system and associated disorders
Muralitharan Nair
Introduction
The renal system
Disorders of the renal system
Conclusion
Activities
Further resources
Glossary of terms
References
Chapter 9 The respiratory system and associated disorders 240
Anthony Wheeldon
Introduction
Anatomy and physiology
Disorders of the respiratory system
Conclusion
Activities
Further resources
Glossary of terms
References
Chapter 10 The nervous system and associated disorders
Janet G. Migliozzi
Introduction
Structure of the nervous system
Disorders of the nervous system
Conclusion
Activities
Further resources
References
Glossary of terms
Chapter 11 The gastrointestinal system and associated disorders
Louise McErlean
Introduction
Digestion
Structure of the gastrointestinal system
Accessory organs of digestion
Disorders of the digestive system
Conclusion
Activities
Further resources
Glossary of terms
References
Chapter 12 Nutrition and associated disorders
Muralitharan Nair
Introduction
Macronutrients
Micronutrients
Nutritional requirements
Nutritional disorders
Conclusion
Activities
Further resources
Glossary of terms
References
Chapter 13 The endocrine system and associated disorders
Carl Clare
Introduction
Hormones
The physiology of the endocrine glands
Disorders of the endocrine system
The pancreas
Conclusion
Activities
Further resources
Glossary of terms
References
Chapter 14 The reproductive systems and associated disorders
Ian Peate
Introduction
Reproductive health
The pelvis
The female reproductive tract
The menstrual cycle
The female breast
Menstrual disorders
The male reproductive tract
Male reproductive disorders
Conclusion
Activities
Further resources
Glossary of terms
References
Chapter 15 Pain and pain management
Anthony Wheeldon
Introduction
The physiology of pain
Pain classification
The pain experience
Pain theories
Pain pathophysiology and management
Conclusion
Activities
Further resources
Glossary of terms
References
Chapter 16 The musculoskeletal system and associated disorders
Ian Peate
Introduction
The musculoskeletal system
The nervous system
Assessing the patient with a musculoskeletal disorder
Disorders of the musculoskeletal system
Conclusion
Activities
Further resources
Glossary of terms
References
Chapter 17 Fluid and electrolyte balance and associated disorders
Ian Peate
Introduction
Body fluid compartments
Composition of body fluid
Body fluid balance
Disorders associated with fluid and electrolyte imbalance
Conclusion
Activities
Further resources
Glossary of terms
References
Chapter 18 The skin and associated disorders
Ian Peate
Introduction
The anatomy and physiology of the skin
Disorders of the skin
Conclusion
Activities
Further resources
Glossary of terms
References
Chapter 19 The ear, nose and throat, and eyes, and associated disorders
Carl Clare
Introduction
Physiology of the ear, nose and throat
Physiology of the eye
Disorders of the ear, nose and throat, and eye
Conclusion
Activities
Further resources
Glossary of terms
References
Appendix A Reference values in venous serum (adults)
Appendix B List of units
Index