Note: Supplemental materials are not guaranteed with Rental or Used book purchases.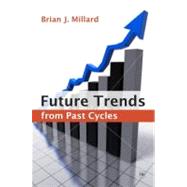 Future Trends from Past Cycles: Identifying Share Price Trends and Turning Points Through Cycle, Channel and Probability Analysis
ISBN13:
9781871857047
by
MILLARD BRIAN
Summary
Future Trends from Past Cycles explains how to identify potential future trends and turning points in equity prices (short, long and medium-term) by analysing past cycles in market data. Brian Millard's renowned technical expertise and mathematical insight forms the basis of this fascinating guide, built around a blend of cycle, channel and probability analysis.
Author Biography
Brian Millard details the mechanics of identifying this 10% - estimating the stability of trend positions, drawing probability boundaries for price positions, and deducing the core probability of any given price trend. He looks closely at the various forms of risk at play in the markets, uncovers the hidden mathematics of price movement, and shows how to simulate future movements; as well as presenting ideas on the best new ways to read cycles, evaluate mathematical trends, plot moving averages and anticipate turning points. Like the work of J. M. Hurst, Millard's forbear, Future Trends shows what is possible when approaching the markets with a measured, logical technique based on firm mathematical and scientific logic. This is the essential final book from an acclaimed technical analyst and author.
Table of Contents
List of Figures
p. xi
List of Tables
p. xxix
Introduction
p. 1
Definition of a Trend
p. 3
Definition of a Cycle
p. 3
Determining Trends
p. 3
Risk and the Markets
p. 9
Sources of Risk
p. 9
How Prices Move (I)
p. 19
Coin Tossing
p. 20
Rising and Falling Trends
p. 22
How Prices Move (II)
p. 29
The Normal Distribution
p. 29
Simulating Future Movement
p. 45
Monte Carlo Simulation
p. 47
Cycles and the Market
p. 59
Properties of Sine Waves
p. 61
Cycles in the Stock Market
p. 66
Research on Market Cycles
p. 71
Trends and the Market
p. 75
Mathematical Trends
p. 76
Extrapolating a trend line
p. 87
Properties of Moving Averages
p. 91
Calculation of Moving Averages
p. 91
Averages as Proxies for Trends
p. 111
Probabilities From Centred Averages
p. 114
Boundaries and Channels
p. 119
Trend Turning Points (I)
p. 125
Short-term Trends
p. 127
Trend Turning Points (II)
p. 145
Estimation of Channel Direction
p. 145
Trend Turning Points (III)
p. 175
Why Does Channel Analysis Work?
p. 202
Cycles and Sums of Cycles
p. 207
Extrapolation of Cycles
p. 210
The Comparator
p. 213
Failure of Extrapolations
p. 234
Bringing it All Together
p. 237
Four Key Steps
p. 237
Conclusion
p. 265
Table of Contents provided by Ingram. All Rights Reserved.