Note: Supplemental materials are not guaranteed with Rental or Used book purchases.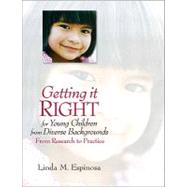 Getting it RIGHT for Young Children from Diverse Backgrounds Applying Research to Improve Practice
ISBN13:
9780132224161
by
Espinosa, Linda M
Related Products
Summary
After thirty years of working with children from diverse backgrounds, the author has seen first hand the consequences of inadequate training, misguided practices, neglect, misunderstanding, and even outright bigotry on the life forces of bright, curious, and highly verbal children who happen to have been born into poverty. Their eagerness to learn and to participate in a social community, their youthful quirkiness and delight in the mysteries of the world-these can all be muted before they ever begin formal schooling. However, well-crafted early education programs staffed by qualified and caring educators can successfully partner with families who speak little English and joyfully educate young children and prepare them for the rigors of formal academic instruction. This book draws on the author's experience to provide all practitioners with research-based strategies and practices that they need to educate ALL children successfully.
Author Biography
Dr. Linda M. Espinosa, recently retired Professor of Early Childhood Education at the University of Missouri, Columbia, served as the Co-director of the National Institute for Early Education research at Rutgers University from 2002 to 2003. Her recent research and policy work has focused on effective curriculum and assessment practices for young children from low-income families who are dual language learners. She has served as a consulting editor for Early Childhood Research Quarterly, Early Childhood Research & Practice, Information Technology in Childhood Education, and Prevention Researcher, and serves on multiple national commissions and advisory boards. She currently serves as the Co-Chair of the First Five, Los Angeles Universal Preschool research Advisory committee and is a member of the National Task Force on Early Childhood Education for Hispanics Technical Advisory Group. Dr. Espinosa has worked extensively with low-income Hispanic/Latino children and families throughout the state of California as a school administrator and program director in San Francisco, San Jose, and Redwood City. She developed and directed the Family Focus for School Success program in Redwood City, California, which has received state and national recognition. She has published more then 50 research articles and training manuals on how to establish effective educational services for low-income, minority families and children who are acquiring English as a second language.
Table of Contents
Chapter 1 Early Childhood Education, Diversity and Educational Equity
:
The Why of Early Childhood Education
Why the Increased Focus on Early Childhood Programs Right Now?
Public Program for Young Children
Summary
Reflection and Discussion Questions
Chapter 2 The Changing Face of Early Childhood in the U.S.: New Promises
and Pitfalls
Current Demographics and Population Projections
Children in Poverty
Increasing Linguistic Diversity in Early Childhood Programs
Increases in Hispanic/Latino Population
Culture and Early Education
Preschool and English Language Learners
Early Education Standards Movement and Diversity
Summary
Reflection and Discussion Questions
Chapter 3 What Research Tells Us About The Needs and Abilities of All Young
Children
The Science of Early Education
Social-Emotional Roots of All Learning: The Importance of Positive Relationships
Implications of Research for Early Childhood Practitioners
Risk and Resiliency in Young Children
Summary
Reflection and Discussion Questions
Chapter 4 Research Findings and Recommendations for Children Living in
Poverty
Issues and Considerations for Children Living in Poverty
The Importance of Resiliency
What Teachers Can Do
School Readiness and Low-Income Children
The Importance of High Quality Curricula: Specific Strategies
Professional Development and Effective Teacher Supports
Achieving Success: Schools, Families, and Communities Working Together
Summary
Reflection and Discussion Questions
Chapter 5 Research on the Development, Learning and Teaching of Young English Language Learners
Issues and Considerations for ELL Children
Myths About English Language Learners Not Supported by Scientific Evidence
English Language Learners and School Readiness: Overlapping Influences of Language and Poverty
Role of Home Language in English Acquisition
How do Young Children Learn a Second Language?
Bilingualism and Social-Emotional Development
Research on Different Curriculum/Program Approaches
Working with ELL Families
Summary
Reflection and Discussion Questions
Chapter 6 Promising Curriculum and Assessment Strategies for Young
English Language Learners
The Importance of Goals
Specific Teaching Strategies in Dual Language Early Childhood Programs
The Importance of a Comprehensive Curriculum
Specific Strategies in English Language Programs with Home Language Support
Assessment Approaches: How to Collect Accurate Information on the Development of Dual Language Learners
Putting it All Together: ECE Settings Where ELL Children Can Flourish
Summary
Reflection and Discussion Questions
Chapter 7 Meeting the Future Challenges of Early Childhood Education
National Will/Consensus
Using Research, Advocacy, and Persistence to Move the Agenda Forward: Inch-by-Inch, Step-by-Step
Link to National Education Priorities/Policies
Investment/Resources Needed
Summary
Reflection and Discussion Questions
Appendix A
Sample Family Languages and Interests Survey
Appendix B
Resources for Serving Young Children from Diverse Backgrounds
Appendix C
Information on The Early Authors' Program
Appendix D
Sample Individualized Language Plan
Glossary
References
Index