Note: Supplemental materials are not guaranteed with Rental or Used book purchases.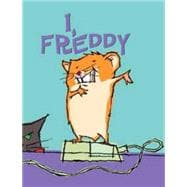 Summary
Move over, Stuart Little, there is a new mouse in town. Except this mouse is a hamster. And not just any hamster. He is a golden hamster of the highest order - and destined for great things. Freddy is not happy with his boring treadmill life at the pet store. He continaully embarrasses himself in an attempt to get adopted. Freddy believes he will have a more civilized and exciting life as soon as he has a home. After a series of funny misadventures (including encounters with a fierce tomcat and two guinea pigs who speak in Shakespearean couplets) he teaches himself to read and write. He then pens his witty and heartwarming autobiography that tells of his journey to self discovery. A hamster has never been smarter or funnier in telling the tale of his exceptional life.
Author Biography
Dietlof Reiche's middle-grade and young adult novels have garnered many awards in his native Germany, including the German Juvenile Literature Award and the Oldenburg's Children's Book Prize. Born in Dresden, Germany, in 1942, Reiche spent his early childhood in the village of Nördlingen, the town where his first historical novel Der Bleisiegelfälscher (The Lead Seal Counterfeiter), is set. Before becoming a full-time writer of children's books, Reiche studied engineering. He later took an academic position at Darmstadt Technical University, followed by studies in sociology, and work as a graphic designer. Many of Reiche's books are historical fiction, but he also enjoys mixing history with fantastic elements, and often brings his wonderful sense of humor and his concern for the environment to his books. In Reiche's exciting new novel Ghost Ship, he blends contemporary life with history and the supernatural to create one captivating adventure. His Golden Hamster Saga series: I, Freddy; Freddy in Peril; Freddy to the Rescue; and the forthcoming, Freddy and the Ferocious Ferrets is hilariously narrated by Freddy the Golden hamster, and was inspired by memories of the numerous pet hamsters Reiche had as a child. Dietlof Reiche lives with his wife in Hamburg, Germany. Mr Cepeda received his BFA in illustration from California State University, Long Beach in 1992 and also studied Engineering at Cornell University. He is the illustrator of awarding-winning picture books such as What a Truly Cool World and Nappy Hair.