Note: Supplemental materials are not guaranteed with Rental or Used book purchases.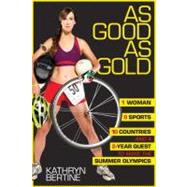 Summary
Imagine George Plimpton. Except with real athletic ability. And hers"s a woman. And shers"s taken on a challenge that makesPaper Lionlook like a brisk game of Go Fish. Meet Kathryn Bertine, elite triathlete, former professional figure skater, and starving artist. Just as her personal and professional dreams begin to crumble in the summer of 2006, ESPN stakes her to a dream: Take two years to make the 2008 summer Olympics in Beijing.As Good As Goldis the heroic, hilarious account of Bertiners"s serial exertions in the realms of triathlon, modern pentathlon, team handball, track cycling, road cycling, rowing, open water swimming, racewalking, and-fasten your seatbelts-luge. On her journey, the obstacles range from jet lag to jellyfish, flat tires to floundering relationships, repeated rejection to road rash. But, as time is running out, Bertine doesnrs"t sweat the small stuff, only the large-like scouring the globe for a tiny nation to adopt her, and pushing her body and mind as far as it will go. Maybe all the way to China. Between harrowing, often laugh-out-loud episodes of triumph and humiliation, Bertine takes short "Water Breaks" to contemplate the ins-and-outs of fan mail, failure, rehydration, nasal reconstruction, and how best to punish steroid users. Kathryn Bertine swims, runs, and rides-and writes-like a champion. InAs Good as Gold, Bertine proves she has something more valuable than an Olympic medal. Shers"s got Olympic mettle. When it comes to the human heart, she takes the gold.
Author Biography
Kathryn Bertine, an elite triathlete and former professional figure skater, is the author of All the Sundays Yet to Come: A Skater's Journey. She graduated from Colgate University in 1997, and holds an MFA in nonfiction writing from the University of Arizona. Her essays have appeared in numerous publications, including ESPN The Magazine, US Weekly, Her Sports+Fitness, and Inside Triathlon. She currently lives and trains in Boulder, Colorado, and Tucson, Arizona.
Table of Contents
Foreword
p. xi
How It All Began
p. xv
On Your Mark, Get Set
p. 5
Pentathlon Is Hard
p. 13
Water Break: Letters to a Potential Sponsor
p. 28
Night of the Mangled Carcass
p. 35
Water Break: The Yogafication of Sports Bras
p. 55
The Birth of Doable
p. 59
Water Break: Nasal Reconstruction
p. 75
Picking Up the Night Shift
p. 79
Water Break: The Hydration Game
p. 86
Two and a Half Women
p. 89
Water Break: Fan Mail
p. 101
Sack of Potatoes
p. 103
Bloody Big Freakin' Jellyfish
p. 119
Water Break: Mental Earplugs
p. 130
To Be Oar Not to Be
p. 131
Water Break: Letter to Myself as a Fifteen-Year-Old Athlete
p. 140
Switching Gears
p. 143
Water Break: The Olympics According to Phlegon
p. 155
U.S. National U-Turn Championships
p. 161
Water Break Failure, Rejection, Sacrifice, Equality, and Yoda
p. 179
Hips on Fire
p. 185
Water Break: Writing, Sports, and My Great, Great Pierre
p. 192
1-800-Polands
p. 195
Hope Hides in the Strangest of Places
p. 207
Water Break: Bicycle Conversation With Man on a Harley Davidson at the Intersection of Sabino Canyon and Tanque Verde Roads, Tucson
p. 222
From Small Acorns Do Big Oak Trees Grow
p. 223
All Hail the WonderMinion
p. 235
The Great Wall of Chinese Cyclists
p. 243
Potholes and Jesus in South America
p. 251
Water Break: How to Love a Female Athlete
p. 259
It Only Feels Like You're Dying
p. 261
The Tropicana Folder of Inner Peace
p. 277
Water Break: The Price Tag of an Olympic Dream
p. 281
Epilogue: Turn Your Brain Off and Suffer
p. 285
Bibliography and Resources
p. 297
Table of Contents provided by Ingram. All Rights Reserved.