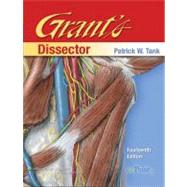 Summary
Since 1940, when Dr. J.C. Boileau Grant created the first lab manual based on Grant's method of dissection, Grant's Dissector has clearly established its authority and preeminence as the "gold standard" of gross anatomy dissection manuals. In the last edition, the material was streamlined to focus on more accurate, specific and clear steps, based on market conditions and feedback. This edition continues to focus on the trend of reduced lab hours yet maintains the quality and reliability of Grant's original manual. Grant's Dissector, Fourteenth Edition features over 40 new figures to provide consistent appearance and include additional details, and is cross-referenced to the leading anatomy atlases, including Grant's, Netter's, Rohen, and Clemente.
Table of Contents
Introduction
The Back Surface Anatomy Skeleton of the Back Skin and Superficial Fascia
Superficial Muscles of the Back Intermediate Muscles of the Back Deep
Muscles of the Back Suboccipital
Region Vertebral Canal, Spinal Cord, and Meninges the Upper Limb Surface Anatomy Superficial Veins and Cutaneous Nerves
Superficial Group Of Back Muscles Scapular
Region Pectoral
Region Muscles of the Pectoral Region Axilla
Arm And Cubital Fossa Flexor Region of the Forearm
Palm of the Hand Extensor Region of the Forearm And Dorsum of the Hand Joints of the Upper Limb
the Thorax Surface Anatomy Skeleton of the Thorax Pectoral Region
Intercostal Space And Intercostal Muscles Removal of the Anterior Thoracic Wall Pleural Cavities Lungs
The Abdomen Surface Anatomy Superficial Fascia of the Anterolateral Abdominal Wall Muscles Of The Anterolateral Abdominal Wall
Reflection of the Abdominal Wall
Peritoneum And Peritoneal Cavity Celiac Trunk, Stomach, Spleen, Liver, And Gallbladder Superior
Mesenteric Artery And Small Intestine Inferior Mesenteric
Artery And Large Intestine Duodenum, Pancreas, And Hepatic Portal Vein Removal of the Gastrointestinal Tract Posterior Abdominal Viscera Posterior Abdominal Wall
The Pelvis And Perineum Skeleton of the Pelvis Anal Triangle Male External
Genitalia And Perineum Male Urogenital Triangle Male Pelvic Cavity Urinary Bladder, Rectum, And Anal Cana Internal Iliac
Artery And Sacral Plexusl Female External Genitalia And Perineum Female Urogenital
Triangle Female Pelvic Cavity Urinary Bladder, Rectum, And Anal Canal Internal Iliac
Artery And Sacral Plexus
The Lower Limb Surface Anatomy
Superficial Veins And Cutaneous Nerves Anterior Compartment of the Thigh Medial Compartment Of
The Thigh Gluteal Region Posterior Compartment of the Thigh
Leg And Dorsum of the Foot Posterior Compartment of the Leg Lateral
Compartment of the Leg Anterior Compartment of the Leg And Dorsum of the foot
Sole Of the Foot Joints of the Lower Limb
The Head And Neck
Neck Posterior Triangle of the Neck Anterior
Triangle of the Neck Thyroid And Parathyroid Glands
Root of the Neck Head Skull Face Parotid Region Scalp Temporal Region Interior of the Skull Removal of the Brain Dural
Infoldings And Dural Venous Sinuses Gross
anatomy of the Brain Cranial Fossae Orbit Craniovertebral
Joints And Disarticulation of the Head Pharynx
Nose And Nasal Cavity Hard Palate And Soft Palate Oral Region Larynx Ear
Index
Table of Contents provided by Publisher. All Rights Reserved.