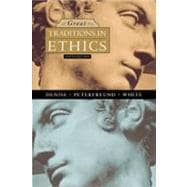 Questions About This Book?
What version or edition is this?
This is the 9th edition with a publication date of 8/7/1998.
What is included with this book?
The New copy of this book will include any supplemental materials advertised. Please check the title of the book to determine if it should include any CDs, lab manuals, study guides, etc.
Related Products
Summary
Intended for the Introduction to Ethics course taught at all four-year and most two-year schools, as well as the Introduction to Moral Philosophy, Historical Survey of Moral Philosophy, and History of Theoretical Ethics courses.
This is one of the finest collections of primary source material available to beginning ethics students. The chronologically sequenced chapter units give an overall historical perspective while informative chapter introductions include biographical, historical, and other information designed to prepare readers for the primary selections that follow. Brief comments by the editors are inserted into the edited primary material to assist student understanding.
Table of Contents
Preface
ix
1
(5)

| | |
| --- | --- |
| | CHAPTER 2 Knowledge and Virtue |

6
(17)

| | |
| --- | --- |
| | Selections from the Gorgias and the Republic, Books i-ii, iv, vi-vii, and ix |

| | |
| --- | --- |
| | CHAPTER 3 Moral Character |

23
(17)

| | |
| --- | --- |
| | Selections from the Nicomachean Ethics, Books i-ii, vi, and x |

| | |
| --- | --- |
| | CHAPTER 4 The Pleasant Life |

40
(14)

| | |
| --- | --- |
| | Selections from the letters To Herodotus and To Menoeceus, the Principal Doctrines, and the Fragments |

| | |
| --- | --- |
| | CHAPTER 5 Self-Discipline |

54
(15)

| | |
| --- | --- |
| | Selections from The Discourses, Books i-iv, the Enchiridion, and the Fragments |

| | |
| --- | --- |
| | CHAPTER 6 The Love of God |

69
(18)

| | |
| --- | --- |
| | Selections from the Enchiridion, Chapters xi-xii, xcvi, and c-ci, and The City of God, Books v, xii, xiv, and xix-xxii |

| | |
| --- | --- |
| | CHAPTER 7 Morality and Natural Law |

87
(16)

| | |
| --- | --- |
| | Selections from the Summa Contra Gentiles, Book iii, and the Summa Theologica, Articles i-iii and v-viii |

| | |
| --- | --- |
| | CHAPTER 8 Social Contract Ethics |

103
(17)

| | |
| --- | --- |
| | Selections from the Leviathan, Chapter vi, xiii-xv, and xxix-xxx, and Philosophical Rudiments, Chapter i |

| | |
| --- | --- |
| | CHAPTER 9 Conscience in Morality |

120
(14)

| | |
| --- | --- |
| | Selections from Sermons i-iii and xi, and the Preface |

| | |
| --- | --- |
| | CHAPTER 10 Morality and Sentiment |

134
(15)

| | |
| --- | --- |
| | Selections from An Enquiry Concerning the Principles of Morals |

| | |
| --- | --- |
| | CHAPTER 11 Duty and Reason |

149
(17)

| | |
| --- | --- |
| | Selections from Fundamental Principles of the Metaphysic of Morals, First and Second Sections |

| | |
| --- | --- |
| | CHAPTER 12 The Greatest Happiness Principle |

166
(17)

| | |
| --- | --- |
| | Selections from Utilitarianism, Chapters ii-iii |

| | |
| --- | --- |
| | CHAPTER 13 The Leap of Faith |

183
(17)

| | |
| --- | --- |
| | Selections from Either/Or, Fear and Trembling, and Concluding Unscientific Postscript |

| | |
| --- | --- |
| | CHAPTER 14 Morality as Ideology |

200
(17)

| | |
| --- | --- |
| | Selections from Karl Marx: Selected Writings |

| | |
| --- | --- |
| | CHAPTER 15 Utilitarianism Revised |

217
(13)

| | |
| --- | --- |
| | Selections from The Methods of Ethics |

| | |
| --- | --- |
| | CHAPTER 16 The Transvaluation of Values |

230
(17)

| | |
| --- | --- |
| | Selections from The Will to Power, The Genealogy of Morals (First Essay), and Beyond Good and Evil |

| | |
| --- | --- |
| | CHAPTER 17 Scientific Method in Ethics |

247
(16)

| | |
| --- | --- |
| | Selections from The Quest for Certainty, Chapter x |

| | |
| --- | --- |
| | CHAPTER 18 The Indefinability of Good |

263
(13)

| | |
| --- | --- |
| | Selections from Principia Ethica |

| | |
| --- | --- |
| | CHAPTER 19 Prima Facie Duty |

276
(12)

| | |
| --- | --- |
| | Selections from The Right and the Good |

| | |
| --- | --- |
| | CHAPTER 20 Ethics as Emotive Expression |

288
(17)

| | |
| --- | --- |
| | Selections from Ayer's Language, Truth and Logic, Chapter vi, and Stevenson's "The Nature of Ethical Disagreement" |

| | |
| --- | --- |
| | CHAPTER 21 Radical Freedom |

305
(12)

| | |
| --- | --- |
| | Selections from Existentialism and Human Emotions |

| | |
| --- | --- |
| | CHAPTER 22 Good Reasons in Ethics |

317
(14)

| | |
| --- | --- |
| | Selections from The Moral Point of View |

| | |
| --- | --- |
| | CHAPTER 23 Ethics and Social Justice |

331
(14)

| | |
| --- | --- |
| | Selections from "Justice as Reciprocity" |

| | |
| --- | --- |
| | CHAPTER 24 Moral Virtue and Human Interest |

345
(13)

| | |
| --- | --- |
| | Selections from Virtues and Vices and Other Essays in Moral Philosophy |

| | |
| --- | --- |
| | CHAPTER 25 Ethics as Trusting in Trust |

358
(17)

| | |
| --- | --- |
| | Selections from "Trust and Antitrust" |

| | |
| --- | --- |
| | CHAPTER 26 The Concept of Morality |

375

| | |
| --- | --- |
| | Selections from Thinking about Morality |