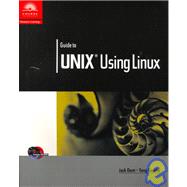 Questions About This Book?
What version or edition is this?
This is the 1st edition with a publication date of 12/1/1999.
What is included with this book?
The New copy of this book will include any supplemental materials advertised. Please check the title of the book to determine if it should include any CDs, lab manuals, study guides, etc.
Summary
Provides a hands-on, practical guide that teaches the fundamentals of the UNIX operating system concepts, architecture, and administration. CD-ROM included.
Table of Contents
Introduction
xiii
1
(34)

| | |
| --- | --- |
| | Lesson A: Getting Started with UNIX |

2
(19)

| | |
| --- | --- |
| | Understanding Operating Systems |

2
(1)
3
(1)

| | |
| --- | --- |
| | Mainframe Operating System |

4
(1)

| | |
| --- | --- |
| | Network Operating Systems |

5
(1)

| | |
| --- | --- |
| | Introducing the UNIX Operating System |

6
(1)
6
(1)
6
(1)
7
(1)
8
(1)
9
(1)

| | |
| --- | --- |
| | Switching from Shell to Shell |

9
(1)

| | |
| --- | --- |
| | Choosing User Names and Passwords |

9
(1)

| | |
| --- | --- |
| | Connecting to UNIX Using Telnet |

10
(1)
10
(1)
11
(1)
11
(1)
12
(2)
14
(2)
16
(1)
17
(1)
17
(1)
17
(1)
18
(1)
19
(1)
20
(1)

| | |
| --- | --- |
| | Lesson B: Roles of the System Administrator and Ordinary Users |

21
(14)

| | |
| --- | --- |
| | Understanding the Role of the UNIX System Administrator |

21
(1)

| | |
| --- | --- |
| | The System Administrator's Command Line |

21
(1)

| | |
| --- | --- |
| | The Ordinary User's Command Line |

22
(1)
22
(1)

| | |
| --- | --- |
| | Viewing Files Using the cat, more, less, head, and tail Commands |

23
(1)
24
(2)
26
(1)
27
(1)
28
(4)
32
(1)
33
(2)

| | |
| --- | --- |
| | Exploring the Unix File System |

35
(34)

| | |
| --- | --- |
| | Lesson A: Understanding Files and Directories |

36
(20)

| | |
| --- | --- |
| | Understanding the UNIX File System |

36
(1)

| | |
| --- | --- |
| | Understanding the Standard Tree Structure |

37
(1)
38
(1)

| | |
| --- | --- |
| | Setting Up File System Partitions |

39
(1)
40
(1)
40
(1)
40
(1)

| | |
| --- | --- |
| | Exploring the Root File System |

40
(1)
41
(1)
41
(1)
41
(2)
43
(1)
43
(1)
43
(1)
43
(1)
43
(1)
44
(1)
44
(1)
44
(1)
44
(1)

| | |
| --- | --- |
| | Understanding Paths and Pathnames |

45
(1)

| | |
| --- | --- |
| | Using Your Command-line Prompt |

45
(1)
46
(1)
47
(7)
54

| | |
| --- | --- |
| | Navigating the File System |

48
(1)

| | |
| --- | --- |
| | Using Dot and Dot Dot Addressing Techniques |

49
(1)

| | |
| --- | --- |
| | Listing Directory Contents |

50
(4)
54
(2)

| | |
| --- | --- |
| | Lesson B: Working with Files and Directories |

56
(13)

| | |
| --- | --- |
| | Creating Directories and Files |

56
(1)
57
(1)
58
(3)
61
(1)
62
(1)
63
(4)
67
(1)
67
(2)
69
(32)
70
(21)
70
(1)
70
(1)
71
(1)
72
(1)

| | |
| --- | --- |
| | Using Operating System Editors |

72
(1)
72
(1)

| | |
| --- | --- |
| | Creating a New File in the vi Editor |

72
(1)
73
(1)
74
(1)
75
(1)
76
(3)
79
(1)
79
(2)
81
(1)

| | |
| --- | --- |
| | Saving a File and Exiting vi |

82
(1)

| | |
| --- | --- |
| | Adding Text from Another File |

83
(1)
83
(1)

| | |
| --- | --- |
| | Changing Your Display While Editing |

84
(1)

| | |
| --- | --- |
| | Copying or Cutting and Pasting |

85
(1)
85
(1)

| | |
| --- | --- |
| | Canceling an Editing Session |

85
(1)
86
(1)
86
(1)
87
(3)
90
(1)
90
(1)

| | |
| --- | --- |
| | Lesson B: The Emacs Editor |

91
(10)
91
(2)

| | |
| --- | --- |
| | Creating a New File in Emacs |

93
(1)
94
(2)
96
(1)
97
(1)
97
(2)
99
(1)
100
(1)
101
(38)

| | |
| --- | --- |
| | Lesson A: Extracting Information from Files |

102
(25)

| | |
| --- | --- |
| | UNIX's Approach to File Processing |

102
(1)

| | |
| --- | --- |
| | Understanding UNIX File Types |

102
(1)
103
(1)
104
(1)

| | |
| --- | --- |
| | Using Input and Error Redirection |

104
(2)
106
(1)
106
(1)
107
(1)
108
(1)
108
(2)

| | |
| --- | --- |
| | Recursively Removing Directories |

110
(1)
111
(1)
112
(1)
112
(2)
114
(1)

| | |
| --- | --- |
| | Using the Cut Command to Remove Fields |

115
(4)
119
(1)
120
(4)
124
(1)
124
(2)
126
(1)
126
(1)

| | |
| --- | --- |
| | Lesson B: Assembling Extracted Information |

127
(12)
127
(1)
128
(2)

| | |
| --- | --- |
| | Using the Join Command to Create the Vendor Report |

130
(1)

| | |
| --- | --- |
| | A Brief Introduction to Awk |

131
(1)

| | |
| --- | --- |
| | Using the Awk Command to Refine the Vendor Report |

132
(2)
134
(1)
134
(2)
136
(1)
137
(1)
137
(2)
139
(38)

| | |
| --- | --- |
| | Lesson A: Selecting, Manipulating, and Formatting Information |

140
(18)

| | |
| --- | --- |
| | Advancing Your File Processing Skills |

140
(2)

| | |
| --- | --- |
| | Using the Select Commands |

142
(1)
142
(1)
143
(1)
144
(2)
146
(1)
147
(1)
148
(1)

| | |
| --- | --- |
| | Using the Manipulate and Format Commands |

148
(1)
148
(3)

| | |
| --- | --- |
| | Translating Characters Using the tr Command |

151
(1)

| | |
| --- | --- |
| | Using the pr Command to Format Your Output |

152
(2)
154
(1)
154
(1)
155
(2)
157
(1)
157
(1)

| | |
| --- | --- |
| | Lesson B: Using UNIX File Processing Tools to Create an Application |

158
(19)

| | |
| --- | --- |
| | Designing a New File Processing Application |

158
(1)
158
(1)
159
(1)

| | |
| --- | --- |
| | Creating the Programmer and Project Files |

160
(3)
163
(2)
165
(2)

| | |
| --- | --- |
| | Using a Shell Program to Implement the Application |

167
(4)

| | |
| --- | --- |
| | Putting It All Together to Produce the Report |

171
(2)
173
(1)
173
(1)
173
(1)
174
(1)
175
(2)

| | |
| --- | --- |
| | Introduction to Shell Programming |

177
(46)

| | |
| --- | --- |
| | Lesson A: Using the UNIX Shell as a Programming Language |

178
(29)

| | |
| --- | --- |
| | Previewing the Application |

178
(1)

| | |
| --- | --- |
| | The Program Development Cycle |

179
(1)

| | |
| --- | --- |
| | Using High-Level Languages |

180
(1)
181
(1)

| | |
| --- | --- |
| | Prototyping an Application |

182
(1)
182
(1)
183
(4)
187
(1)

| | |
| --- | --- |
| | Defining and Evaluating Operators |

188
(1)

| | |
| --- | --- |
| | Exporting Shell Variables to the Environment |

189
(1)
190
(2)

| | |
| --- | --- |
| | Preventing Redirection from Overwriting Files |

192
(1)

| | |
| --- | --- |
| | More About Wildcard Characters |

192
(1)
193
(1)
193
(1)
193
(3)
196
(5)
201
(1)
202
(1)
203
(2)
205
(1)
205
(2)

| | |
| --- | --- |
| | Lesson B: Creating and Completing the Corporate Phones Application |

207
(16)

| | |
| --- | --- |
| | Using Shell Programming to Create a Menu |

207
(2)

| | |
| --- | --- |
| | Customizing Your Personal Environment |

209
(2)
211
(1)

| | |
| --- | --- |
| | Creating the Corp_phones File |

211
(2)

| | |
| --- | --- |
| | Viewing Unformatted Records |

213
(1)
214
(2)

| | |
| --- | --- |
| | Creating the Phoneadd Shell Program |

216
(2)
218
(1)
218
(1)
219
(2)
221
(1)
221
(2)

| | |
| --- | --- |
| | Advanced Shell Programming |

223
(52)

| | |
| --- | --- |
| | Lesson A: Developing a Full Featured Program |

224
(31)
224
(1)
224
(3)
227
(1)

| | |
| --- | --- |
| | Ensuring the Correct Shell Runs the Script |

228
(1)
229
(1)

| | |
| --- | --- |
| | Relational Integer Tests with the test Command |

229
(2)

| | |
| --- | --- |
| | String Tests with the test Command |

231
(3)

| | |
| --- | --- |
| | Testing Files with the test Command |

234
(2)

| | |
| --- | --- |
| | Performing Boolean Tests with the test Command |

236
(7)
243
(4)
247
(3)
250
(1)
251
(1)
252
(2)
254
(1)

| | |
| --- | --- |
| | Lesson B: Completing the Case Project |

255
(20)
255
(1)
256
(1)

| | |
| --- | --- |
| | Creating Program Algorithms |

256
(6)

| | |
| --- | --- |
| | Protecting Against Entering Duplicate Phone Numbers |

262
(3)
265
(2)
267
(2)
269
(1)
270
(1)
271
(1)
272
(1)
273
(1)
274
(1)

| | |
| --- | --- |
| | Exploring the Unix Utilities |

275
(42)

| | |
| --- | --- |
| | Lesson A: Using the Unix Utilities |

276
(30)

| | |
| --- | --- |
| | Understanding UNIX Utilities |

276
(1)

| | |
| --- | --- |
| | Classifying UNIX Utility Programs |

277
(5)

| | |
| --- | --- |
| | Using the File Processing Utilities |

282
(1)
282
(1)

| | |
| --- | --- |
| | Making a Bootable Floppy Disk |

283
(5)
288
(1)
289
(2)
291
(2)
293
(2)

| | |
| --- | --- |
| | Applying System Status Utilities |

295
(7)
302
(1)
303
(1)
304
(1)
305
(1)

| | |
| --- | --- |
| | Lesson B: Working with the Text Formatting File Utilities |

306
(11)

| | |
| --- | --- |
| | Spell-checking a Document |

306
(2)
308
(1)
309
(5)
314
(1)
314
(2)
316
(1)
316
(1)
317
(46)

| | |
| --- | --- |
| | Lesson A: Learning to Use Perl |

318
(30)
318
(7)
325
(1)
326
(1)
326
(1)
326
(1)
326
(2)
328
(1)
329
(1)
330
(3)

| | |
| --- | --- |
| | How Perl Accesses Disk Files |

333
(4)
337
(1)

| | |
| --- | --- |
| | Using Perl to Sort Alphanumeric Fields |

337
(3)

| | |
| --- | --- |
| | Using Perl to Sort Numeric Fields |

340
(4)
344
(1)
344
(2)
346
(1)
347
(1)

| | |
| --- | --- |
| | Lesson B: Creating an Interactive Web Page |

348
(15)
348
(1)
349
(2)
351
(7)

| | |
| --- | --- |
| | Creating the Dominion Consulting Web Page |

358
(3)
361
(1)
361
(1)
362
(1)
362
(1)

| | |
| --- | --- |
| | Developing Unix Applications in C and C++ |

363
(54)

| | |
| --- | --- |
| | Lesson A: C Language Programming |

364
(41)

| | |
| --- | --- |
| | Introducing C Programming |

364
(1)
365
(1)
365
(2)
367
(1)
367
(1)
368
(1)

| | |
| --- | --- |
| | Using the Preprocessor #include Directive |

368
(1)
369
(1)
370
(1)
370
(1)
371
(1)
371
(1)

| | |
| --- | --- |
| | Understanding the Scope of Variables |

372
(1)
372
(2)

| | |
| --- | --- |
| | Generating Formatted Output with printf |

374
(3)
377
(1)
378
(2)
380
(1)
381
(2)

| | |
| --- | --- |
| | Using Function Return Values |

383
(2)
385
(2)

| | |
| --- | --- |
| | Using the Make Utility to Maintain Program Source Files |

387
(5)
392
(1)

| | |
| --- | --- |
| | Creating a C Program to Accept Input |

393
(3)

| | |
| --- | --- |
| | Encoding and Decoding Programs |

396
(6)
402
(1)
402
(1)
403
(1)
404
(1)

| | |
| --- | --- |
| | Lesson B: C++ Programming in a UNIX environment |

405
(12)

| | |
| --- | --- |
| | Introducing C++ Programming |

405
(1)

| | |
| --- | --- |
| | Creating a Simple C++ Program |

406
(1)

| | |
| --- | --- |
| | Creating a C++ Program That Reads a Text File |

407
(2)

| | |
| --- | --- |
| | How C++ Enhances C Functions |

409
(2)
411
(2)
413
(1)
413
(1)
414
(1)
415
(2)
417
(102)

| | |
| --- | --- |
| | Lesson A: Starting and Navigating an X Window Session |

418
(18)

| | |
| --- | --- |
| | What is the X Window System? |

418
(1)

| | |
| --- | --- |
| | X Window Clients and Servers |

419
(1)
420
(1)
420
(1)

| | |
| --- | --- |
| | Starting the X Window System |

421
(1)

| | |
| --- | --- |
| | Configuring Linux to Automatically Start the X Window System |

421
(2)

| | |
| --- | --- |
| | Interacting with the X Window System |

423
(1)
424
(4)

| | |
| --- | --- |
| | Interacting with the Panel |

428
(5)
433
(1)
433
(2)
435
(1)
435
(1)

| | |
| --- | --- |
| | Lesson B: Running Applications and Customizing the Desktop |

436
(41)

| | |
| --- | --- |
| | Running Built-in Applications |

436
(10)

| | |
| --- | --- |
| | Using the Calendar Application |

446
(7)

| | |
| --- | --- |
| | Using the Spreadsheet Application |

453
(8)
461
(1)

| | |
| --- | --- |
| | Changing the Background and Screen Saver |

461
(5)
466
(4)

| | |
| --- | --- |
| | Adding Programs to the Main Menu |

470
(2)
472
(1)
472
(1)
473
(1)
474
(1)
475
(2)
appendix A

| | |
| --- | --- |
| | How to Access a Unix/Linux Operating System |

477
(16)

| | |
| --- | --- |
| | Using a Dial-Up Connection to Access a Remote System |

478
(1)

| | |
| --- | --- |
| | Setting Up a Dial-Up Network Connection in Windows 95 and 98 |

478
(1)

| | |
| --- | --- |
| | Configuring Your System for Dial-up Networking |

479
(3)

| | |
| --- | --- |
| | Configuring Your System's Network Connection |

482
(3)

| | |
| --- | --- |
| | Installing Dial-up Networking |

485
(2)

| | |
| --- | --- |
| | Setting Up a New Connection |

487
(3)

| | |
| --- | --- |
| | Using Telnet to Access a Remote System |

490
(1)
491
(2)
appendix B

| | |
| --- | --- |
| | Syntax Guide to Unix Commands |

493
(14)
appendix C

| | |
| --- | --- |
| | How to Install Red Hat Linux 6.0 |

507
(12)

| | |
| --- | --- |
| | Gather Information About Your Computer Hardware and Network |

508
(1)

| | |
| --- | --- |
| | Preparing the Linux Boot Disk |

509
(1)
510
(1)

| | |
| --- | --- |
| | Installing Red Hat Linux 6.0 |

511
(8)
glossary
519
(10)
index
529