Note: Supplemental materials are not guaranteed with Rental or Used book purchases.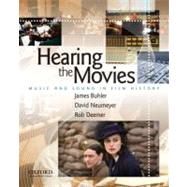 Questions About This Book?
What version or edition is this?
This is the edition with a publication date of 4/20/2009.
What is included with this book?
The Used copy of this book is not guaranteed to include any supplemental materials. Typically, only the book itself is included.
Summary
Films achieve their effects with sound as well as images. An ideal text for introductory film music courses, Hearing the Movies: Music and Sound in Film History brings music into the context of sound, and sound into the context of the whole film. The text explores film sound in three parts. Through engaging, accessible sample analyses and exercises, Part I illustrates ways to analyze a soundtrack in relation to the image track. Part II focuses on the contributions of music to film form and style while offering a number of detailed analyses of different types of scenes; and Part III lays out a concise history of film music and sound, paying particular attention to the role of technological innovations in film production and exhibition. Features: * Detailed sample analyses with timings describe the function of sound and music in individual scenes * Extended exercises suggest tools for basic analysis of the soundtrack * Interludes at the ends of Parts I and II offer guidelines for writing about films in terms of their sound and music * Historical coverage extends from the silent film era to the advent of digital technology and beyond * Provides a broad range of examples from Hollywood, independent, and foreign films, as well as focused analysis * Features sidebar commentary from industry professionals and more than 300 illustrations, including screen stills, photos, tables, diagrams, and musical excerpts * Incorporates the broadest range of scholarship on film music currently available, spanning the disciplines of music and film/media studies * Includes glossary of terms for easy reference * Companion website at http://sites.google.com/site/hearingthemovies offers additional resources for instructors and students
Table of Contents
Each Chapter opens with an Introduction.
Preface
Introduction
The Sound Track and Film Narrative: Basic Terms and Concepts
The Sound Track and Narrative
Basics: Image Track, Sound Track, Narrative
Sound Track Components and Narrative
Speech
Sound Effects
Music
Example for Sound Track Components and Narrative (1): Sleepless in Seattle, Second Botched Meeting
Example for Sound Track Components and Narrative (2): Good Will Hunting, Boston Common Scene
Summary
Exercise: Masking
Exercise: Using an Analysis Checklist
Terminology The Musicality Of The Sound Track: Concepts Music and Sound
Tempo
Rhythm and Meter
Volume
Timbre
Filters and ""Distortion""
Pitch
Orchestration
Timbre and Sound
Texture
Density and Liveliness
Monophony
Homophony
Melody and Accompaniment
Polyphony
A-melodic (Accompaniment without melody)
Texture and Foreground/Background Functions
Example for Sound Track Analysis Using Musical Terms (1): Trzy Kolory: Bialy (Three Colors: White), The Shooting
Example for Sound Track Analysis Using Musical Terms (2): Atonement, Main-Title Sequence and First Scene
Summary
Analysis of Sound Track Elements (After Altman, Jones, and Tatroe)
Using Graphic Displays for Sound (After Wierzbicki)
Pts And Terminology, Sound, And The Space Of Narrative: Diegetic/Nondiegetic Music and Narrative
Example for Diegetic and Nondiegetic Music: Glory, Boston Party scene
Onscreen/Offscreen Sound and Music
Offscreen Sound
Onscreen/Offscreen Sound Interaction: Examples
Ambiguity of Offscreen Sound: Underdetermination of Sound
Point of View Sound
Offscreen Sound and Music in Relation to the Diegesis
Voice-over
Audio Dissolve
Mickey-Mousing: Music as Effects ""Sweetener""
The Acousmetre (Acoustical Being)
Summary
Using an Events Table
Using an (Updated) Analysis Checklist
Transitions: The Sound Bridge and Hard Cuts
Sound Advance
Sound Lag
Sound Link
Sound Match
Hard Cut
Synchronization (""Playing with the Film"")
Example for Synchronization: Casablanca, Rick and Ilsa Meet
Counterpoint (""Playing against the Film"")
Summary Example for Synchronization and Counterpoint: Casablanca, After-Hours Scene
Summary
Exercise: The Commutation Test
Ion Terlude: Writing About Film Sound: Analysis and Analysis Report: Catch Me If You Can
Overview
Background
Synopsis
Music Cues
General Description of the Sound Track Elements and their Balance
General Evaluation of the Sound Track
Description of Music's Narrative Functions
Response Paper that Describes Music's Narrative Functions
Compare and Contrast Paper Focusing on Music
Concluding Comments
Music, Film Form, and Film Style
Runtime Segmentation In Film Form
Synch Points and Audiovisual Phrasing
Examples for Music in Film Form
Lady Windermere's Fan
Mildred Pierce
Rashomon
Psycho
The Birdcage
The Hours
Summary
Establishing Sequence N Main-Title and End-Credit Sequences
Meet Me in St. Louis, Titles and Opening Scene
Rashomon, Prologue and Title Sequence
The Sound of Music, Overture and Title Sequence
Out of Africa, Music in the Main-Title Sequence
To Kill a Mockingbird, Music in the Main-Title Sequence
Additional Examples
End-Credit Music
Films from 1939, End Credits
Out of Africa, Final Scene and End Credits
Bridget Jones's Diary, End-Credits Sequence
Additional Examples
Summary
Performance Scene Ic In Performance and Montage Scenes
To Have and Have Not, ""Am I Blue?""
The Sound of Music, ""The Laendler"" (as Dance Scene)
The Sound of Music and Grease, Two Larger Performance Numbers
Additional Examples
Montage or Fantasy Scene
Gone with the Wind, Montage Sequence in the Prologue to Part 2
Pride & Prejudice, Three Montage Sequences
Bridget Jones's Diary, ""Out of Reach"" and ""I'm Every Woman""
Additional Examples
Summary
Style Topics and the Leitmotif He Sound Track
Introduction: Theme, Motif, and Motive
""Love"" Themes
The Leitmotif
Style Topics
Musical Styles
Location and Stereotype
Style Topics in Rebecca
A Note on Sound Topics
Summary
Dialogue Scene Music In Character and Action Scenes
Rebecca, Terrace Scene
Additional Examples
Action Scene
Wo Hu Cang Long (Crouching Tiger, Hidden Dragon), ""Theft of the Sword""
The Matrix, ""Trinity in a Jam""
Additional Examples
Love Scene
Out of Africa, ""On Safari: The Second Dinner""
The Sound of Music, ""The Laendler"" (as Love Scene)
Shadowlands, Four Scenes
Summary
Rlude: Writing About Film Music: Interpretation Developing a Reading (1): Finding a Thesis
Thesis Options for Catch Me if You Can
Examples from the Published Literature
Developing a Reading (2): Reading against the Grain
Example: Casablanca against the Grain
Summary
The Sound Track: A Technological History
The Early Years Music And Sound In The Silent Era (1895-1929)
The Nickelodeon
""Playing the Picture""
Special Scores
The Picture Palace
Stratification of Exhibition
The Show
Music and Sound Production in the Picture Palace
Fitting the Picture
Special Scores in the 1920s
Road Shows
Music on the Set
Summary
A Note on the Music for Silent Film Releases to VHS and DVD
The Transition To Sound Film (1926-1932)
Issues of Teschnology and Economics
Sound Research in the 1920s
Sound Film and the Standardization of Exhibition
Sound and the Feature Film, 1927: The Jazz Singer
The Transition from Silent to Sound Film
Types of Early Sound Film
Musicals in Early Sound Film
Mastering the Sound Track and Elements of Style
Production
Production Phases
Music Department
Sound Department
Summary
Music And The Sound Track In The Classical Studio Era
Issues of Technology and Economics
Improvements in Recording Technology
Rerecording
Sound in the Theaters of the 1930s and 1940s
The Great Depression and the Consolidation of Genres
The Sound Track in the Studio Era and Elements of Style
The Classical System
Foreground and Background
Background(ed) Music and the Sound Track
Scoring Practices
Production
Production Phases
Music Department
Sound Department
Summary
The Stereo Sound Track And The Post-Classical Era (1950-1975)
Issues of High Fidelity and Stereo Sound
Legal and Economic Challenges to the Industry
Widescreen and Stereo Formats
Magnetic Tape in Production and Postproduction
Issues of Stereo
Analysis: The Robe
Stereo and Space
Stereo Sound, Magnetic Tape, and Elements of Style
Issues of Aesthetics
Scoring Practices
Main Theme from High Noon
Popular Song and the Underscore
Soundtrack Albums
Importance of Recordings
Relation to the Musical
Scoring with Recordings
Production
Production Phases
Music Department
Sound Department
Summary
Ence Of Sound Design (1975-2000), Dolby Stereo, And The Issues of Technology and Economics
The New Hollywood and Saturation Booking
Sound in the Multiplex
Dolby Stereo in the Theaters
Home Video and Limitations of Television
Sound Design and Elements of Style
Issues of Aesthetics: Sound Design
Aesthetics and the Stereo Field
Scoring Practices
Aesthetic Issues of Cross-Marketing and Promotion
Music Video Style
Production
Production Phases
Music Department
Sound Department
Summary
Music And Film Sound Today
Introduction: The Digital Era
Issues of Technology and Economics
Digital Sound
Digital Sound Formats
Video, DVD, and Television Technologies
The Multiplex Palace
Digital Sound and Elements of Style
Issues of Aesthetics
Scoring Practices
The Rise of Rap
Production
Production Phases
Music Department
Music Production
Music Postproduction
Sound Department
Production Sound
Postproduction
Dialogue
Foley Effects
Sound Effects
Summary
Afterword
Glossary
Notes
Credits
Index
Table of Contents provided by Publisher. All Rights Reserved.