Note: Supplemental materials are not guaranteed with Rental or Used book purchases.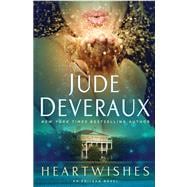 Heartwishes : An Edilean Novel
ISBN13:
9781439108000
by
Jude Deveraux
Summary
Gemma Ranford wants the job cataloging the documents of the Frazier family so much that she#xA0;is ready to do battle to get it.#xA0;Fascinated with history, and#xA0;desperately trying to finish her#xA0;dissertation, she's hoping against all hope that the#xA0;papers#xA0;will yield new information to invigorate her research. What she didn't expect to find is references to the Heartwishes Stone - believed by most to be pure legend#xA0;- and#xA0;said to grant wishes to anyone named Frazier. As Gemma#xA0;learns more about the#xA0;family -- and even#xA0;begins falling in love#xA0;with the eldest son, Colin -- it becomes increasingly clear that#xA0;their wishes are actually coming true. Together, Gemma and Colin must work together to find the stone that's been missing#xA0;for over one#xA0;hundred years -- and#xA0;with#xA0;an international thief#xA0;also on the hunt, the clock is ticking.#xA0;Because in the wrong hands, no one named Frazier will ever be safe.