Note: Supplemental materials are not guaranteed with Rental or Used book purchases.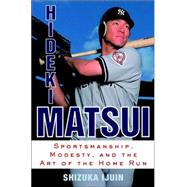 Hideki Matsui : Sportsmanship, Modesty, and the Art of the Home Run
ISBN13:
9780345495693
by
IJUIN, SHIZUKA
Summary
On May 11, 2006, Matsui ran to get to a shallow line drive that Mark Loretta of the Red Sox hit into left field. It was a catch Matsui should have made easily, sliding into it with his glove extended toward the ball. But the smooth grass of left field was slightly damp from rain, and as Matsui held out his glove, it turned dramatically in the opposite direction, fracturing his wrist. Matsui's consecutive game streak came to an end. But what received the most attention wasn't the fact that he sustained an injury or snapped his streak. It was the determination with which he finished the play: With his left wrist broken, he still got the ball in his glove and, crawling on the grass, managed to throw the ball in with his right hand. As I watched this in amazement, I realized that it epitomized how valuable Matsui is as a player. Book jacket.
Author Biography
Shizuka Ijuin aspired to be a professional baseball player before a shoulder injury thwarted his boyhood dream. After successful stints as an advertising executive, a commercial director, and a pop song writer, Ijuin became an acclaimed author. He met Hideki Matsui after receiving the Naoki Prize for Ukezuki (The Waxing Moon), a collection of short stories about baseball. Other honors include the Yoshikawa Eiji Literary Award for new writers for Nyubo (The Breast); the Naoki Prize for Ukezuki (The Month of Accepting); the Shibata Renzaburo Award for Kikansha Sensei (Locomotive Teacher); and the Yoshikawa Eiji Literary Award for Goro goro. He lives in Tokyo with his wife.
Table of Contents
A Child of Baseball
p. 3
The Star, Modesty Included
p. 12
A Promise to His Father
p. 22
Japan's Number One Slugger
p. 34
A Sigh of Relief
p. 39
"More Like What a Person Ought to Be"
p. 43
A Wrenching Decision
p. 53
"Postwar Japan Sends Its Finest Citizens to America"
p. 69
War, Peace, and Ground Zero
p. 75
The Mentors Behind Matsui
p. 82
To the Sponsor They Have Never Met
p. 90
Raining Cats and Dogs
p. 97
The Spirit of the Yankees
p. 108
From Battlefield to Baseball Field
p. 115
"Yankees Fans Are Such Wonderful People!"
p. 119
Matsui in the Spring
p. 127
Endnotes
p. 131
Acknowledgments
p. 133
Table of Contents provided by Ingram. All Rights Reserved.
Excerpts
A CHILD OF BASEBALL
April 8, 2003. I don't think I will ever forget that day.
"What a gorgeous morning," said my wife, Hiroko, as she stood on tiptoes, holding open the curtain of the window that looked out on the garden to the east of our house in Sendai, the beautiful City of Trees. Glancing up from the chair where I was sipping fragrant Chinese tea while reviewing the manuscript of my latest novel, I saw that it was indeed a beautiful spring day. The snow clouds that until yesterday had hung low over the landscape were starting to break up, and the sun was peeking through.
"It's been so long since we've seen blue sky," Hiroko continued, excitement in her voice. "I have a feeling that it's a good omen. You wait and see. Today will be a day to remember."
I knew better than to contradict my wife on such matters. Besides, I was hoping that her prediction would come true. "Just remember not to touch the television in the living room," I cautioned her. "It's all set up, okay?"
Several days earlier, an electrician had installed a new tuner that enabled us to receive more television channels than ever before. In most families, there are one or two young people who are technically savvy, but our house consisted of only a bungling writer in his late fifties, a former actress who had little experience with homemaking, and a hard-to-please dog who had the face, and often the temperament, of a dour philosopher. Between the three of us, it would be hard to say who was the least competent when it came to electronics. Ever since the new tuner had been installed, Hiroko and I had been afraid to do anything more complicated than turn the TV on and off. The reason for all of this caution was simple: Our television was set to receive live coverage of the New York Yankees' home opener against the Minnesota Twins, almost seven thousand miles away from our home in Japan. If anything went wrong with the new tuner or the TV, we would miss the major-league debut of Hideki Matsui, a moment that we had waited seven long months to see. It was a moment that Hideki, whom my wife and I had grown close to over the course of his extraordinary career in Japan, had been waiting for his entire life.
In fact, the game had been scheduled for yesterday, but there had been heavy snow in New York, and it had been called off at the last minute. Hiroko and I had been sitting expectantly in front of the television at three o'clock in the morning-the fourteen-hour difference between New York and Japan made watching the game in real time an exercise in sleep deprivation-when the announcer had broken the bad news. Now, thanks to the inscrutable ways of the baseball gods, we had almost an entire day to get through before the postponed game was played, and my wife and I were jittery with anxiety and suspense . . . and a lack of sleep. I couldn't concentrate on my novel. Hiroko busied herself about the house to no purpose that I could see. Even our dog, Ice, had picked up on the mood, wandering between us with a quizzical, slightly pained expression on his face that seemed to indicate he was pondering questions of profound philosophical significance.
"Maybe you should go to church," I suggested to Hiroko after a while.
"Why? I just went to Sunday worship yesterday."
"You could pray for Matsui."
"I already prayed for him yesterday."
"But that was for the snowed-out game," I said. "Those prayers might not count anymore. Just to be on the safe side, I think you should pray again. You know, sort of to remind God."
My wife gave me a look I knew well. It said, "What kind of idiot did I marry?"
I would have prayed for Matsui myself, but there wasn't any reason for me to think that God would listen to my prayers, much less grant them. I had been raised in a home without religion, then had led a life of debauchery until the age of thirty, at which point I had become a writer. And deep down inside, despite my wife's influence and example, I knew that I hadn't really improved too much in all the years since. No, I would leave the praying to Hiroko, a devout Catholic.
"It's disrespectful to 'remind' God," she informed me. "Anyway, I prayed very hard that Matsui would have a good game. Everything will be all right, you'll see. Try not to worry so much."
Hours later, I was wondering if Matsui was in need of her advice. There he was in Yankee Stadium, his cap held to his chest, a tense expression on his face as he listened to "The Star-Spangled Banner" performed by the United States Military Academy at West Point Glee Club.
"He looks a little nervous," Hiroko said, sounding more than a little nervous herself.
"Well, of course. He's standing in the ballpark of his dreams for the first time, the famous 'House that Ruth Built,' " I replied. Over the years, my wife and I had come to consider Matsui more than just a friend. This gifted young man had won a special place in our hearts. And now, watching him, I felt my heart swell with pride. The past year had been filled with difficult choices for
Matsui, but he had faced them with dignity and bravery. Now, after everything, there he was, standing tall and proud in Yankee pinstripes. Look how far you've come, I said silently, as if he could hear my thoughts all those miles away.
As the names of the starting lineup were announced and Matsui trotted out to his position in left field, loud cheers and applause rose up from the stands. The Yankee fans were doing everything they could to make this young man from Japan feel welcome in his first home game. I knew that some fans had come all the way from Japan to see their hero play, and there were many Japanese-Americans in the stands as well. Yet despite the outpouring of support, Matsui looked a bit tentative to me as he ran to the outfield. He seemed to be reassuring himself that the grass beneath his feet was real. Or perhaps he wasn't used to the cold. According to the announcers, the temperature was a frigid thirty-five degrees.
Facing the veteran pitcher Joe Mays, Matsui's first at bat was a ground ball to second base, and though he ran hard, he was thrown out at first. He got on base his second at bat, but only by a walk. I had a feeling that the fans were beginning to wonder if Matsui could really hit major-league pitchers after all. Was his reputation as a slugger, the hitting power that had earned him the nickname "Godzilla," nothing but hype? Hiroko and I exchanged worried glances. I thought about bringing up the subject of prayers again but decided that would not be wise.
Going into the bottom of the fifth inning, the Yankees had a 3-1 lead. With one out and players on second and third base, Bernie Williams came up to bat. The Twins' catcher, A. J. Pierzynski, stood up.
I couldn't believe my eyes. "What, an intentional walk?!" I shouted incredulously at the television.
"What's an intentional walk?" Hiroko asked. Though she followed Matsui's on-field exploits faithfully and was a big fan of his team, the Yomiuri (Tokyo) Giants (because the team is based in Tokyo, it is popularly known as the Tokyo Giants), my wife knew next to nothing about the game of baseball beyond the fact that the team with the most points at the end of nine innings was the winner. Oh yes, and that when a player hit a home run, he could make his way around the bases at a leisurely trot. She enjoyed watching that part.
"What's an intentional walk?" she asked again. "What does it mean?"
The fans in Yankee Stadium were going crazy.
I knew exactly what they were feeling. Standing in the on-deck circle was Hideki Matsui. Without looking away from the screen, I explained to my wife, "The Twins think they have a better chance of facing off against Matsui in this situation than they do against Bernie Williams."
"But by walking Williams, they're loading the bases!"
"Yes. But they think they can get Matsui out more easily than Williams. Maybe even get him to hit into a double play. It's a common tactic."
Hiroko had a hard time accepting my explanation. She seemed to take the intentional walk as some kind of affront, a personal insult directed against Matsui. "This sort of thing never happened to him in Japan, did it?"
"No, and perhaps they'll find out why."
The television showed a close-up of Matsui. He wore a determined expression, one I had seen many times before. He had been playing baseball ever since he was a boy, and it occurred to me that it had probably been many years since he'd had the experience of the batter before him being intentionally walked. Possibly not since 1993, his rookie year with the Giants, the most successful team in Japan.
But this wasn't Japan anymore. This was major-league baseball.
As I watched Mays and Pierzynski playing catch, and then Williams jogging to first base to load the bases, I reflected on the vicissitudes of life. Every person faces trials and tribulations. Even though the people around you try their best to protect you, there are inevitably situations that you must overcome on your own. And that's as it should be. Life is all about triumphing over adversity. In fact, whether you triumph or not isn't as important as facing your challenges squarely and doing the best you can. I knew this very well from my own life. Nevertheless, at that moment I resented the baseball gods a little for presenting Matsui with such a difficult test right, so to speak, off the bat. Come on, I silently addressed those nameless deities, renowned for their capriciousness, it doesn't have to be right now, does it? Give him a little time to get used to playing in the major leagues. . . .
Matsui entered the batter's box amid tremendous cheering from the stands. "Mat-su-i! Mat-su-i!" came the chant from thousands of throats.
Hiroko and I gripped hands tightly and watched without a word.
The first pitch from Mays was a strike.
Matsui let the next pitch go by. A ball.
Followed by another ball.
"Mat-su-i! Mat-su-i!" The chanting was constant now.
Mays reared back and pitched. Matsui liked this one. He swung hard.
A foul ball, strike two.
The next pitch was another ball, a potential wild pitch blocked by Pierzynski.
The count was full, three balls and two strikes. Another ball would walk in a run for the Yankees. One more strike and Hideki Matsui would have failed the test set for him by the baseball gods.
The noise level in the stadium was off the charts. "Mat-su-i! Mat-su-i!"
There was the wind-up. The pitch. Matsui swung. I heard a sharp crack, and my throat tightened.
My wife, who had seen him hit so many home runs in Japan, leapt to her feet and shouted, "He did it! He did it!"
How can you know that already? I thought to myself a bit resentfully. After all, I was the one who knew about baseball. I had even played in college, before an injury ended all my dreams of a professional career. Yet it was Hiroko, who didn't know the rules of the game, and barely understood the strategy, who reacted immediately to Matsui's hit.
The ball, meanwhile, was heading for the right of the center stands, curving like a parabola, and the people there leapt up with both hands in the air. Was she right? Had he really done it? There was a huge roar, a tsunami of sound. Everyone in Yankee Stadium was on their feet, yelling and shouting, the TV announcer was screaming, my wife was dancing around the living room, and, seeing her, even our hard-to-please dog, Ice the Philosopher, was wagging his tail and barking in a most unphilosophical way.
And what of Matsui?
In the middle of all the pandemonium, a tight-lipped Matsui was slowly making his way around the bases. He stepped on home plate without once cracking a smile, only showing his white teeth when he slapped the hands of his teammates as they poured out of the dugout to congratulate him. Watching Matsui surrounded by his fellow Yankees, the words came to me as if from outside myself, and I thought, This young man is a child of baseball. Hiroko, who had been dancing around the room like a girl half her age, burst into tears. Even I was on the verge of tears.
Urged on by Yankee manager Joe Torre, Matsui climbed back out of the dugout and faced the roaring crowd, lifting his helmet in a shy salute to acknowledge the continuing cheers.
"Mat-su-i! Mat-su-i!"
Drying her eyes, my wife turned to me. "Do you think that now everyone there in America understands how talented my boy really is?"
Whenever Hiroko was in a good mood, helped along by one of Matsui's home runs or some other laudable feat of his, whether on or off the field, she would invariably refer to him as "my boy."
I confess that I sometimes thought of him that way myself.
After the game, Matsui was surrounded by New York journalists who all wanted to hear his impressions. They could be summed up in a single word: Unbelievable!
The next day, news of his grand slam was all over the Japanese media. Articles about politics and the economy were relegated to a corner of the newspapers. Even in the City That Never Sleeps, the city that had seen it all, Hideki Matsui had made a memorable splash. As the New York Times put it, "Matsui already felt enveloped in the mystique and aura of the legendary Stadium where so much baseball history has happened. Actually, Matsui added to those feelings of invincibility by becoming the first Yankee to stroke a grand slam in his first game in the Bronx. He is now ahead of everyone from Babe Ruth to Bernie Williams in that respect."
---

Excerpted from Hideki Matsui: Sportsmanship, Modesty, and the Art of the Home Run by Shizuka Ijuin
All rights reserved by the original copyright owners. Excerpts are provided for display purposes only and may not be reproduced, reprinted or distributed without the written permission of the publisher.