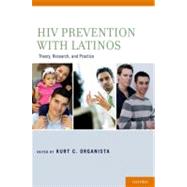 List Price: $59.99
Usually Ships in 3-5 Business Days

More New and Used
from Private Sellers
Questions About This Book?
What version or edition is this?
This is the 1st edition with a publication date of 7/2/2012.
What is included with this book?
The New copy of this book will include any supplemental materials advertised. Please check the title of the book to determine if it should include any CDs, lab manuals, study guides, etc.
Summary
According to the 2010 U.S. Census, Latinos now comprise 16% of the general population as they continue to be one of the fastest-growing populations in the United States. However, according to recent CDC data, Latinos also account for a disproportionately high number of total new AIDS cases.Rates of AIDS among U.S. Latinos are second only to African Americans, and about 3.5-times higher than for non-Hispanic Whites. Vulnerability to HIV/AIDS increases with ethnic and racial minority status that is so often conflated with socioeconomic status. Additional factors, such as gender, sexual orientation, and stigma, also increase vulnerability to HIV/AIDS and require us to think comprehensively about the unique structural-environmental, social and cultural factors that frame risk for HIV for U.S. Latinos.This book, written by leading authorities on theory, research, and practice in preventing HIV with diverse Latino populations and communities, responds to the diminishing returns of the behavioral model of HIV risk by deconstructing the many social ecological contexts of risk within the Latinoexperience. Each of the chapters explores the most innovative thinking and original research on the prevention of HIV for a comprehensive span of subgroups and situations, including: preventing HIV in LGBT Latinos through community involvement and AIDS activism; in migrant laborers by scaling upcommunity and cultural resources; in adolescent Latinas by facilitating communication with their mothers about sex; by decreasing the racism, homophobia, and poverty often experienced by Latino men who have sex with men; in transgender Latinas by decreasing familial, peer, and social rejection, andby providing structures of care at local, state, and national levels; and in Latinas by improving their economic autonomy as well as improving gender-equity ideologies among men.This is a timely and urgently needed effort by the best researchers and interventionists in the field today. Latino-serving agencies and professionals, as well as the growing number of Latino-focused HIV prevention researchers, graduate students, and faculty, will find this an invaluable resource,reference, and guide.
Author Biography

Kurt C. Organista, PhD, is Professor at the School of Social Welfare, University of California, Berkeley.

Table of Contents

Foreword
Sandra R. Hernandez

Introduction
Kurt C. Organista

1. The Urgent Need for Structural Environmental Models of HIV Risk and Prevention in US Latino Populations: The Case of Migrant Day Laborers
Kurt C. Organista, Paula Worby, Jim Quesada, Alex Kral, Rafael Diaz, Torsten Neilands, and Sonya Arreola

2. Enhancing Peer Norms, Self-Efficacy, Self Esteem, and Social Support for Safe Sex in Naturalistic Environments: The Role of Community Involvement in Latino Gay, Bisexual, and Transgender Communities
Jesus Ramirez-Valles, Lisa M. Kuhns, and Haiyan Li

3. Sexual Culture, Structure, and Change: A Transnational Framework for Studies of Latino Migration and HIV
Héctor Carrillo

4. Love, Sex and Power Revisited: The Integration of a Gendered Context in HIV Prevention among Latinas
Monica D. Ulibarri, Anita Raj, and Hortensia Amaro

5. Demonstrated Effectiveness and Potential of Community-Based Participatory Research for Preventing HIV in Latino Populations
Scott Rhodes

6. Mexico-US Migration, Social Exclusion, and HIV risk: Multi-sectoral Approaches to Understanding and Preventing Infection
Jennifer S. Hirsch and Emily Vasquez

7. Inequality, Discrimination and HIV Risk: A Review of Research on Latino Gay Men
Rafael M. Díaz, Jorge Sánchez, and Kurt Schroeder

8. Homophobia, Racism, Financial Hardship and AIDS: Unpacking the Effects of Social Discrimination on the Sexual Risk for HIV among Latino Gay Men
George Ayala

9. Contextual Influences of Sexual Risk among Latino MSM
Maria Cecilia Zea, Carol A. Reisen, Fernanda T. Bianchi, and Paul J. Poppen

10. Clean Sweeps and Social Control in Latino Bisexual Male Sex Markets in New York City
Edgar Rivera Colón, Miguel Muñoz-Laboy, and Diana Hernández

11. Latina Transgender Women: The Social Context of HIV Risk and Responsive Multi-level Prevention Capacity Building
Frank Galvan and Joanne Keatley

12. HIV Risk and Prevention for Latinos in Jails and Prisons
Megan Comfort, Carmen Albizu-García, Timoteo Rodriguez, and Carlos Molina III

13. Puerto Rican Heterosexual Serodiscordant Couples: Cultural Challenges for Healthy Dyads
Sheilla Rodríguez-Madera and Nelson Varas-Díaz

14. HIV/STI Risk among Latino Migrant Men in New Receiving Communities: A Case Study of Post-disaster New Orleans
Patricia Kissinger and Michele G. Shedlin

15. Reducing HIV Sexual Risk for Latino Adolescents: An Ecodevelopmental Perspective
Antonia M. Villarruel, Vincent Guilamo-Ramos, and Jose Bauermeister

16. Improving Latina Intergenerational Family-Based Communication to Decrease HIV and Other Sexual Risks
Britt Rios-Ellis

17. The Landscape of Latina HIV Prevention Interventions and their Implementation: Cultural Sensitivity in Community Based Organizations
Miriam Y. Vega and Lina Cherfas

18. Interventions to Prevent HIV and Other Sexually Transmitted Diseases among Latino Migrants
Thomas M. Painter, Kurt C. Organista, Scott D. Rhodes, and Fernando M. Sañudo

19. HIV Prevention Interventions with Puerto Rican Injection Drug Users
Lisa de Saxe Zerden, Luz Marilis López, and Lena Lundgre

Index