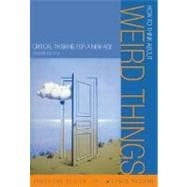 How to Think about Weird Things : Critical Thinking for a New Age
by
Schick, Theodore
McGraw-Hill Humanities/Social Sciences/Languages
List Price: $46.90
Usually Ships in 2-3 Business Days

More New and Used
from Private Sellers
Questions About This Book?
What version or edition is this?
This is the 4th edition with a publication date of 8/5/2004.
What is included with this book?
The Used copy of this book is not guaranteed to inclue any supplemental materials. Typically, only the book itself is included.
Summary
This brief, inexpensive text helps students think critically, using examples from the weird claims and beliefs that abound in our culture to demonstrate the sound evaluation of any claim. The authors focus on types of logical arguments and proofs, making How to Think about Weird Things a versatile supplement for logic, critical thinking, philosophy of science, or any other science appreciation courses.
Table of Contents
ForewordPrefaceChapter 1. Introduction: Close Encounters with the StrangeThe Importance of WhyBeyond Weird to the AbsurdA Weirdness SamplerNotesChapter 2. The Possibility of the ImpossibleParadigms and the ParanormalLogical Possibility Versus Physical ImpossibilityThe Possibility of ESPTheories and ThingsOn Knowing the FutureStudy QuestionsEvaluate These ClaimsDiscussion QuestionsField ProblemCritical Reading and WritingSuggested ReadingsNotesChapter 3. Looking for Truth in Personal ExperienceSeeming and BeingPerceiving: True or False?Perceptual ConstanciesThe Role of ExpectationLooking for Clarity in VaguenessThe Blondlot Case"Constructing" UFOsRemembering: Do We Revise the Past?Judging: The Habit of Unwarranted AssumptionsDenying the EvidenceSubjective ValidationConfirmation BiasThe Availability ErrorThe Representativeness HeuristicAgainst All OddsThe Limits of Personal ExperienceStudy QuestionsEvaluate These ClaimsDiscussion QuestionsField ProblemCritical Reading and WritingSuggested ReadingsNotesChapter 4. Relativism, Truth, and RealityWe Each Create Our Own RealityReality Is Socially ConstructedReality Is Constituted by Conceptual SchemesThe Relativist's PetardFacing RealityStudy QuestionsEvaluate These ClaimsDiscussion QuestionsField ProblemCritical Reading and WritingSuggested ReadingsNotesChapter 5. Knowledge, Belief, and EvidenceBabylonian Knowledge-Acquisition TechniquesPropositional KnowledgeReasons and EvidenceExpert OpinionCoherence and JustificationSources of KnowledgeThe Appeal to FaithThe Appeal to IntuitionThe Appeal to Mystical ExperienceAstrology RevisitedStudy QuestionsEvaluate These ClaimsDiscussion QuestionsField ProblemCritical Reading and WritingSuggested ReadingsNotesChapter 6. Arguments Good, Bad, and WeirdClaims and ArgumentsDeductive ArgumentsInductive ArgumentsEnumerative InductionAnalogical InductionHypothetical Induction (Abduction, or Inference to the Best of Explanation)Informal FallaciesUnacceptable PremisesIrrelevant PremisesInsufficient PremisesStudy QuestionsEvaluate These ClaimsDiscussion QuestionsField ProblemCritical Reading and WritingSuggested ReadingsNotesChapter 7. Science and Its PretendersScience and DogmaScience and ScientismScientific MethodologyConfirming and Confuting HypothesesCriteria of AdequacyTestabilityFruitfulnessScopeSimplicityConservatismCreationism, Evolution, and Criteria of Adequacy Scientific CreationismIntelligent DesignParapsychologyStudy QuestionsEvaluate These ClaimsDiscussion QuestionsField ProblemCritical Reading and WritingSuggested ReadingsNotesChapter 8. How to Assess a "Miracle Cure"Personal ExperienceThe Variable Nature of IllnessThe Placebo EffectOverlooked CausesThe Doctor's EvidenceThe Appeal to TraditionThe Reasons of ScienceMedical ResearchTypes of StudiesStudy QuestionsEvaluate These ClaimsDiscussion QuestionsField ProblemCritical Reading and WritingSuggested ReadingsNotesChapter 9. Case Studies in the ExtraordinaryThe Search FormulaStep 1:State the ClaimStep 2:Examine the Evidence for the ClaimStep 3:Consider Alternative HypothesesStep 4:Rate, According to the Criteria of Adequacy, Each HypothesisHomeopathyDowsingUFO AbductionsCommunicating with the DeadNear-Death ExperiencesGhostsStudy QuestionsEvaluate These Claims by Using the Search MethodField ProblemCritical Reading and WritingSuggested ReadingsNotesEpilogue Mysteries in PerspectiveCreditsIndex