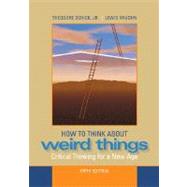 How to Think about Weird Things : Critical Thinking for a New Age
by
SCHICK
McGraw-Hill Humanities/Social Sciences/Languages
Questions About This Book?
What version or edition is this?
This is the 5th edition with a publication date of 12/5/2007.
What is included with this book?
The eBook copy of this book is not guaranteed to include any supplemental materials. Typically only the book itself is included.
Summary
This brief, inexpensive text helps the reader to think critically, using examples from the weird claims and beliefs that abound in our culture to demonstrate the sound evaluation of any claim. The authors focus on types of logical arguments and proofs, making How to Think about Weird Things a versatile supplement for logic, critical thinking, philosophy of science, or any other science appreciation courses.
Table of Contents
Foreword Preface Chapter 1. Introduction: Close Encounters with the Strange The Importance of Why Beyond Weird to the Absurd A Weirdness Sampler Notes Chapter 2. The Possibility of the Impossible Paradigms and the Paranormal Logical Possibility Versus Physical Impossibility The Possibility of ESP Theories and Things On Knowing the Future Study Questions Evaluate These Claims Discussion Questions Field Problem Critical Reading and Writing Suggested Readings Notes Chapter 3. Arguments Good, Bad and Weird Claim and Arguments Deductive Arguments Inductive Arguments Enumerative Induction Analogical Induction Hypothetical Induction (Abduction, or Inference to the Best of Explanation) Informal Fallacies Unacceptable Premises Irrelevant Premises Insufficient Premises Study Questions Evaluate These Claims Discussion Questions Field Problem Critical Reading and Writing Suggested Readings Notes Chapter 4. Knowledge, Belief, and Evidence Babylonian Knowledge-Acquisition Techniques Propositional Knowledge Reasons and Evidence Expert Opinion Coherence and Justification Sources of Knowledge The Appeal to Faith The Appeal to Intuition The Appeal to Mystical Experience Astrology Revisited Study Questions Evaluate These Claims Discussion Questions Field Problem Critical Reading and Writing Suggested Readings Notes Chapter 5. Looking for Truth in Personal Experience Seeming and Being Perceiving: True or False? Perceptual Constancies The Role of Expectation Looking for Clarity in Vagueness The Blondlot Case "Constructing" UFOs Remembering: Do We Revise the Past? Judging: The Habit of Unwarranted Assumptions Denying the Evidence Subjective Validation Confirmation Bias The Availability Error The Representativeness Heuristic Against All Odds The Limits of Personal Experience Study Questions Evaluate These Claims Discussion Questions Field Problem Critical Reading and Writing Suggested Readings Notes Chapter 6. Science and Its Pretenders Science and Dogma Science and Scientism Scientific Methodology Confirming and Confuting Hypotheses Criteria of Adequacy Testability Fruitfulness Scope Simplicity Conservatism Creationism, Evolution, and Criteria of Adequacy Scientific Creationism Intelligent Design Parapsychology Study Questions Evaluate These Claims Discussion Questions Field Problem Critical Reading and Writing Suggested Readings Notes Chapter 7. Case Studies in the Extraordinary The Search Formula Step 1:State the Claim Step 2:Examine the Evidence for the Claim Step 3:Consider Alternative Hypotheses Step 4:Rate, According to the Criteria of Adequacy, Each Hypothesis Homeopathy Conspiracy Theories UFO Abductions Communicating with the Dead Near-Death Experiences Ghosts Study Questions Evaluate These Claims by Using the Search Method Field Problem Critical Reading and Writing Suggested Readings Notes Epilogue Mysteries in Perspective Credits Index Chapter 8. Relativism, Truth, and Reality We Each Create Our Own Reality Reality Is Socially Constructed Reality Is Constituted by Conceptual Schemes The Relativist's Petard Facing Reality Study Questions Evaluate These Claims Discussion Questions Field Problem Critical Reading and Writing Suggested Readings Notes