Note: Supplemental materials are not guaranteed with Rental or Used book purchases.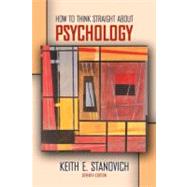 Summary
This widely used supplement focuses on applying critical thinking techniques to standard concepts in psychology and teaches students to recognize and critically appraise pseudoscience. In particular, this text provides tips on evaluating claims that arise in discussions of psychology in the media and self-help literature. By boldly examining common misconceptions in psychology, this text helps students become more critical and discriminating consumers of psychological information.
Table of Contents
1. Psychology Is Alive and Well (And Doing Fine Among the Sciences).
2. Falsifiability: How to Foil Little Green Men in the Head.
3. Operationism and Essentialism: "But, Doctor, What Does it Really Mean?"
4. Testimonials and Case Study Evidence: Placebo Effects and the Amazing Randi.
5. Correlation and Causation: Birth Control by the Toaster Method.
6. Getting Things Under Control: The Case of Clever Hans.
7. "But It's Not Real Life!" : The "Artificiality" Criticism and Psychology.
8. Avoiding the Einstein Syndrome: The Importance of Converging Evidence.
9. The Misguided Search for the "Magic Bullet" : The Issue of Multiple Causation.
10. The Achilles' Heel of Human Cognition: Probabilistic Reasoning.
11. The Role of Chance in Psychology.
12. The Rodney Dangerfield of the Sciences.