Note: Supplemental materials are not guaranteed with Rental or Used book purchases.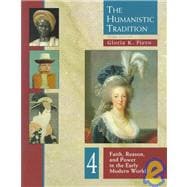 Humanistic Tradition Vol. 4 : Faith, Reason and Power in the Early Modern World
ISBN13:
9780697340719
by
Fiero, Gloria K.
Questions About This Book?
What version or edition is this?
This is the 4th edition with a publication date of 6/1/1999.
What is included with this book?
The New copy of this book will include any supplemental materials advertised. Please check the title of the book to determine if it should include any CDs, lab manuals, study guides, etc.
Summary
In Volume Four, readers are exposed to the cornerstones of the early modern world, from the age of the Baroque to the art, music, and culture of the eighteenth century. As in previous volumes, the author presents lively discussion accompanied by literary excerpts and examples to illuminate a variety of topics, including Catholicism's global reach, the birth of modern philosophy, the political theories of Hobbes and Locke, the Enlightenment, and the music of Hayden and Mozart, to name a few.
Table of Contents
BOOK 4: FAITH, REASON, AND POWER IN THE EARLY MODERN WORLDPart I: The Age of the BaroqueChapter 20: The Catholic Reformation and the Baroque Style The Catholic Reformation / 4.1 From Loyola: Spiritual Exercises / Catholicism: Global Reach / Literature and the Catholic Reformation / 4.2 From Saint Teresa: Visions / 4.3 From Crashaw: The Flaming Heart / The Visual Arts and the Catholic Reformation / Baroque MusicChapter 21: The Baroque in the Protestant North The Rise of the English Commonwealth / The King James Bible / 4.4 From the Douay Bible, 1609, and the King James Bible, 1611 / English Literature of the Seventeenth- Century / 4.5 From Donne: Meditation / 4.6 From Donne: Holy Sonnets / 4.7 From Milton: Paradise Lost / The London of Christopher Wren / Rembrandt and Protestant Devotionalism / The Music of the Protestant NorthChapter 22: The Scientific Revolution and the New Learning The Scientific Revolution / The New Learning / 4.8 From Bacon: Novum Organum / 4.9 From Bacon: Of Studies / 4.10 From Descartes: Discourse on Method (Part IV) / 4.11 From Locke: Essay Concerning Human Understanding / Newton: Scientific Synthesis / The Impact of the Scientific Revolution on Art / Baroque Instrumental MusicChapter 23: Absolute Power and the Aristocratic StyleThe Aristocratic Style in France / The Aristocratic Portrait / The Aristocratic Style in Europe / Music and Dance at the Court of Louis XIV / Neoclassicism and French Literature / 4.12 From la Rochefoucauld: Maxims / 4.13 From Moli"®re: Le Bourgeois Gentilhomme / Absolute Power and the Aristocratic Style Beyond Europe / The Aristocratic Style in India / The Aristocratic Style in China: The Ming and Manchu Dynasties / the Aristocratic Style in JapanPart II: The Age of EnlightenmentChapter 24: The Promise of Reason The Political Theories of Hobbes and Locke / 4.14 From Hobbes: Leviathan / 4.15 From Locke: Of Civil Government / 4.16 From Jefferson: Declaration of Independence / Adam Smith and the Birth of Economic Theory / 4.17 From Smith: An Inquiry into the Nature and Causes of the Wealth of Nations / The Philosophes / 4.18 From the Encyclop"©die / The Crusade for Progress / 4.19 From Condorcet: Sketch for a Historical Picture of the Progress of the Human Mind / The Journalistic Essay and the Birth of the Modern Novel / Pope: Poet of the Age of Reason / 4.20 From Pope: Essay on Man Chapter 25: The Limits of Reason The Transatlantic Slave Trade / 4.21 From Equiano: Travels / Satire: Weapon of the Enlightenment / 4.22 From Swift: A Modest Proposal / 4.23 From Voltaire: Candide / 4.24 From Li Ruzhen: Flowers in the Mirror / Rousseau: Revolt Against Reason / 4.25 From Rousseau: Discourse on the Origin of Inequality Among Men / Kant: Mind/World Revolution / The Revolution of the Late Eighteenth CenturyChapter 26: Eighteenth-Century Art, Music, and SocietyThe Rococo Style / Eighteenth-Century French Genre Painting / Eighteenth-Century Neoclassicism / Eighteenth-Century Western Music