Note: Supplemental materials are not guaranteed with Rental or Used book purchases.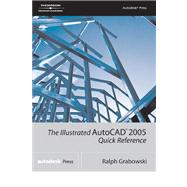 Summary
No other AutoCAD reference guide on the market is more up-to-date or provides details for as many commands and functions as this comprehensive resource. Ideal for beginner through advanced students as well as programmers and managers alike, The Illustrated AutoCAD® 2005 Quick Reference catalogs all AutoCAD commands in alphabetical order, briefly describing the function of each command and its options. Every listing includes cross-references to related commands, system variables, and/or files, taking the guesswork out of executing AutoCAD commands to their potential. All methods of accessing each command are featured, as well as commands not documented by Autodesk.
Author Biography
Ralph Grabowski is Editor of AutoCAD User magazine and the former Senior Editor at CADalyst magazine.
Table of Contents
1
(1)
2
(1)
3
(1)
4
(2)
6
(1)
7
(2)
9
(1)
10
(1)
11
(1)
12
(1)
13
(1)

| | |
| --- | --- |
| | Ai_Dim_TextAbove/Center/Home |

14
(1)
15
(1)
16
(1)
17
(1)
18
(1)
19
(1)
20
(1)
21
(1)
22
(1)
23
(1)
24
(1)
25
(1)
26
(1)
27
(1)
28
(2)
30
(3)
33
(4)
37
(1)
38
(3)
41
(1)
42
(1)
43
(1)
44
(3)
47
(1)
48
(3)
51
(2)
53
(1)
54
(1)
55
(1)
56
(3)
59
(1)
60
(3)
63
(8)
71
(1)
72
(3)
75
(1)
76
(1)
77
(2)
79
(1)
80
(1)
81
(1)
82
(2)
84
(1)
85
(3)
88
(2)
90
(3)
93
(1)
94
(2)

| | |
| --- | --- |
| | CleanScreenOn/CleanScreenOff |

96
(1)
97
(1)
98
(3)
101
(1)
102
(2)
104
(1)
105
(1)
106
(1)
107
(1)
108
(1)
109
(1)
110
(1)
Getting the Right Clipboard Result
111
(20)
113
(1)
114
(5)
119
(1)
120
(2)
122
(9)
Constructing Your First Query
131
(17)
133
(1)
134
(1)
135
(2)
137
(2)
139
(1)
140
(1)
141
(1)
142
(1)
143
(5)
146
(1)
147
(1)
Editing Dimensions with Grips
148
(46)
150
(1)
151
(1)
152
(1)
153
(1)
154
(1)
155
(1)
156
(1)
157
(1)
158
(2)
160
(1)
161
(1)
162
(1)
163
(1)
164
(1)
165
(1)
166
(12)
178
(1)
179
(1)
180
(1)
181
(1)
182
(1)
183
(1)
184
(1)
185
(5)
190
(2)
192
(2)
Two- and 3-point Perspectives
194
(46)
196
(3)
199
(1)
200
(1)
201
(2)
203
(2)
205
(6)
211
(1)
212
(1)
213
(1)
214
(3)
217
(1)
218
(5)
223
(2)
225
(2)
227
(2)
229
(2)
231
(2)
233
(1)
234
(1)
235
(3)
238
(2)
Filtering Selection Sets
240
(50)
241
(2)
243
(2)
245
(1)
246
(1)
247
(2)
249
(3)
252
(2)
254
(4)
258
(1)
259
(2)
261
(2)
263
(4)

| | |
| --- | --- |
| | HyperlinkOpen/Back/Fwd/Stop |

267
(1)
268
(1)
269
(1)
270
(2)
272
(3)
275
(2)
277
(2)
279
(1)
280
(1)
281
(2)
283
(3)
286
(1)
287
(1)
288
(1)
289
(1)
Creating Isometric Dimensions
290
(99)
292
(1)
293
(1)
294
(9)
303
(1)
304
(1)
305
(3)
308
(4)
312
(3)
315
(2)
317
(1)
318
(6)
324
(1)
325
(2)
327
(4)
331
(1)
332
(1)
333
(1)
334
(1)
335
(2)
337
(2)
339
(1)
340
(2)
342
(3)
345
(2)
347
(1)
348
(2)
350
(2)
352
(1)
353
(1)
354
(2)
356
(2)
358
(1)
359
(1)
360
(2)
362
(2)
364
(3)
367
(1)
368
(1)
369
(1)
370
(1)
371
(1)
372
(1)
373
(7)
380
(1)
381
(1)
382
(4)
386
(3)
Using MvSetup
389
(84)
390
(1)
391
(8)
399
(5)
404
(1)
405
(1)
406
(1)
407
(1)
408
(2)
410
(1)
411
(6)
417
(1)
418
(1)
419
(14)
433
(1)
434
(3)
437
(3)
440
(2)
442
(2)
444
(1)
445
(1)
446
(1)
447
(2)
449
(1)
450
(1)
451
(2)
453
(5)
458
(1)
459
(1)
460
(2)
462
(5)
467
(3)
470
(3)
Applying Plot Styles
473
(69)
474
(8)
482
(1)
483
(1)
484
(1)
485
(2)

| | |
| --- | --- |
| | 'Properties/'PropertiesClose |

487
(3)
490
(1)
491
(1)
492
(2)
494
(1)
495
(4)
499
(5)
504
(2)
506
(2)
508
(3)
511
(1)
512
(1)
513
(2)
515
(1)
516
(1)
517
(2)
519
(1)
520
(1)
521
(2)
523
(1)
524
(1)
525
(1)
526
(1)
527
(3)
530
(1)
531
(1)
532
(1)
533
(1)
534
(1)
535
(2)
537
(5)
Your First Rendering
542
(223)
545
(1)
546
(1)
547
(1)
548
(2)
550
(1)
551
(1)
552
(5)
557
(1)
558
(1)
559
(1)
560
(1)
561
(1)
562
(1)
563
(3)
566
(2)
568
(2)
570
(1)
571
(2)
573
(1)
574
(1)
575
(3)
578
(2)
580
(1)
581
(1)
582
(4)
586
(1)
587
(3)
590
(1)
591
(8)
599
(1)
600
(1)
601
(1)
602
(2)
604
(1)
605
(2)
607
(1)
608
(1)
609
(2)
611
(1)
612
(2)
614
(1)
615
(2)
617
(2)
619
(1)
620
(2)
622
(1)
623
(1)
624
(2)
626
(1)
627
(1)
628
(4)
632
(6)
638
(1)
639
(2)
641
(2)
643
(4)
647
(1)
648
(3)
651
(2)
653
(1)
654
(2)
656
(1)
657
(2)
659
(1)
660
(1)
661
(1)
662
(2)
664
(1)

| | |
| --- | --- |
| | ToolPalettes/ToolPalettesClose |

665
(4)
669
(1)
670
(1)
671
(1)
672
(1)
673
(1)
674
(1)
675
(1)
676
(1)
677
(3)
680
(2)
682
(3)
685
(1)
686
(1)
687
(1)
688
(4)
692
(1)
693
(1)
694
(2)
696
(1)
697
(1)
698
(2)
700
(1)
701
(1)
702
(5)
707
(2)
709
(1)
710
(1)
711
(1)
712
(1)
713
(1)
714
(1)
715
(4)
719
(1)
720
(2)
722
(2)
724
(1)
725
(2)
727
(1)
728
(1)
729
(1)
730
(3)
733
(2)
735
(1)
736
(2)
738
(1)
739
(2)
741
(2)
743
(2)
745
(2)
747
(2)
749
(2)
751
(2)

| | |
| --- | --- |
| | 3dCOrbit/Distance/Pan/Swivel/3dZoom |

753
(1)
754
(1)
755
(1)
756
(3)
759
(1)
760
(1)
761
(2)
763
(2)
Appendices
765
(2)
767
(22)
767
(1)
768
(1)
769
(1)
770
(4)
774
(5)
779
(4)
783
(4)
787
(1)
788
(1)

| | |
| --- | --- |
| | C: Obsolete & Removed Commands |

789
(2)
791