Note: Supplemental materials are not guaranteed with Rental or Used book purchases.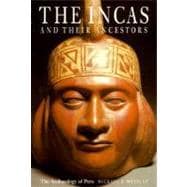 Incas and Their Ancestors : The Archaeology of Peru
ISBN13:
9780500277232
by
Moseley, Michael E.
Summary
'An outstanding volume that provides a comprehensive and coherent introduction to the prehistory of the Andes...'--Professor Richard L. Burger, 'Hispanic American Historical Review'
Author Biography
Michael E. Moseley is Director of the Institute of Archaeology and Paleo-environmental Studies at the University of Florida. He has conducted extensive fieldwork on the pre-Columbian sites of Peru and is the author of many books and studies on the subject
Table of Contents
Introduction
p. 7
The Incas
p. 9
The conquest
p. 11
The historical record
p. 12
The archaeological record
p. 17
Land of the Four Quarters
p. 25
The Cordillera
p. 25
Geography of the Four Quarters
p. 32
Making a living
p. 43
The Inca Model of Statecraft
p. 51
The cosmos
p. 51
The ayllu
p. 53
Statecraft
p. 70
Colonization of the Cordillera
p. 87
The colonization process
p. 87
Adaptive dispersal
p. 92
Domestication
p. 102
The Preceramic Foundations of Civilization
p. 107
Preceramic economies
p. 107
Social formations
p. 114
Arts
p. 115
Monumental architecture
p. 117
The Initial Period and Early Horizon
p. 131
Irrigation agriculture
p. 133
Monumental architecture
p. 136
Highland developments
p. 143
The Titicaca Basin
p. 154
The Early Horizon
p. 158
The southern sphere
p. 158
Chavin and the northern sphere
p. 163
The Early Intermediate Period
p. 173
North coast
p. 174
The central and south coasts
p. 196
The sierra
p. 203
The altiplano
p. 208
The Middle Horizon
p. 223
Moche upheaval
p. 223
Huari adaptive dispersal
p. 230
Tiwanaku
p. 238
The Late Intermediate Period
p. 245
The Titicaca region
p. 245
The southern sierra
p. 247
The central and northern sierra
p. 257
The central and south coasts
p. 258
Chimor and the north
p. 261
Epilogue
p. 276
Sources of Illustrations
p. 278
General Bibliography
p. 279
Archaeological Bibliography
p. 280
Index
p. 284
Table of Contents provided by Syndetics. All Rights Reserved.