Note: Supplemental materials are not guaranteed with Rental or Used book purchases.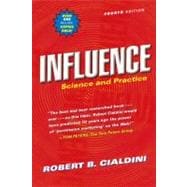 Questions About This Book?
What version or edition is this?
This is the 4th edition with a publication date of 1/1/2009.
What is included with this book?
The Used copy of this book is not guaranteed to include any supplemental materials. Typically, only the book itself is included.
Summary
Influence: Science and Practice is an examination of the psychology of compliance (i.e. uncovering which factors cause a person to say "yes" to another's request) and is written in a narrative style combined with scholarly research. Cialdini combines evidence from experimental work with the techniques and strategies he gathered while working as a salesperson, fundraiser, advertiser, and other positions, inside organizations that commonly use compliance tactics to get us to say "yes." Widely used in graduate and undergraduate psychology and management classes, as well as sold to people operating successfully in the business world, the eagerly awaited revision of Influence reminds the reader of the power of persuasion. Cialdini organizes compliance techniques into six categories based on psychological principles that direct human behavior: reciprocation, consistency, social proof, liking, authority, and scarcity. New Reader's Reports are included in the Fourth Edition and illustrate how readers have used one of the principles or have had a principle of influence used on them.
Table of Contents
Preface
vii
Introduction
ix
1
(18)
3
(3)

| | |
| --- | --- |
| | Betting the Shortcut Odds |

6
(4)
10
(2)
12
(4)
16
(1)
17
(2)

| | |
| --- | --- |
| | Reciprocation: The Old Give and Take ... and Take |

19
(33)
21
(15)
22
(4)
26
(1)
27
(3)

| | |
| --- | --- |
| | The Rule Enforces Uninvited Debts |

30
(3)

| | |
| --- | --- |
| | The Rule Can Trigger Unequal Exchanges |

33
(3)
36
(2)
38
(8)

| | |
| --- | --- |
| | Reciprocal Concessions, Perceptual Contrast, and the Watergate Mystery |

40
(3)

| | |
| --- | --- |
| | Damned If You Do, Damned If You Don't |

43
(1)

| | |
| --- | --- |
| | Here's My Blood, and Do Call Again |

44
(1)

| | |
| --- | --- |
| | The Sweet, Secret Side Effects |

44
(1)
45
(1)
45
(1)
46
(4)
46
(1)
47
(3)
50
(1)
51
(1)

| | |
| --- | --- |
| | Commitment and Consistency: Hobgoblins of the Mind |

52
(46)
54
(7)
55
(1)
55
(3)
58
(3)
61
(29)
67
(1)
68
(4)
72
(3)
75
(5)
80
(4)
84
(3)

| | |
| --- | --- |
| | Standing Up for the Public Good |

87
(3)
90
(5)
91
(2)
93
(2)
95
(1)
96
(2)

| | |
| --- | --- |
| | Social Proof: Truths Are Us |

98
(45)

| | |
| --- | --- |
| | The Principle of Social Proof |

100
(11)
101
(3)
104
(7)

| | |
| --- | --- |
| | Cause of Death: Uncertain(ty) |

111
(8)
115
(2)
117
(2)
119
(15)
121
(9)
130
(4)
134
(6)
134
(3)
137
(3)
140
(1)
141
(2)

| | |
| --- | --- |
| | Liking: The Friendly Thief |

143
(35)

| | |
| --- | --- |
| | Making Friends to Influence People |

147
(1)

| | |
| --- | --- |
| | Why Do I Like You? Let Me List the Reasons |

148
(13)
148
(2)
150
(2)
152
(2)
154
(2)
156
(2)
158
(3)

| | |
| --- | --- |
| | Conditioning and Association |

161
(13)

| | |
| --- | --- |
| | Does the name Pavlov Ring a Bell? |

167
(1)

| | |
| --- | --- |
| | From the News and Weather to the Sports |

168
(6)
174
(2)
176
(1)
176
(2)

| | |
| --- | --- |
| | Authority: Directed Deference |

178
(25)

| | |
| --- | --- |
| | The Power of Authority Pressure |

180
(5)

| | |
| --- | --- |
| | The Allures and Dangers of Blind Obedience |

185
(3)
188
(8)
188
(5)
193
(2)
195
(1)
196
(4)
196
(1)
197
(3)
200
(1)
201
(2)

| | |
| --- | --- |
| | Scarcity: The Rule of the Few |

203
(30)

| | |
| --- | --- |
| | Less Is Best and Loss Is Worst |

204
(4)
205
(2)
207
(1)
208
(10)

| | |
| --- | --- |
| | Adult Reactance: Love, Guns, and Suds |

212
(3)
215
(3)
218
(10)

| | |
| --- | --- |
| | New Scarcity: Costlier Cookies and Civil Conflict |

219
(4)

| | |
| --- | --- |
| | Competition for Scarce Resources: Foolish Fury |

223
(5)
228
(3)
231
(1)
231
(2)

| | |
| --- | --- |
| | Instant Influence: Primitive Consent for an Automatic Age |

233
(8)
234
(2)
236
(2)

| | |
| --- | --- |
| | Shortcuts Shall Be Sacred |

238
(1)
239
(1)
240
(1)
References
241
(16)
Index
257
Excerpts
The initial version of Influence was designed for the popular reader, and as such, an attempt was made to write it in an engaging style. In the subsequent versions, that style is retained, but in addition, I present the research evidence for my statements, recommendations, and conclusions. Although they are dramatized and corroborated through such devices as interviews, quotes, and systematic personal observations, the conclusions of Influence are based on controlled, psychological research. This fact allows the instructor, the student, and the popular reader to feel confident that the book is not "pop" psychology but represents work that is scientifically grounded. The subsequent versions also provide new and updated material, chapter summaries, and study questions to enhance its classroom utility.A potentially attractive feature of the present version of Influence lies in its ability to serve as an enjoyable, practical, yet scientifically documented text for both students and the general reader. For students, one way to view the book, then, is to see it as a refreshing change of pace (from standard text material) that does not retreat from scientific respectability. In a related vein, for both students and the general reader, the book might be seen as a way to demonstrate that, properly presented, what often seems like dry science can actually prove to be lively, useful, and relevant to all readers' personal lives.COMMENT ON THE FOURTH EDITION OFINFLUENCE: SCIENCE AND PRACTICE It has been some time since Influence was last published. In the interim, some things have happened that deserve a place in this new edition. First, we now know more about the influence process than before. The study of persuasion, compliance, and change has advanced, and the pages that follow have been adapted to reflect that progress. In addition to an overall update of the material, I have expanded a feature that was stimulated by the responses of prior readers.This feature highlights the experiences of individuals who have read Influence, recognized how one of the principles worked on (or for) them in a particular instance, and wrote to me describing the event. Their descriptions, which appear in the "Reader's Reports" in each chapter, illustrate how easily and frequently we can fall victim to the influence process in our everyday lives.An array of people deserve and have my appreciation for their aid in making Influence possible. Several of my academic colleagues read and provided perceptive comments on the entire manuscript in its initial draft form, greatly strengthening the subsequent version. They are Gus Levine, Doug Kenrick, Art Beaman, and Mark Zanna. In addition, the first draft was read by a few family members and friends Richard and Gloria Cialdini, Bobette Gorden, and Ted Hall-who offered not only much-needed emotional support but insightful substantive commentary as well.A second, larger group provided helpful suggestions for selected chapters or groups of chapters: Todd Anderson, Sandy Braver, Catherine Chambers, Judi Cialdini, Nancy Eisenberg, Larry Ettkin, Joanne Gersten, Jeff Goldstein, Betsy Hans, Valerie Hans, Joe Hepworth, Holly Hunt, Ann Inskeep, Barry Leshowitz, Darwyn Linder, Debbie Littler, John Mowen, Igor Pavlov, Janis Posner, Trish Puryear, Marilyn Rall, John Reich, Peter Reingen, Diane Ruble, Phyllis Sensenig, Roman Sherman, and Henry Wellman.Certain people were instrumental at the beginning stages. John Staley was the first publishing professional to recognize the project's potential. Jim Sherman, Al Goethals, John Keating, Dan Wagner, Dalmas Taylor, Wendy Wood, and David Watson provided early, positive reviews that encouraged author and editors alike. My editors at Allyn and Bacon, Carolyn Merrill and Jodi Devine, were consistently congenial, helpful, and insightful. I would like to thank the following users of the third edition f