Note: Supplemental materials are not guaranteed with Rental or Used book purchases.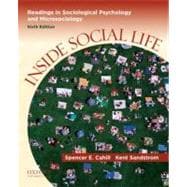 Questions About This Book?
What version or edition is this?
This is the 6th edition with a publication date of 7/2/2010.
What is included with this book?
The Used copy of this book is not guaranteed to include any supplemental materials. Typically, only the book itself is included.
Related Products
Summary
Now in its sixth edition, Spencer E. Cahill's best-selling anthology provides an introduction to the sociological study of social psychology, interpersonal interaction, social construction, and the social shaping of human experience in our everyday lives. Inside Social Life: Readings in Sociological Psychology and Microsociology presents forty-one selections that include both classic and contemporary theoretical work as well as empirical studies. Detailed introductions to each part and article identify and explain central issues, key concepts, and relationships among topics. Incorporating the insights of Kent Sandstrom, the new coeditor, the sixth edition features twenty-three new readings on such fascinating topics as: * Symbols and the creation of reality * Speed culture and TV commercials * Smell, odor, and somatic work * The organizational management of shame * The embodiment of gender differences in preschool practices * Sex education and the reproduction of inequality * Gang-related gun violence and the self * Emotion work among employees at an abortion clinic * Police oppression of Mexican Americans * Women, hair, and power * Being Middle Eastern in the context of the war on terror * Nazi doctors in Auschwitz . . . and much more. The sixth edition also features section introductions that link the selections together and an Instructor's Resource CD and Test Bank.
Author Biography

Spencer E. Cahill (1949-2006) was Professor of Sociology at the University of South Florida.

Kent Sandstrom is Professor of Sociology and Head of the Sociology, Anthropology, and Criminology Department at the University of Northern Iowa.

Table of Contents

*=New to this edition
Each Part opens with an Introduction.
Introduction
Uses of the Selections
About the Contributors
PART I: HUMAN BEING AND SOCIAL REALITY
* 1. Sociological Mindfulness, Michael Schwalbe
2. The Social Foundations of Human Experience, Peter Berger and Thomas Luckmann
* 3. Symbols and the Creation of Reality, Kent Sandstrom
4. Islands of Meaning, Eviatar Zerubavel
* 5. Speed Culture, Simon Gottschalk
PART II: THE SOCIAL SHAPING OF SUBJECTIVE EXPERIENCE
* 6. Smell, Odor, and Somatic Work, Dennis D. Waskul and Phillip Vannini
* 7. Working on Feeling, Arlie Hochschild
8. Managing Emotions in Medical School, Allen C. Smith III and Sherryl Kleinman
9. Mental Illness, Psychiatric Drugs, and the Elusive Self, David A. Karp
* 10. The Organizational Management of Shame, Daniel D. Martin
PART III: THE SOCIAL CONSTRUCTION OF THE BODY AND EMBODIMENT
* 11. Women and Their Clitoris, Dennis D. Waskul, Phillip Vannini, and Desiree Wiesen
* 12. Becoming a Gendered Body, Karin A. Martin
* 13. Risky Lessons, Jessica Fields
* 14. Corporate Logo Tattoos and the Commodification of the Body, Angela Orend and Patricia Gagné
PART IV: THE SOCIAL CONSTRUCTION OF THE SELF
15. The Self as Sentiment and Reflection, Charles Horton Cooley
16. The Self as Social Structure, George Herbert Mead
17. Young Children's Racial and Ethnic Definitions of Self, Debra Van Ausdale and Joe Feagin
* 18. Gang-Related Gun Violence and the Self, Paul Stretesky and Mark Pogrebrin
19. The Dissolution of the Self, Kenneth J. Gergen
PART V: THE SELF AND SOCIAL INTERACTION
20. The Presentation of Self, Erving Goffman
21. Cyberspace and Cyberselves, Dennis D. Waskul
22. The Gloried Self, Patricia Adler and Peter Adler
* 23. Helping Women and Protecting the Self in an Abortion Clinic, Michelle Wolkomir and Jennifer Powers
PART VI: THE ORGANIZATION OF SOCIAL INTERACTION
24. Face-Work and Interaction Rituals, Erving Goffman
25. The Interaction Order of Public Bathrooms, Spencer E. Cahill
26. Wheelchair Users' Interpersonal Management of Emotions, Spencer E. Cahill and Robin Eggleston
* 27. Between Deference and Distinction, Tim Hallett
PART VII: THE CONSTRUCTION OF SOCIAL STRUCTURES AND BOUNDARIES
28. Society in Action, Hubert Blumer
* 29. Protecting the Routine from Chaos, Daniel Chambliss
* 30. Legitimated Oppression, Robert J. Durán
* 31. Collective Emotions and Boundary Work among Evangelical Christians, Amy Wilkins
32. Managing Emotions in an Animal Shelter, Arnold Arluke
PART VIII: REPRODUCING AND RESISTING INEQUALITIES
33. Borderwork among Boys and Girls, Barrie Thorne
* 34. Women, Hair, and Power, Rose Weitz
* 35. Straddling Racial Boundaries at School, Prudence Carter
* 36. Doing Gender as Resistance, Chauntelle Anne Tibbals
PART IX: THE POLITICS OF REALITY
37. The Moral Career of the Mental Patient, Erving Goffman
* 38. Being Middle Eastern American in the Context of the War on Terror, Amir Marvasti
* 39. Consuming Terrorism, David Altheide
* 40. Nazi Doctors in Auschwitz, Robert Jay Lifton
* 41. Rosa Parks, Collective Forgetting, and the Power of Oneness, Barry Schwartz