Note: Supplemental materials are not guaranteed with Rental or Used book purchases.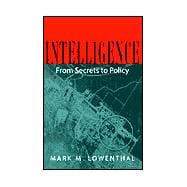 Intelligence : From Secrets to Policy
ISBN13:
9781568025124
by
Lowenthal, Mark M.
Congressional Quarterly Inc
Summary
Drawing on over two decades as an intelligence officer and historian of the field, Lowenthal (Columbia U. and George Washington U.) argues that intelligence must be understood within the context of the larger policy process that it serves. In a text for a graduate or undergraduate introductory course, he discusses the process by which intelligence is created and used, including such topics as covert action, counter intelligence, oversight, and challenges and issues of the post-Cold-War era.
Author Biography
Mark M. Lowenthal currently is an adjunct professor in the graduate programs at Columbia University and George Washington University and is a senior principal in the Intelligence Directorate of SRA International, Inc.
Table of Contents
ix
Preface
xi

| | |
| --- | --- |
| | Introduction---What is ``Intelligence?'' |

1
(9)

| | |
| --- | --- |
| | Why Do We Have Intelligence Agencies? |

2
(3)

| | |
| --- | --- |
| | What Is Intelligence About? |

5
(5)

| | |
| --- | --- |
| | The Development of the U.S. Intelligence Community |

10
(14)
11
(6)

| | |
| --- | --- |
| | Major Historical Developments |

17
(5)
22
(2)

| | |
| --- | --- |
| | The U.S. Intelligence Community |

24
(16)

| | |
| --- | --- |
| | The Standard View of the Intelligence Community |

24
(1)

| | |
| --- | --- |
| | Alternative Ways of Looking at the Intelligence Community |

25
(2)

| | |
| --- | --- |
| | The Many Different Intelligence Communities |

27
(2)

| | |
| --- | --- |
| | Intelligence Community Relationships that Matter |

29
(5)

| | |
| --- | --- |
| | The Intelligence Budget Process |

34
(6)

| | |
| --- | --- |
| | The Intelligence Process---A Macro Look: Who Does What for Whom? |

40
(13)
41
(3)
44
(1)

| | |
| --- | --- |
| | Processing and Exploitation |

45
(1)
46
(1)

| | |
| --- | --- |
| | Dissemination and Consumption |

47
(1)
48
(2)

| | |
| --- | --- |
| | Thinking About the Intelligence Process |

50
(3)

| | |
| --- | --- |
| | The Intelligence Process---Collection and the Collection Disciplines |

53
(22)
53
(8)

| | |
| --- | --- |
| | The Collection Disciplines: Strengths and Weaknesses |

61
(10)
71
(4)

| | |
| --- | --- |
| | The Intelligence Process---Analysis |

75
(23)
76
(10)
86
(7)

| | |
| --- | --- |
| | Intelligence Analysis: An Assessment |

93
(5)

| | |
| --- | --- |
| | The Intelligence Process---Counterintelligence |

98
(8)
99
(2)

| | |
| --- | --- |
| | External Indicators and Counterespionage |

101
(2)

| | |
| --- | --- |
| | Problems in Counterintelligence |

103
(3)

| | |
| --- | --- |
| | The Intelligence Process---Covert Action |

106
(14)

| | |
| --- | --- |
| | The Covert Action Decision-making Process |

107
(4)

| | |
| --- | --- |
| | The Range of Covert Actions |

111
(2)
113
(5)
118
(2)

| | |
| --- | --- |
| | The Intelligence Process---The Role of the Policy Maker |

120
(13)

| | |
| --- | --- |
| | The Nature of the National Security Policy Process in the U.S. Government |

120
(3)
123
(1)

| | |
| --- | --- |
| | The Intelligence Process: Policy and Intelligence |

124
(9)

| | |
| --- | --- |
| | The Intelligence Process---Oversight and Accountability |

133
(22)

| | |
| --- | --- |
| | Executive Oversight Issues |

133
(3)

| | |
| --- | --- |
| | The Basis of Congressional Oversight |

136
(1)

| | |
| --- | --- |
| | The Levers of Congressional Oversight |

136
(5)

| | |
| --- | --- |
| | Issues in Congressional Oversight |

141
(6)

| | |
| --- | --- |
| | The Internal Dynamics of Congressional Oversight of Intelligence |

147
(6)
153
(2)

| | |
| --- | --- |
| | The Old Intelligence Agenda---What and How Well? |

155
(12)

| | |
| --- | --- |
| | U.S. Cold War Policy vis-a-vis the Soviet Union---Containment |

155
(2)

| | |
| --- | --- |
| | The Intelligence Record---The Soviet Military |

157
(3)

| | |
| --- | --- |
| | The Intelligence Record---The Soviet Economy |

160
(2)

| | |
| --- | --- |
| | The Intelligence Record---The Collapse of the Soviet Union |

162
(2)

| | |
| --- | --- |
| | Conclusion---Intelligence and the Soviet Problem |

164
(3)

| | |
| --- | --- |
| | The New Intelligence Agenda |

167
(17)

| | |
| --- | --- |
| | U.S. National Security Policy after the Cold War |

167
(1)

| | |
| --- | --- |
| | The Question of the Intelligence Mission |

168
(1)

| | |
| --- | --- |
| | The Questions of Intelligence Agenda and Priorities |

168
(2)

| | |
| --- | --- |
| | Intelligence and the New Agenda |

170
(11)
181
(3)

| | |
| --- | --- |
| | Ethical and Moral Issues in Intelligence |

184
(17)
184
(5)

| | |
| --- | --- |
| | Collection- and Covert Action-related Issues |

189
(4)
193
(3)
196
(2)
198
(1)
199
(2)
Appendix I Additional Bibliographic Citations and Web Sites
201
(4)
Appendix II Documents
205
(44)

| | |
| --- | --- |
| | The National Security Act of 1947 (excerpts) |

205
(21)

| | |
| --- | --- |
| | Executive Order 12333: United States Intelligence Activities |

226
(12)

| | |
| --- | --- |
| | Congressional Oversight: The Senate Select Committee on Intelligence |

238
(6)

| | |
| --- | --- |
| | Congressional Oversight: The House Permanent Select Committee on Intelligence |

244
(5)
Author Index
249
(2)
Subject Index
251