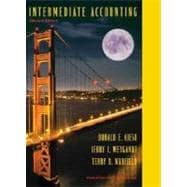 Questions About This Book?
Why should I rent this book?
Renting is easy, fast, and cheap! Renting from eCampus.com can save you hundreds of dollars compared to the cost of new or used books each semester. At the end of the semester, simply ship the book back to us with a free UPS shipping label! No need to worry about selling it back.
How do rental returns work?
Returning books is as easy as possible. As your rental due date approaches, we will email you several courtesy reminders. When you are ready to return, you can print a free UPS shipping label from our website at any time. Then, just return the book to your UPS driver or any staffed UPS location. You can even use the same box we shipped it in!
What version or edition is this?
This is the 11th edition with a publication date of 1/1/2004.
What is included with this book?
The Used copy of this book is not guaranteed to include any supplemental materials. Typically, only the book itself is included.
The Rental copy of this book is not guaranteed to include any supplemental materials. You may receive a brand new copy, but typically, only the book itself.
Summary
This bestseller has powered the careers of countless professionals. This update to the 11th edition builds on the book's reputation for comprehensiveness, accuracy, and currency, incorporating all the recent changes to the accounting literature. It integrates numerous examples from real corporations throughout the chapters to help readers understand the application of accounting principles and techniques in practice. They'll also find problems that are modeled on the AICPA 'Simulations' _ a new question format designed for the computerized uniform CPA Exam. These problems prepare readers for the exam, testing their ability to read, digest, research and respond to both a numeric problem and a short answer essay.
Table of Contents
CHAPTER 1 Financial Accounting and Accounting Standards
1
(1)

| | |
| --- | --- |
| | Vignette: The Size of the New York City Phone Book ..., |

1
(1)

| | |
| --- | --- |
| | FINANCIAL STATEMENTS AND FINANCIAL REPORTING, |

2
(4)

| | |
| --- | --- |
| | Accounting and Capital Allocation, |

3
(1)

| | |
| --- | --- |
| | The Challenges Facing Financial Accounting, |

4
(1)

| | |
| --- | --- |
| | Objectives of Financial Reporting, |

4
(1)

| | |
| --- | --- |
| | The Need to Develop Standards, |

5
(1)

| | |
| --- | --- |
| | PARTIES INVOLVED IN STANDARDS SETTING, |

6
(6)

| | |
| --- | --- |
| | Securities and Exchange Commission (SEC), |

6
(1)

| | |
| --- | --- |
| | merican Institute of Certified Public Accountants, (AICPA), |

7
(1)

| | |
| --- | --- |
| | Financial Accounting Standards Board (FASB), |

8
(3)

| | |
| --- | --- |
| | Governmental Accounting Standards Board (GASB), |

11
(1)

| | |
| --- | --- |
| | GENERALLY ACCEPTED ACCOUNTING PRINCIPLES, |

12
(2)

| | |
| --- | --- |
| | ISSUES IN FINANCIAL REPORTING, |

14
(14)

| | |
| --- | --- |
| | Standards Setting in a Political Environment, |

14
(1)
15
(1)

| | |
| --- | --- |
| | International Accounting Standards, |

16
(1)

| | |
| --- | --- |
| | Ethics in the Environment of Financial Accounting, |

16
(1)
17
(1)

| | |
| --- | --- |
| | Summary of Learning Objectives, Key Terms, |

18
(1)
19
(1)
20
(4)

| | |
| --- | --- |
| | Using Your Judgment: Financial Reporting Problem, |

24
(1)

| | |
| --- | --- |
| | International Reporting Case, |

25
(1)
26
(1)
CHAPTER 2 Conceptual Framework Underlying Financial Accounting
27
(34)
27
(1)

| | |
| --- | --- |
| | Vignette: Show Me the Earnings!, |

27
(1)
28
(2)

| | |
| --- | --- |
| | Need for Conceptual Framework, |

28
(1)

| | |
| --- | --- |
| | Development of Conceptual Framework, |

29
(1)

| | |
| --- | --- |
| | FIRST LEVEL: BASIC OBJECTIVES, |

30
(1)

| | |
| --- | --- |
| | SECOND LEVEL FUNDAMENTAL CONCEPTS, |

31
(4)

| | |
| --- | --- |
| | Qualitative Characteristics of Accounting Information, |

31
(3)
34
(1)

| | |
| --- | --- |
| | THIRD LEVEL: RECOGNITION AND MEASUREMENT CONCEPTS, |

35
(27)
36
(2)

| | |
| --- | --- |
| | Basic Principles of Accounting, |

38
(5)
43
(3)

| | |
| --- | --- |
| | Summary of the Structure, |

46
(1)

| | |
| --- | --- |
| | Summary of Learning Objectives, Key Terms, |

47
(1)
48
(1)
49
(2)
51
(3)
54
(4)

| | |
| --- | --- |
| | Using Your Judgment: Financial Reporting Problem, |

58
(1)

| | |
| --- | --- |
| | Financial Statement Analysis Case, |

58
(1)

| | |
| --- | --- |
| | Comparative Analysis Case, |

58
(1)
58
(1)

| | |
| --- | --- |
| | International Reporting Case, |

59
(1)
60
(1)
CHAPTER 3 The Accounting Information System
61
(62)
61
(1)

| | |
| --- | --- |
| | Vignette: Needed: A Reliable Information System, |

61
(1)

| | |
| --- | --- |
| | ACCOUNTING INFORMATION SYSTEM, |

62
(6)
63
(1)
64
(1)
64
(2)

| | |
| --- | --- |
| | Financial Statements and Ownership Structure, |

66
(2)
68
(18)

| | |
| --- | --- |
| | Identifying and Recording Transactions and Other Events, |

68
(1)
69
(1)
70
(1)
71
(1)
72
(10)
82
(1)
83
(2)

| | |
| --- | --- |
| | Post-Closing Trial Balance, |

85
(1)
85
(1)

| | |
| --- | --- |
| | The Accounting Cycle Summarized, |

86
(1)
86
(6)

| | |
| --- | --- |
| | Adjustments Entered on the Work Sheet, |

86
(2)
88
(1)

| | |
| --- | --- |
| | Preparing Financial Statements from a Work Sheet, |

89
(2)
91
(1)

| | |
| --- | --- |
| | Summary of Learning Objectives, Key Terms, |

92
(1)

| | |
| --- | --- |
| | APPENDIX 3A Cash-Basis Accounting versus Accrual-Basic Accounting, |

93
(5)

| | |
| --- | --- |
| | DIFFERENCES BETWEEN CASH AND ACCRUAL BASIS, |

93
(2)

| | |
| --- | --- |
| | CONVERSION FROM CASH BASIS TO ACCRUAL BASIS, |

95
(2)

| | |
| --- | --- |
| | Service Revenue Computation, |

95
(1)

| | |
| --- | --- |
| | Operating Expense Computation, |

96
(1)

| | |
| --- | --- |
| | THEORETICAL WEAKNESSES OF THE CASH BASIS, |

97
(1)

| | |
| --- | --- |
| | Summary of Learning Objective for Appendix 3A, Key Terms, |

97
(1)

| | |
| --- | --- |
| | APPENDIX 3B Using Reversing Entries, |

98
(72)

| | |
| --- | --- |
| | ILLUSTRATION OF REVERSING ENTRIES-ACCRUALS, |

98
(1)

| | |
| --- | --- |
| | ILLUSTRATION OF REVERSING ENTRIES-PREPAYMENTS, |

99
(1)

| | |
| --- | --- |
| | SUMMARY OF REVERSING ENTRIES, |

100
(1)

| | |
| --- | --- |
| | Summary of Learning Objective for Appendix 3B, |

100
(1)
100
(1)
100
(3)
103
(8)
111
(7)

| | |
| --- | --- |
| | Using Your Judgment: Financial Reporting Problem, |

118
(1)

| | |
| --- | --- |
| | Financial Statement Analysis Case, |

118
(1)

| | |
| --- | --- |
| | Comparative Analysis Case, |

119
(1)
119
(1)

| | |
| --- | --- |
| | Professional Simulations, |

120
(3)
CHAPTER 4 Income Statement and Related Information
123
(46)
123
(1)

| | |
| --- | --- |
| | Vignette: Which Income Number?, |

123
(1)
124
(3)

| | |
| --- | --- |
| | Usefulness of the Income Statement, |

124
(1)

| | |
| --- | --- |
| | Limitations of the Income Statement, |

125
(1)
125
(2)

| | |
| --- | --- |
| | FORMAT OF THE INCOME STATEMENT, |

127
(7)

| | |
| --- | --- |
| | Elements of the Income Statement, |

127
(1)

| | |
| --- | --- |
| | Single-Step Income Statements, |

128
(1)

| | |
| --- | --- |
| | Multiple-Step Income Statements, |

129
(1)

| | |
| --- | --- |
| | Condensed Income Statements, |

130
(4)

| | |
| --- | --- |
| | REPORTING IRREGULAR ITEM Discontinued Operations, |

134
(7)
135
(2)

| | |
| --- | --- |
| | Unusual Gains and Losses, |

137
(2)

| | |
| --- | --- |
| | Changes in Accounting Principle, |

139
(1)
140
(1)

| | |
| --- | --- |
| | Summary of Irregular Items, |

140
(1)

| | |
| --- | --- |
| | SPECIAL REPORTING ISSUES, |

141
(29)

| | |
| --- | --- |
| | Intraperiod Tax Allocation, |

141
(2)
143
(1)

| | |
| --- | --- |
| | Retained Earnings Statement, |

144
(1)
145
(3)

| | |
| --- | --- |
| | Summary of Learning Objectives, Key Terms, |

148
(1)
149
(2)
151
(1)
152
(4)
156
(3)
159
(4)

| | |
| --- | --- |
| | Using Your Judgment: Financial Reporting Problem, |

163
(1)

| | |
| --- | --- |
| | Financial Statement Analysis Cases, |

164
(1)

| | |
| --- | --- |
| | Comparative Analysis Case, |

165
(1)
165
(1)

| | |
| --- | --- |
| | International Reporting Case, |

166
(1)
167
(2)
CHAPTER 5 Balance Sheet and Statement of Cash Flows
169
(82)
169
(1)

| | |
| --- | --- |
| | Vignette: "There Ought to Be a Law," |

169
(1)
170
(20)

| | |
| --- | --- |
| | USEFULNESS OF THE BALANCE SHEET, |

170
(1)

| | |
| --- | --- |
| | LIMITATIONS OF THE BALANCE SHEET, |

171
(1)

| | |
| --- | --- |
| | CLASSIFICATION IN THE BALANCE SHEET, |

172
(1)
173
(4)
177
(2)
179
(3)
182
(1)
182
(3)

| | |
| --- | --- |
| | ADDITIONAL INFORMATION RPM EE Contingencies, |

185
(1)
185
(1)
186
(1)
186
(1)

| | |
| --- | --- |
| | Parenthetical Explanations, |

187
(1)
187
(1)

| | |
| --- | --- |
| | Cross References and Contra Items, |

188
(1)
189
(1)
189
(1)

| | |
| --- | --- |
| | SECTION 2 STATEMENT OF CASH ROWS. |

190
(10)

| | |
| --- | --- |
| | PURPOSE OF THE STATEMENT OF CASH CONTENT AND FORMAT OF THE STATEMENT OF CASH FLOWS, |

191
(2)

| | |
| --- | --- |
| | PREPARATION OF THE STATEMENT OF CASH FLOWS, |

193
(2)

| | |
| --- | --- |
| | USEFULNESS OF THE STATEMENT OF CASH FLOWS, |

195
(1)
196
(1)
197
(1)
197
(1)

| | |
| --- | --- |
| | Summary of Learning Objectives, Key Terms, |

198
(2)

| | |
| --- | --- |
| | APPENDIX 5A Ratio Analysis-A Reference, |

200
(2)

| | |
| --- | --- |
| | USING RATIOS TO ANALYZE FINANCIAL PERFORMANCE, |

200
(2)

| | |
| --- | --- |
| | Summary of Learning Objectives for Appendix 5A, Key Terms, |

201
(1)

| | |
| --- | --- |
| | APPENDIX 5B Specimen Financial Statement: 3M Company, |

202
(27)
229
(1)
230
(1)
231
(8)
239
(4)
243
(3)

| | |
| --- | --- |
| | Using Your Judgment: Financial Reporting Problem, |

246
(1)

| | |
| --- | --- |
| | Financial Statement Analysis Cases, |

247
(1)

| | |
| --- | --- |
| | Comparative Analysis Case, |

248
(1)
248
(1)

| | |
| --- | --- |
| | International Reporting Case, |

249
(1)
250
(1)
CHAPTER 6 Accounting and the Time Value of Money
251
(62)
251
(1)

| | |
| --- | --- |
| | Vignette: The Magic of Interest, |

251
(1)

| | |
| --- | --- |
| | BASIC TIME VALUE CONCEPTS, |

252
(7)

| | |
| --- | --- |
| | Applications of Time Value |

252
(1)
253
(1)
254
(1)
254
(4)
258
(1)
259
(5)

| | |
| --- | --- |
| | Future Value of a Single Sum, |

259
(2)

| | |
| --- | --- |
| | Present Value of a Single Sum, |

261
(2)

| | |
| --- | --- |
| | Solving for Other Unknowns in Single-Sum Problems, |

263
(1)
264
(11)

| | |
| --- | --- |
| | Future Value of an Ordinary Annuity, |

265
(2)

| | |
| --- | --- |
| | Future Value of an Annuity Due, |

267
(1)

| | |
| --- | --- |
| | Illustrations of Future Value of Annuity |

268
(2)

| | |
| --- | --- |
| | Present Value of an Ordinary Annuity, |

270
(2)

| | |
| --- | --- |
| | Present Value of an Annuity Due, |

272
(1)

| | |
| --- | --- |
| | Illustrations of Present Value of Annuity Problems, |

273
(2)
275
(4)
275
(2)

| | |
| --- | --- |
| | Valuation of Long-Term Bonds, |

277
(1)

| | |
| --- | --- |
| | Effective Interest Method of Amortization of Bond Discount or Premium, |

278
(1)

| | |
| --- | --- |
| | PRESENT VALUE MEASUREMENT, |

279
(3)

| | |
| --- | --- |
| | Choosing an Appropriate Interest Rate, |

280
(1)

| | |
| --- | --- |
| | Expected Cash Flow Illustration, |

281
(1)

| | |
| --- | --- |
| | Summary of Learning Objectives, Key Terms, |

282
(2)

| | |
| --- | --- |
| | APPENDIX 6A Using Financial Calculators, |

284
(30)

| | |
| --- | --- |
| | FUTURE VALUE OF A SINGLE SUM, |

284
(1)
285
(1)
285
(1)
285
(1)

| | |
| --- | --- |
| | PRESENT VALUE OF A SINGLE SUM, |

285
(1)

| | |
| --- | --- |
| | FUTURE VALUE OF AN ORDINARY ANNUITY, |

285
(1)

| | |
| --- | --- |
| | FUTURE VALUE OF AN ANNUITY DUE, |

286
(1)

| | |
| --- | --- |
| | PRESENT VALUE OF AN ORDINARY ANNUITY, |

286
(1)

| | |
| --- | --- |
| | USEFUL FEATURES OF THE FINANCIAL CALCULATOR, |

287
(27)
287
(1)
287
(1)

| | |
| --- | --- |
| | Individual Retirement Account (IRA), |

288
(1)

| | |
| --- | --- |
| | Summary of Learning Objective for Appendix 6A, |

288
(1)
288
(1)
289
(1)
290
(4)
294
(5)

| | |
| --- | --- |
| | Using Your Judgment: Financial Reporting Problem, |

299
(1)

| | |
| --- | --- |
| | Financial Statement Analysis Case, |

300
(1)

| | |
| --- | --- |
| | Comparative Analysis Case, |

300
(1)
300
(1)
301
(1)

| | |
| --- | --- |
| | TIME VALUE OF MONEY TABLES, |

302
(11)
CHAPTER 7 Cash and Receivables
313
(54)
313
(1)

| | |
| --- | --- |
| | Vignette: Ugly Duckling or Swan?, |

313
(1)
314
(4)
314
(1)

| | |
| --- | --- |
| | MANAGEMENT AND CONTROL OF CASH, |

315
(1)
316
(1)
316
(1)
317
(1)
317
(1)

| | |
| --- | --- |
| | SUMMARY OF CASH-RELATED ITEMS, |

318
(1)
318
(22)

| | |
| --- | --- |
| | RECOGNITION OF ACCOUNTS RECEIVABLE, |

320
(1)
320
(1)

| | |
| --- | --- |
| | Cash Discounts (Sales Discounts), |

320
(1)

| | |
| --- | --- |
| | Nonrecognition of Interest Element, |

321
(1)

| | |
| --- | --- |
| | VALUATION OF ACCOUNTS RECEIVABLE, |

322
(1)

| | |
| --- | --- |
| | Uncollectible Accounts Receivable, |

322
(4)

| | |
| --- | --- |
| | RECOGNITION OF NOTES RECEIVABLE, |

326
(1)

| | |
| --- | --- |
| | Note Issued at Face Value, |

327
(1)

| | |
| --- | --- |
| | Note Not Issued at Face Value, |

328
(3)
331
(1)

| | |
| --- | --- |
| | VALUATION OF NOTES RECEIVABLE, |

331
(1)

| | |
| --- | --- |
| | DISPOSITION OF ACCOUNTS AND NOTES RECEIVABLE, |

332
(1)
333
(1)
334
(2)

| | |
| --- | --- |
| | Secured Borrowing versus Sale, |

336
(1)

| | |
| --- | --- |
| | PRESENTATION AND ANALYSIS, |

337
(1)

| | |
| --- | --- |
| | Presentation of Receivables, |

337
(1)
338
(1)

| | |
| --- | --- |
| | Summary of Learning Objectives, Key Terms, |

339
(1)

| | |
| --- | --- |
| | APPENDIX 7A Cash Controls, |

340
(82)
340
(1)

| | |
| --- | --- |
| | THE IMPREST PETTY CASH SYSTEM, |

341
(1)

| | |
| --- | --- |
| | PHYSICAL PROTECTION OF CASH BALANCES, |

342
(1)

| | |
| --- | --- |
| | RECONCILIATION OF BANK BALANCES, |

342
(3)

| | |
| --- | --- |
| | Summary of Learning Objective for Appendix 7A, Key Terms, |

345
(1)
346
(1)
347
(1)
348
(6)
354
(6)
360
(4)

| | |
| --- | --- |
| | Using Your Judgment: Financial Reporting Problem, |

364
(1)

| | |
| --- | --- |
| | Financial Statement Analysis Case, |

364
(1)

| | |
| --- | --- |
| | Comparative Analysis Case, |

365
(1)
365
(1)
366
(1)
CHAPTER 8 Valuation of Inventories: A Cost Basis Approach
367
(54)
367
(1)

| | |
| --- | --- |
| | Vignette: Inventories in the Crystal Ball, |

367
(1)

| | |
| --- | --- |
| | INVENTORY CLASSIFICATION AND CONTROL, |

368
(4)
368
(2)
370
(2)

| | |
| --- | --- |
| | BASIC ISSUES IN INVENTORY VALUATION, |

372
(1)

| | |
| --- | --- |
| | PHYSICAL GOODS INCLUDED IN INVENTORY, |

372
(5)
373
(1)
373
(1)
374
(1)

| | |
| --- | --- |
| | Effect of Inventory Errors, |

375
(2)

| | |
| --- | --- |
| | COSTS INCLUDED IN INVENTORY, |

377
(2)
377
(1)
377
(1)

| | |
| --- | --- |
| | Treatment of Purchase Discounts, |

378
(1)

| | |
| --- | --- |
| | WHAT COST FLOW ASSUMPTION SHOULD BE ADOPTED?, |

379
(5)
380
(1)
381
(1)

| | |
| --- | --- |
| | First-In, First-Out (FIFO), |

382
(1)

| | |
| --- | --- |
| | Last-In, First-Out (LIFO), |

383
(1)

| | |
| --- | --- |
| | SPECIAL ISSUES RELATED TO LIFO, |

384
(10)
384
(1)
385
(1)
386
(5)

| | |
| --- | --- |
| | Comparison of LIFO Approaches, |

391
(1)

| | |
| --- | --- |
| | Major Advantages of LIFO, |

391
(1)

| | |
| --- | --- |
| | Major Disadvantages of LIFO, |

392
(2)

| | |
| --- | --- |
| | BASIS FOR SELECTION OF INVENTORY METHOD, |

394
(28)

| | |
| --- | --- |
| | Inventory Valuation Methods-Summary Analysis, |

396
(1)

| | |
| --- | --- |
| | Summary of Learning Objectives, Key Terms, |

397
(1)
398
(1)
399
(1)
400
(8)
408
(5)
413
(3)

| | |
| --- | --- |
| | Using Your Judgment: Financial Statement Analysis Cases, |

416
(2)
418
(1)
419
(2)
CHAPTER 9 Inventories: Additional Valuation Issues
421
(48)
421
(1)

| | |
| --- | --- |
| | Vignette: What Do Inventory Changes Tell Us?, |

421
(1)
422
(7)

| | |
| --- | --- |
| | Lower of Cost or Market-Ceiling and Floor, |

423
(1)

| | |
| --- | --- |
| | How Lower of Cost or Market Works, |

424
(1)

| | |
| --- | --- |
| | Methods of Applying Lower of Cost or Market, |

425
(1)

| | |
| --- | --- |
| | Recording "Market" Instead of Cost, |

426
(2)

| | |
| --- | --- |
| | Evaluation of the Lower of Cost or Market Rule, |

428
(1)
429
(3)

| | |
| --- | --- |
| | Valuation at Net Realizable Value, |

429
(1)

| | |
| --- | --- |
| | Valuation Using Relative Sales Value, |

429
(1)

| | |
| --- | --- |
| | Purchase Commitments-A Special Problem, |

430
(2)

| | |
| --- | --- |
| | THE GROSS PROFIT METHOD OF ESTIMATING INVENTORY, |

432
(3)

| | |
| --- | --- |
| | Computation of Gross Profit Percentage, |

433
(2)

| | |
| --- | --- |
| | Evaluation of Gross Profit Method, |

435
(1)
435
(5)

| | |
| --- | --- |
| | Retail Method Terminology, |

436
(1)

| | |
| --- | --- |
| | Retail Inventory Method with Markups and Markdowns-Conventional Method, |

437
(2)

| | |
| --- | --- |
| | Special Items Relating to Retail Method, |

439
(1)

| | |
| --- | --- |
| | Evaluation of Retail Inventory Method, |

440
(1)

| | |
| --- | --- |
| | PRESENTATION AND ANALYSIS, |

440
(4)

| | |
| --- | --- |
| | Presentation of Inventories, |

440
(2)
442
(1)

| | |
| --- | --- |
| | Summary of Learning Objectives, Key Terms, |

443
(1)

| | |
| --- | --- |
| | APPENDIX 9A LIFO Retail Methods, |

444
(76)
444
(3)

| | |
| --- | --- |
| | Stable Prices-LIFO Retail Method Key Terms, |

444
(1)

| | |
| --- | --- |
| | Fluctuating Prices-Dollar-Value LIFO Retail Method, |

445
(1)

| | |
| --- | --- |
| | Subsequent Adjustments Under Dollar-Value LIFO Retail, |

446
(1)

| | |
| --- | --- |
| | CHANGING FROM CONVENTIONAL RETAIL TO LIFO, |

447
(2)
449
(1)
450
(1)
451
(6)
457
(6)
463
(2)

| | |
| --- | --- |
| | Using Your Judgment: Financial Reporting Problem, |

465
(1)

| | |
| --- | --- |
| | Financial Statement Analysis Cases, |

465
(2)

| | |
| --- | --- |
| | Comparative Analysis Case, |

467
(1)
467
(1)
468
(1)
CHAPTER 10 Acquisition and Disposition of Property, Plant, and Equipment
469
(50)
469
(1)

| | |
| --- | --- |
| | Vignette: Where Have All the Assets Gone?, |

469
(2)

| | |
| --- | --- |
| | ACQUISITION OF PROPERTY, PLANT, AND EQUIPMENT, |

471
(8)
471
(1)
472
(1)
472
(1)
472
(1)

| | |
| --- | --- |
| | Interest Costs During Construction, |

473
(5)
478
(1)
479
(10)
479
(1)

| | |
| --- | --- |
| | Deferred Payment Contracts, |

479
(1)
480
(1)
481
(1)

| | |
| --- | --- |
| | Exchanges of Nonmonetary Assets, |

482
(5)

| | |
| --- | --- |
| | Accounting for Contributions, |

487
(1)

| | |
| --- | --- |
| | Other Asset Valuation Methods, |

488
(1)

| | |
| --- | --- |
| | COSTS SUBSEQUENT TO ACQUISITION, |

489
(4)
490
(1)

| | |
| --- | --- |
| | Improvements and Replacements, |

490
(1)

| | |
| --- | --- |
| | Rearrangement and Reinstallation, |

491
(1)
491
(1)

| | |
| --- | --- |
| | Summary of Costs Subsequent to Acquisition, |

492
(1)

| | |
| --- | --- |
| | DISPOSITIONS OF PLANT ASSETS, |

493
(27)
493
(1)
494
(1)
494
(1)

| | |
| --- | --- |
| | Summary of Learning Objectives, Key Terms, |

495
(1)
496
(1)
497
(1)
498
(9)
507
(6)
513
(2)

| | |
| --- | --- |
| | Using Your Judgment: Financial Statement Analysis Case, |

515
(1)
516
(1)
517
(2)
CHAPTER 11 Depreciation, Impairments, and Depletion
519
(50)
519
(1)

| | |
| --- | --- |
| | Vignette: Do They Matter?, |

519
(1)

| | |
| --- | --- |
| | DEPRECIATION-A METHOD OF COST ALLOCATION, |

520
(12)

| | |
| --- | --- |
| | Factors Involved in the Depreciation Process, |

521
(2)
523
(3)

| | |
| --- | --- |
| | Special Depreciation Methods, |

526
(2)

| | |
| --- | --- |
| | Special Depreciation Issues, |

528
(4)
532
(4)
533
(1)
533
(1)

| | |
| --- | --- |
| | Restoration of Impairment Loss, |

534
(1)

| | |
| --- | --- |
| | Assets to Be Disposed Of, |

535
(1)
536
(5)

| | |
| --- | --- |
| | Establishing a Depletion Base, |

536
(1)

| | |
| --- | --- |
| | Write-Off of Resource Cost, |

537
(1)
538
(2)

| | |
| --- | --- |
| | Special Problems in Depletion Accounting, |

540
(1)

| | |
| --- | --- |
| | PRESENTATION AND ANALYSIS, |

541
(3)

| | |
| --- | --- |
| | Presentation of Property, Plant, Equipment, and Natural Resources, |

541
(1)

| | |
| --- | --- |
| | Analysis of Property, Plant, Equipment, and Natural Resources, |

542
(2)

| | |
| --- | --- |
| | Summary of Learning Objectives, Key Terms, |

544
(1)

| | |
| --- | --- |
| | APPENDIX 11A Income Tax Depreciation, |

545
(25)

| | |
| --- | --- |
| | MODIFIED ACCELERATED COST RECOVERY SYSTEM, |

545
(25)

| | |
| --- | --- |
| | Tax Lives (Recovery Periods), |

545
(1)

| | |
| --- | --- |
| | Tax Depreciation Methods, |

546
(1)

| | |
| --- | --- |
| | Illustration-MACRS System, |

546
(2)

| | |
| --- | --- |
| | Optional Straight-Line Method, |

548
(1)

| | |
| --- | --- |
| | Tax versus Book Depreciation, |

548
(1)

| | |
| --- | --- |
| | Summary of Learning Objective for Appendix 11A, Key Terms, |

548
(1)
548
(2)
550
(1)
550
(6)
556
(6)
562
(2)

| | |
| --- | --- |
| | Using Your Judgment: Financial Reporting Problem, |

564
(1)

| | |
| --- | --- |
| | Financial Statement Analysis Case, |

564
(1)

| | |
| --- | --- |
| | Comparative Analysis Case, |

565
(1)
566
(1)

| | |
| --- | --- |
| | International Reporting Case, |

566
(1)
567
(2)
CHAPTER 12 Intangible Assets
569
(46)
569
(1)
569
(1)
570
(3)
570
(1)
571
(1)

| | |
| --- | --- |
| | Amortization of Intangibles, |

571
(2)

| | |
| --- | --- |
| | TYPES OF INTANGIBLE ASSETS, |

573
(8)

| | |
| --- | --- |
| | Marketing-Related Intangible Assets, |

573
(1)

| | |
| --- | --- |
| | Customer-Related Intangible Assets, |

574
(1)

| | |
| --- | --- |
| | Artistic-Related Intangible Assets, |

575
(1)

| | |
| --- | --- |
| | Contract-Related Intangible Assets, |

575
(1)

| | |
| --- | --- |
| | Technology-Related Intangible Assets, |

576
(2)
578
(3)

| | |
| --- | --- |
| | IMPAIRMENT OF INTANGIBLE ASSETS, |

581
(3)

| | |
| --- | --- |
| | Impairment of Limited-Life Intangibles, |

581
(1)

| | |
| --- | --- |
| | Impairment of Indefinite-Life Intangibles Other Than Goodwill, |

582
(1)
583
(1)

| | |
| --- | --- |
| | RESEARCH AND DEVELOPMENT COSTS, |

584
(6)

| | |
| --- | --- |
| | Identifying R & D Activities, |

585
(1)

| | |
| --- | --- |
| | Accounting for R & D Activities, |

585
(2)

| | |
| --- | --- |
| | Other Costs Similar to R & D Costs, |

587
(2)
589
(1)

| | |
| --- | --- |
| | PRESENTATION OF INTANGIBLES AND RELATED ITEMS, |

590
(2)

| | |
| --- | --- |
| | Presentation of Intangible Assets, |

590
(1)

| | |
| --- | --- |
| | Presentation of Research and Development Costs, |

590
(2)

| | |
| --- | --- |
| | Summary of Learning Objectives, Key Terms, |

592
(2)

| | |
| --- | --- |
| | APPENDIX 12A Accounting for Computer Software Costs, |

594
(22)
594
(1)

| | |
| --- | --- |
| | THE PROFESSION'S POSITION, |

595
(1)

| | |
| --- | --- |
| | ACCOUNTING FOR CAPITALIZED SOFTWARE COSTS, |

595
(1)

| | |
| --- | --- |
| | REPORTING SOFTWARE COSTS, |

596
(1)

| | |
| --- | --- |
| | SETTING STANDARDS FOR SOFTWARE ACCOUNTING, |

596
(1)

| | |
| --- | --- |
| | Summary of Learning Objective for Appendix l2A, |

597
(1)
598
(1)
599
(1)
600
(6)
606
(2)
608
(2)

| | |
| --- | --- |
| | Using Your Judgment: Financial Reporting Problem, |

610
(1)

| | |
| --- | --- |
| | Financial Statement Analysis Case, |

611
(1)

| | |
| --- | --- |
| | Comparative Analysis Case, |

611
(1)
611
(1)

| | |
| --- | --- |
| | International Reporting Case, |

612
(1)
613
(2)
CHAPTER 13 Current Liabilities and Contingencies
615
(54)
615
(1)

| | |
| --- | --- |
| | Vignette: Microsoft's Liabilities-Good or Bad?, |

615
(1)

| | |
| --- | --- |
| | SECTION 1 CURRENT LIABILITIES, |

616
(14)
616
(2)

| | |
| --- | --- |
| | WHAT IS A CURRENT LIABILITY?, |

618
(1)
618
(1)
619
(1)

| | |
| --- | --- |
| | Current Maturities of Long-Term Debt, |

620
(1)

| | |
| --- | --- |
| | Short-Term Obligations Expected to Be Refinanced, |

621
(1)
622
(1)
623
(1)
623
(1)
624
(1)
625
(1)

| | |
| --- | --- |
| | Employee-Related Liabilities, |

625
(5)
630
(15)
630
(1)
631
(2)

| | |
| --- | --- |
| | Litigation, Claims, and Assessments, |

633
(1)

| | |
| --- | --- |
| | Guarantee and Warranty Costs, |

634
(2)
636
(1)

| | |
| --- | --- |
| | Environmental Liabilities, |

637
(1)

| | |
| --- | --- |
| | Asset Retirement Obligations, |

638
(2)
640
(1)

| | |
| --- | --- |
| | PRESENTATION AND ANALYSIS, |

640
(1)

| | |
| --- | --- |
| | Presentation of Current Liabilities, |

640
(2)

| | |
| --- | --- |
| | Presentation of Contingencies, |

642
(1)

| | |
| --- | --- |
| | Analysis of Current Liabilities, |

643
(1)

| | |
| --- | --- |
| | Summary of Learning Objectives, Key Terms, |

644
(1)

| | |
| --- | --- |
| | APPENDIX 13A Computation of Employees' Bonuses, |

645
(2)

| | |
| --- | --- |
| | Summary of Learning Objective for Appendix 13A, |

647
(1)
647
(1)
648
(2)
650
(6)
656
(5)
661
(3)

| | |
| --- | --- |
| | Using Your Judgment. Financial Reporting Problem, |

664
(1)

| | |
| --- | --- |
| | Financial Statement Analysis Cases, |

664
(1)

| | |
| --- | --- |
| | Comparative Analysis Case, |

665
(1)
665
(1)

| | |
| --- | --- |
| | International Reporting Case, |

666
(1)
667
(2)
CHAPTER 14 Long-Term Liabilities
669
(54)
669
(1)

| | |
| --- | --- |
| | Vignette: Your Debt Is Killing My Stock, |

669
(2)

| | |
| --- | --- |
| | SECTION 1 BONDS PAYABLE, 670 ISSUING BONDS, |

671
(12)

| | |
| --- | --- |
| | TYPES AND RATINGS OF BONDS, |

671
(1)

| | |
| --- | --- |
| | VALUATION OF BONDS PAYABLE-DISCOUNT AND PREMIUM, |

672
(3)

| | |
| --- | --- |
| | Bonds Issued at Par on Interest Date, |

675
(1)

| | |
| --- | --- |
| | Bonds Issued at Discount or Premium on Interest Date, |

675
(1)

| | |
| --- | --- |
| | Bonds Issued between Interest Dates, |

676
(1)

| | |
| --- | --- |
| | EFFECTIVE INTEREST METHOD, |

676
(1)

| | |
| --- | --- |
| | Bonds Issued at a Discount, |

677
(1)

| | |
| --- | --- |
| | Bonds Issued at a Premium, |

678
(1)
679
(1)

| | |
| --- | --- |
| | Classification of Discount and Premium, |

680
(1)
680
(1)
681
(1)
681
(2)

| | |
| --- | --- |
| | SECTION 2 LONG-TERM NOTES PAYABLE, |

683
(6)

| | |
| --- | --- |
| | NOTES ISSUED AT FACE VALUE, |

684
(1)

| | |
| --- | --- |
| | NOTES NOT ISSUED AT FACE VALUE, |

684
(1)

| | |
| --- | --- |
| | Zero-Interest-Bearing Notes, |

684
(1)
685
(1)

| | |
| --- | --- |
| | SPECIAL NOTES PAYABLE SITUATIONS, |

686
(1)

| | |
| --- | --- |
| | Notes Issued for Property, Goods, and Services, |

686
(2)

| | |
| --- | --- |
| | Choice of Interest Rate, 687 MORTGAGE NOTES PAYABLE, |

688
(1)

| | |
| --- | --- |
| | SECTION 3 REPORTING AND ANALYSIS OF LONG-TERM DEBT, |

689
(5)

| | |
| --- | --- |
| | OFF-BALANCE-SHEET FINANCING, |

689
(1)
690
(1)
690
(1)

| | |
| --- | --- |
| | PRESENTATION AND ANALYSIS OF LONG-TERM DEBT, |

691
(1)

| | |
| --- | --- |
| | Presentation of Long-Term Debt, |

691
(1)

| | |
| --- | --- |
| | Analysis of Long-Term Debt, |

691
(2)

| | |
| --- | --- |
| | Summary of Learning Objectives, Key Terms, |

693
(1)

| | |
| --- | --- |
| | APPENDIX 14A Accounting for Troubled Debt, |

694
(30)
695
(1)
696
(3)

| | |
| --- | --- |
| | Illustration of Loss on Impairment, |

696
(3)

| | |
| --- | --- |
| | TROUBLED DEBT RESTRUCTURINGS, |

699
(25)
699
(1)
700
(4)

| | |
| --- | --- |
| | Summary of Learning Objective for Appendix 14A, Key Terms, |

704
(1)
705
(1)
706
(1)
707
(5)
712
(4)
716
(3)

| | |
| --- | --- |
| | Using Your Judgment: Financial Reporting Problem, |

719
(1)

| | |
| --- | --- |
| | Financial Statement Analysis Cases, |

719
(1)

| | |
| --- | --- |
| | Comparative Analysis Case, |

720
(1)
721
(1)
722
(1)
CHAPTER 15 Stockholders' Equity
723
(50)
723
(1)
723
(1)
724
(3)
724
(1)

| | |
| --- | --- |
| | Capital Stock or Share System, |

725
(1)

| | |
| --- | --- |
| | Variety of Ownership Interests, |

726
(1)
727
(9)
727
(5)
732
(4)
736
(2)

| | |
| --- | --- |
| | Features of Preferred Stock, |

736
(1)

| | |
| --- | --- |
| | Accounting for and Reporting of Preferred Stock, |

737
(1)
738
(9)

| | |
| --- | --- |
| | Financial Condition and Dividend Distributions, |

738
(1)
739
(4)
743
(4)

| | |
| --- | --- |
| | Disclosure of Restrictions on Retained Earnings, |

747
(1)

| | |
| --- | --- |
| | PRESENTATION AND ANALYSIS OF STOCKHOLDERS' EQUITY, |

747
(4)
747
(2)
749
(2)

| | |
| --- | --- |
| | Summary of Learning Objectives, Key Terms, |

751
(1)

| | |
| --- | --- |
| | APPENDIX 15A Dividend Preferences and Book Value per Share, |

752
(22)
752
(2)
754
(1)

| | |
| --- | --- |
| | Summary of Learning Objective for Appendix 15A, |

755
(1)
755
(1)
756
(1)
757
(7)
764
(4)
768
(2)

| | |
| --- | --- |
| | Using Your Judgment: Financial Reporting Problem, |

770
(1)

| | |
| --- | --- |
| | Financial Statement Analysis Cases, |

770
(1)

| | |
| --- | --- |
| | Comparative Analysis Case, |

771
(1)
772
(1)
772
(1)
CHAPTER 16 Dilutive Securities and Earnings per Share
773
(62)
773
(1)

| | |
| --- | --- |
| | Vignette: Just Like Candy Kisses, |

773
(1)

| | |
| --- | --- |
| | SECTION 1 DILUTIVE SECURITIES AND COMPENSATION PLANS, |

774
(14)

| | |
| --- | --- |
| | ACCOUNTING FOR CONVERTIBLE DEBT, |

774
(1)
775
(1)
775
(1)
775
(1)

| | |
| --- | --- |
| | Retirement of Convertible Debt, |

776
(1)

| | |
| --- | --- |
| | CONVERTIBLE PREFERRED STOCK, |

776
(1)
777
(1)

| | |
| --- | --- |
| | Stock Warrants Issued with Other Securities, |

778
(1)
779
(1)

| | |
| --- | --- |
| | Rights to Subscribe to Additional Shares, |

780
(1)

| | |
| --- | --- |
| | STOCK COMPENSATION PLANS, |

781
(1)

| | |
| --- | --- |
| | The Major Reporting Issue, |

781
(1)

| | |
| --- | --- |
| | Accounting for Stock Compensation, |

782
(3)
785
(1)
786
(1)

| | |
| --- | --- |
| | Disclosure of Compensation Plans, |

786
(1)

| | |
| --- | --- |
| | Debate over Stock Option Accounting, |

787
(1)

| | |
| --- | --- |
| | SECTION 2 COMPUTING EARNINGS PER SHARE, |

788
(15)

| | |
| --- | --- |
| | EARNINGS PER SHARE-SIMPLE CAPITAL STRUCTURE, |

789
(1)

| | |
| --- | --- |
| | Preferred Stock Dividends, |

789
(1)

| | |
| --- | --- |
| | Weighted Average Number of Shares Outstanding, |

790
(2)

| | |
| --- | --- |
| | Comprehensive Illustration, |

792
(1)

| | |
| --- | --- |
| | EARNINGS PER SHARE-COMPLEX CAPITAL STRUCTURE, |

793
(1)

| | |
| --- | --- |
| | Diluted EPS-Convertible Securities, |

794
(2)

| | |
| --- | --- |
| | Diluted EPS-Options and Warrants, |

796
(1)

| | |
| --- | --- |
| | Contingent Issue Agreement, |

797
(1)
798
(1)

| | |
| --- | --- |
| | EPS Presentation and Disclosure, |

799
(2)
801
(1)

| | |
| --- | --- |
| | Summary of Learning Objectives, Key terms, |

802
(1)

| | |
| --- | --- |
| | APPENDIX 16A Stock Options-Additional Complications, |

803
(6)

| | |
| --- | --- |
| | DETERMINING COMPENSATION EXPENSE, |

803
(6)
804
(1)

| | |
| --- | --- |
| | Stock Appreciation Rights, |

805
(2)
807
(1)

| | |
| --- | --- |
| | Summary of Compensation Plans, |

808
(1)

| | |
| --- | --- |
| | Summary of Learning Objective for Appendix 16A, Key Terms, |

809
(1)

| | |
| --- | --- |
| | APPENDIX 16B Comprehensive Earnings per Share Illustration, |

809
(28)

| | |
| --- | --- |
| | DILUTED EARNINGS PER SHARE, |

810
(4)

| | |
| --- | --- |
| | Summary of Learning Objective for Appendix 16B, Key Terms, |

814
(1)
814
(1)
815
(1)
816
(6)
822
(4)
826
(3)

| | |
| --- | --- |
| | Using Your Judgment: Financial Reporting Problem, |

829
(1)

| | |
| --- | --- |
| | Financial Statement Analysis Case, |

830
(1)

| | |
| --- | --- |
| | Comparative Analysis Case, |

830
(1)
830
(1)

| | |
| --- | --- |
| | International Reporting Case, |

831
(2)
833
(2)
CHAPTER 17 Investments
835
(66)
835
(1)

| | |
| --- | --- |
| | Vignette: Who's in Control Here?, |

835
(2)

| | |
| --- | --- |
| | SECTION 1 INVESTMENTS IN DEBT SECURITIES, |

837
(8)

| | |
| --- | --- |
| | HELD-TO-MATURITY SECURITIES, |

838
(2)

| | |
| --- | --- |
| | AVAILABLE-FOR-SALE SECURITIES, |

840
(1)

| | |
| --- | --- |
| | Illustration: Single Security, |

840
(1)

| | |
| --- | --- |
| | Illustration: Portfolio of Securities, |

841
(1)

| | |
| --- | --- |
| | Sale of Available-for-Sale Securities, |

842
(1)

| | |
| --- | --- |
| | Financial Statement Presentation, |

843
(1)
844
(1)

| | |
| --- | --- |
| | SECTION 2 INVESTMENTS IN EQUITY SECURITIES, |

845
(7)

| | |
| --- | --- |
| | HOLDINGS OF LESS THAN 20%, |

846
(1)

| | |
| --- | --- |
| | Available-for-Sale Securities, |

846
(2)
848
(1)

| | |
| --- | --- |
| | HOLDINGS BETWEEN 20% AND 50%, |

848
(1)
849
(2)

| | |
| --- | --- |
| | HOLDINGS OF MORE THAN 50%, |

851
(1)

| | |
| --- | --- |
| | SECTION 3 OTHER REPORTING ISSUES, |

852
(9)

| | |
| --- | --- |
| | FINANCIAL STATEMENT PRESENTATION OF INVESTMENTS, |

852
(1)

| | |
| --- | --- |
| | Disclosures Required Under the Equity Method, |

852
(1)

| | |
| --- | --- |
| | Reclassification Adjustments, |

853
(2)

| | |
| --- | --- |
| | Comprehensive Illustration, |

855
(1)
856
(1)

| | |
| --- | --- |
| | TRANSFERS BETWEEN CATEGORIES,, |

857
(1)
857
(1)

| | |
| --- | --- |
| | Measurement Based on Intent, |

857
(1)
857
(1)

| | |
| --- | --- |
| | Liabilities Not Fairly Valued, |

858
(1)

| | |
| --- | --- |
| | Subjectivity of Fair Values, |

859
(1)
859
(1)

| | |
| --- | --- |
| | Summary of Learning Objectives, Key Terms, |

859
(2)

| | |
| --- | --- |
| | APPENDIX 17A Accounting for Derivative Instruments, |

861
(41)

| | |
| --- | --- |
| | UNDERSTANDING DERIVATIVES, |

861
(2)

| | |
| --- | --- |
| | Who Uses Derivatives, and Why?, |

862
(1)

| | |
| --- | --- |
| | BASIC PRINCIPLES IN ACCOUNTING FOR DERIVATIVES, |

863
(3)

| | |
| --- | --- |
| | Illustration of Derivative Financial Instrument-Speculation, |

864
(2)

| | |
| --- | --- |
| | Differences Between Traditional and Derivative Financial Instruments, |

866
(1)

| | |
| --- | --- |
| | DERIVATIVES USED FOR HEDGING, |

866
(7)
868
(1)

| | |
| --- | --- |
| | Interest Rate Swap-A Fair Value Hedge, |

868
(3)
871
(2)
873
(4)
873
(1)

| | |
| --- | --- |
| | Qualifying Hedge Criteria, |

874
(1)
875
(2)

| | |
| --- | --- |
| | COMPREHENSIVE HEDGE ACCOUNTING EXAMPLE, |

877
(2)

| | |
| --- | --- |
| | CONTROVERSY AND CONCLUDING REMARKS, |

879
(1)

| | |
| --- | --- |
| | Summary of Learning Objectives for Appendix 17A, Key Terms, |

880
(1)
881
(1)
882
(1)
882
(6)
888
(7)
895
(2)

| | |
| --- | --- |
| | Using Your Judgment: Financial Reporting Problem, |

897
(1)

| | |
| --- | --- |
| | Financial Statement Analysis Case, |

897
(1)

| | |
| --- | --- |
| | Comparative Analysis Case, |

898
(1)
898
(1)
899
(2)
CHAPTER 18 Revenue Recognition
901
(58)
901
(1)

| | |
| --- | --- |
| | Vignette: Cyberspace Trading for Revenues, |

901
(1)
902
(3)

| | |
| --- | --- |
| | Guidelines for Revenue Recognition, |

903
(2)

| | |
| --- | --- |
| | Departures from the Sale Basis, |

905
(1)

| | |
| --- | --- |
| | REVENUE RECOGNITION AT POINT OF SALE (DELIVERY), |

905
(3)

| | |
| --- | --- |
| | Sales with Buyback Agreements, |

906
(1)

| | |
| --- | --- |
| | Sales When Right of Return Exists, |

906
(1)

| | |
| --- | --- |
| | Trade Loading and Channel Stuffing, |

907
(1)

| | |
| --- | --- |
| | REVENUE RECOGNITION BEFORE DELIVERY, |

908
(11)

| | |
| --- | --- |
| | Percentage-of-Completion Method, |

909
(4)

| | |
| --- | --- |
| | Completed-Contract Method, |

913
(2)

| | |
| --- | --- |
| | Long-Term Contract Losses, |

915
(2)

| | |
| --- | --- |
| | Disclosures in Financial Statements, |

917
(1)

| | |
| --- | --- |
| | Completion-of-Production Basis, |

918
(1)

| | |
| --- | --- |
| | REVENUE RECOGNITION AFTER DELIVERY, |

919
(10)

| | |
| --- | --- |
| | Installment-Sales Accounting Method, |

919
(8)
927
(1)
928
(1)

| | |
| --- | --- |
| | Summary of Product Revenue Recognition Bases, |

929
(1)
929
(1)

| | |
| --- | --- |
| | Summary of Learning Objectives, Key Terms, |

930
(1)

| | |
| --- | --- |
| | APPENDIX 18A Revenue Recognition for Special Sales Transactions, |

931
(29)
931
(3)
932
(1)

| | |
| --- | --- |
| | Continuing Franchise Fees, |

933
(1)
934
(1)
934
(1)
934
(1)

| | |
| --- | --- |
| | Disclosures of Franchisors, |

934
(1)
934
(2)

| | |
| --- | --- |
| | Summary of Learning Objective for Appendix 18A, Key Terms, |

936
(1)
936
(1)
937
(1)
938
(5)
943
(8)
951
(4)

| | |
| --- | --- |
| | Using Your Judgment: Financial Reporting Problem, |

955
(1)

| | |
| --- | --- |
| | Financial Statement Analysis Case, |

955
(1)

| | |
| --- | --- |
| | Comparative Analysis Case, |

956
(1)
956
(1)
957
(2)
CHAPTER 19 Accounting for Income Taxes
959
(58)
959
(1)

| | |
| --- | --- |
| | Vignette: Use It, But Don't Abuse It, |

959
(1)

| | |
| --- | --- |
| | FUNDAMENTALS OF ACCOUNTING FOR INCOME TAXES, |

960
(14)

| | |
| --- | --- |
| | Future Taxable Amounts and Deferred Taxes, |

962
(4)

| | |
| --- | --- |
| | Future Deductible Amounts and Deferred Taxes, |

966
(3)

| | |
| --- | --- |
| | Income Statement Presentation, |

969
(1)
970
(3)
973
(1)

| | |
| --- | --- |
| | ACCOUNTING FOR NET OPERATING LOSSES, |

974
(6)
974
(1)
975
(1)

| | |
| --- | --- |
| | Loss Carryback Illustrated, |

975
(1)

| | |
| --- | --- |
| | Loss Carryforward Illustrated, |

976
(4)

| | |
| --- | --- |
| | FINANCIAL STATEMENT PRESENTATION, |

980
(4)

| | |
| --- | --- |
| | Balance Sheet Presentation, |

980
(2)

| | |
| --- | --- |
| | Income Statement Presentation, |

982
(2)

| | |
| --- | --- |
| | REVIEW OF THE ASSET-LIABILITY METHOD, |

984
(3)

| | |
| --- | --- |
| | Summary of Learning Objectives, Key Terms, |

987
(2)

| | |
| --- | --- |
| | APPENDIX 19A Comprehensive Illustration of Interperiod Tax Allocation, |

989
(29)
989
(4)

| | |
| --- | --- |
| | Taxable Income and Income Tax |

990
(1)

| | |
| --- | --- |
| | Computing Deferred Income Taxes-End of 2003, |

990
(1)

| | |
| --- | --- |
| | Deferred Tax Expense (Benefit) and the Journal Entry to Record Income Taxes-2003, |

991
(1)

| | |
| --- | --- |
| | Financial Statement Presentation-2003, |

992
(1)
993
(25)

| | |
| --- | --- |
| | Taxable Income and Income Tax Payable-2004, |

994
(1)

| | |
| --- | --- |
| | Computing Deferred Income Taxes-End of 2004, |

994
(1)

| | |
| --- | --- |
| | Deferred Tax Expense (Benefit) and the Journal Entry to Record Income Taxes-2004, |

995
(1)

| | |
| --- | --- |
| | Financial Statement Presentation-2004, |

995
(1)

| | |
| --- | --- |
| | Summary of Learning Objective for Appendix 19A, |

996
(1)
996
(1)
997
(1)
998
(8)
1006
(4)
1010
(2)

| | |
| --- | --- |
| | Using Your Judgment: Financial Reporting Problem, |

1012
(1)

| | |
| --- | --- |
| | Financial Statement Analysis Case, |

1012
(1)

| | |
| --- | --- |
| | Comparative Analysis Case, |

1013
(1)
1013
(1)

| | |
| --- | --- |
| | International Reporting Case, |

1013
(2)
1015
(2)
CHAPTER 20 Accounting for Pensions and Postretirement Benefits
1017
(68)
1017
(1)

| | |
| --- | --- |
| | Vignette: Pension Fund a Likely Drain, |

1017
(1)
1018
(4)

| | |
| --- | --- |
| | Defined Contribution Plan, |

1020
(1)
1021
(1)

| | |
| --- | --- |
| | The Role of Actuaries in Pension Accounting, |

1021
(1)
1022
(5)

| | |
| --- | --- |
| | Alternative Measures of the Liability, |

1022
(1)

| | |
| --- | --- |
| | Capitalization versus Noncapitalization, |

1023
(1)

| | |
| --- | --- |
| | Components of Pension Expense, |

1024
(3)

| | |
| --- | --- |
| | USING A PENSION WORK SHEET, |

1027
(11)

| | |
| --- | --- |
| | 2003 Entries and Work Sheet, |

1028
(1)

| | |
| --- | --- |
| | Amortization of Unrecognized Prior Service Cost (PSC), |

1029
(2)

| | |
| --- | --- |
| | 2004 Entries and Work Sheet, |

1031
(1)
1032
(4)

| | |
| --- | --- |
| | 2005 Entries and Work Sheet, |

1036
(2)
1038
(4)

| | |
| --- | --- |
| | Minimum Liability Computation, |

1038
(1)

| | |
| --- | --- |
| | Financial Statement Presentation, |

1039
(2)
1041
(1)

| | |
| --- | --- |
| | REPORTING PENSION PLANS IN FINANCIAL STATEMENTS |

1042
(10)

| | |
| --- | --- |
| | Within the Financial Statements, |

1042
(1)

| | |
| --- | --- |
| | Within the Notes to the Financial Statements, |

1042
(1)

| | |
| --- | --- |
| | Illustration of Pension Note Disclosure, |

1043
(3)

| | |
| --- | --- |
| | 2006 Entries and Work Sheet-A Comprehensive Illustration, |

1046
(3)
1049
(3)

| | |
| --- | --- |
| | Summary of Learning Objectives, Key Terms |

1052
(1)

| | |
| --- | --- |
| | APPENDIX 20A Accounting for Postretirement Benefits, |

1053
(33)
1053
(1)

| | |
| --- | --- |
| | DIFFERENCES BETWEEN PENSION BENEFITS AND HEALTH-CARE BENEFITS, |

1054
(1)

| | |
| --- | --- |
| | POSTRETIREMENT BENEFITS ACCOUNTING PROVISIONS?? |

1055
(3)

| | |
| --- | --- |
| | Obligations under Postretirement Benefits, |

1056
(1)
1057
(1)
1057
(1)

| | |
| --- | --- |
| | ILLUSTRATIVE ACCOUNTING ENTRIES, |

1058
(4)

| | |
| --- | --- |
| | 2003 Entries and Work Sheet, |

1059
(1)

| | |
| --- | --- |
| | Recognition of Gains and Losses, |

1060
(1)

| | |
| --- | --- |
| | 2004 Entries and Work Sheet, |

1061
(1)

| | |
| --- | --- |
| | Amortization of Unrecognized Net Gain or Loss in 2005, |

1062
(1)

| | |
| --- | --- |
| | DISCLOSURES IN NOTES TO THE FINANCIAL STATEMENTS, |

1062
(1)

| | |
| --- | --- |
| | ACTUARIAL ASSUMPTIONS AND CONCEPTUAL ISSUES, |

1063
(1)

| | |
| --- | --- |
| | Summary of Learning Objectives for Appendix 20A Key Terms, |

1063
(1)
1064
(1)
1065
(1)
1066
(7)
1073
(4)
1077
(4)

| | |
| --- | --- |
| | Using Your Judgment: Financial Reporting Problem, |

1081
(1)

| | |
| --- | --- |
| | Financial Statement Analysis Case, |

1081
(1)

| | |
| --- | --- |
| | Comparative Analysis Case, |

1081
(1)
1081
(1)

| | |
| --- | --- |
| | International Reporting Case, |

1082
(1)

| | |
| --- | --- |
| | Professional Simulations, |

1083
(2)
CHAPTER 21 Accounting for Leases
1085
(64)
1085
(1)

| | |
| --- | --- |
| | Vignette: More Companies Ask, "Why Buy?", |

1085
(1)
1086
(3)
1087
(1)

| | |
| --- | --- |
| | Conceptual Nature of a Lease, |

1088
(1)
1089
(9)
1090
(3)

| | |
| --- | --- |
| | Asset and Liability Accounted for Differently, |

1093
(1)

| | |
| --- | --- |
| | Capital Lease Method (Lessee), |

1094
(2)

| | |
| --- | --- |
| | Operating Method (Lessee), |

1096
(1)

| | |
| --- | --- |
| | Comparison of Capital Lease with Operating Lease, |

1097
(1)
1098
(6)
1099
(1)

| | |
| --- | --- |
| | Classification of Leases by the Lessor, |

1099
(2)

| | |
| --- | --- |
| | Direct-Financing Method (Lessor), |

1101
(2)

| | |
| --- | --- |
| | Operating Method (Lessor), |

1103
(1)

| | |
| --- | --- |
| | SPECIAL ACCOUNTING PROBLEMS, |

1104
(13)
1104
(6)

| | |
| --- | --- |
| | Sales-Type Leases (Lessor), |

1110
(2)

| | |
| --- | --- |
| | Bargain Purchase Option (Lessee), |

1112
(1)

| | |
| --- | --- |
| | Initial Direct Costs (Lessor), |

1112
(1)

| | |
| --- | --- |
| | Current versus Noncurrent, |

1113
(1)
1114
(3)

| | |
| --- | --- |
| | LEASE ACCOUNTING-UNSOLVED PROBLEMS, |

1117
(2)

| | |
| --- | --- |
| | Summary of Learning Objectives, Key Terms, |

1119
(2)

| | |
| --- | --- |
| | APPENDIX 21A Illustrations of Different Lease Arrangements, |

1121
(4)
1122
(1)
1122
(1)
1123
(1)
1123
(1)

| | |
| --- | --- |
| | Summary of Learning Objective for Appendix 21A, |

1124
(1)

| | |
| --- | --- |
| | APPENDIX 21B Sale-Leasebacks, |

1125
(25)
1125
(1)
1125
(1)
1126
(1)

| | |
| --- | --- |
| | SALE-LEASEBACK ILLUSTRATION, |

1126
(1)

| | |
| --- | --- |
| | Summary of Learning Objective for Appendix 21B, Key Terms, |

1127
(1)
1128
(1)
1129
(1)
1130
(4)
1134
(6)
1140
(4)

| | |
| --- | --- |
| | Using Your Judgment: Financial Reporting Problem, |

1144
(1)

| | |
| --- | --- |
| | Financial Statement Analysis Case, |

1144
(1)

| | |
| --- | --- |
| | Comparative Analysis Case, |

1144
(1)
1145
(1)

| | |
| --- | --- |
| | International Reporting Case, |

1145
(1)

| | |
| --- | --- |
| | Professional Simulations, |

1146
(3)
CHAPTER 22 Accounting Changes and Error Analysis
1149
(54)
1149
(1)

| | |
| --- | --- |
| | Vignette: Can I Get My Money Back?, |

1149
(1)

| | |
| --- | --- |
| | SECTION 1 ACCOUNTING CHANGES, |

1150
(18)

| | |
| --- | --- |
| | CHANGES IN ACCOUNTING PRINCIPLE, |

1151
(1)

| | |
| --- | --- |
| | Cumulative-Effect Accounting Change, |

1152
(3)

| | |
| --- | --- |
| | Retroactive-Effect Accounting Change, |

1155
(4)
1159
(1)

| | |
| --- | --- |
| | CHANGES IN ACCOUNTING ESTIMATE, |

1160
(2)

| | |
| --- | --- |
| | REPORTING A CHANGE IN ENTITY, |

1162
(1)

| | |
| --- | --- |
| | REPORTING A CORRECTION OF AN ERROR, |

1162
(1)
1163
(2)

| | |
| --- | --- |
| | SUMMARY OF ACCOUNTING CHANGES AND CORRECTIONS OF ERRORS, |

1165
(1)
1166
(2)

| | |
| --- | --- |
| | SECTION 2 ERROR ANALYSIS, |

1168
(9)
1169
(1)
1169
(1)

| | |
| --- | --- |
| | BALANCE SHEET AND INCOME STATEMENT EFFECTS, |

1169
(1)
1170
(1)

| | |
| --- | --- |
| | Noncounterbalancing Errors, |

1171
(1)

| | |
| --- | --- |
| | COMPREHENSIVE ILLUSTRATION: NUMEROUS ERRORS, |

1172
(2)

| | |
| --- | --- |
| | PREPARATION OF FINANCIAL STATEMENTS WITH ERROR CORRECTIONS, |

1174
(2)

| | |
| --- | --- |
| | Summary of Learning Objectives, Key Terms, |

1176
(1)

| | |
| --- | --- |
| | APPENDIX 22A Changing from and to the Equity Method, |

1177
(95)

| | |
| --- | --- |
| | CHANGE FROM THE EQUITY METHOD, |

1177
(1)

| | |
| --- | --- |
| | Dividends in Excess of Earnings, |

1177
(1)

| | |
| --- | --- |
| | CHANGE TO THE EQUITY METHOD, |

1178
(2)

| | |
| --- | --- |
| | Summary of Learning Objective for Appendix 22A, |

1180
(1)
1181
(1)
1182
(1)
1183
(6)
1189
(8)
1197
(3)

| | |
| --- | --- |
| | Using Your Judgment: Financial Reporting Problem, |

1200
(1)

| | |
| --- | --- |
| | Comparative Analysis Case, |

1201
(1)
1201
(1)
1202
(1)
CHAPTER 23 Statement of Cash Flows
1203
1203
(1)

| | |
| --- | --- |
| | Vignette: Don't Take Cash Flow for Granted, |

1203
(1)

| | |
| --- | --- |
| | SECTION 1 PREPARATION OF THE STATEMENT OF CASH FLOWS, |

1204
(29)

| | |
| --- | --- |
| | USEFULNESS OF THE STATEMENT OF CASH |

1204
(1)

| | |
| --- | --- |
| | CLASSIFICATION OF CASH FLOWS, |

1205
(2)

| | |
| --- | --- |
| | FORMAT OF THE STATEMENT OF CASH |

1207
(1)
1207
(2)
1209
(1)

| | |
| --- | --- |
| | Step 1: Determine the Change in Cash, |

1209
(1)

| | |
| --- | --- |
| | Step 2: Determine Net Cash Flow from Operating Activities, |

1209
(3)

| | |
| --- | --- |
| | Step 3: Determine Net Cash Flows From Investing and Financing Activities, |

1212
(1)

| | |
| --- | --- |
| | Statement of Cash Flows-2003, |

1212
(1)

| | |
| --- | --- |
| | SECOND ILLUSTRATION-2004, |

1213
(1)

| | |
| --- | --- |
| | Step 1: Determine the Change in Cash, |

1213
(1)

| | |
| --- | --- |
| | Step 2: Determine Net Cash Flow from Operating Activities-Indirect Method, |

1214
(1)

| | |
| --- | --- |
| | Step 3: Determine Net Cash Flows from Investing and Financing Activities, |

1214
(1)

| | |
| --- | --- |
| | Statement of Cash Flows-2004, |

1215
(1)
1216
(1)

| | |
| --- | --- |
| | Step 1: Determine the Change in Cash, |

1217
(1)

| | |
| --- | --- |
| | Step 2: Determine Net Cash Flow from Operating Activities-Indirect Method, |

1217
(1)

| | |
| --- | --- |
| | Step 3: Determine Cash Flows from Investing and Financing Activities, |

1218
(1)

| | |
| --- | --- |
| | Statement of Cash Flows-2005, |

1219
(1)

| | |
| --- | --- |
| | SOURCES OF INFORMATION FOR THE STTEMENT OF CASH FLOWS, |

1219
(1)

| | |
| --- | --- |
| | NET CASH FLOW FROM OPERATING ACTIVITIES-INDIRECT VERSUS DIRECT METHOD, |

1220
(1)
1220
(1)

| | |
| --- | --- |
| | Direct Method-An Illustration, |

1220
(5)

| | |
| --- | --- |
| | Direct Versus Indirect Controversy, |

1225
(2)

| | |
| --- | --- |
| | SPECIAL PROBLEMS IN STATEMENT PREPARATION, |

1227
(1)

| | |
| --- | --- |
| | Adjustments Similar to Depreciation, |

1227
(1)

| | |
| --- | --- |
| | Accounts Receivable (Net), |

1228
(1)

| | |
| --- | --- |
| | Other Working Capital Changes, |

1229
(1)
1230
(1)
1230
(1)
1231
(1)

| | |
| --- | --- |
| | Postretirement Benefit Costs, |

1231
(1)
1231
(1)

| | |
| --- | --- |
| | Significant Noncash Transactions, |

1232
(1)

| | |
| --- | --- |
| | SECTION 2 USE OF A WORK SHEET, |

1233
(39)

| | |
| --- | --- |
| | PREPARATION OF THE WORK SHEET, |

1234
(3)

| | |
| --- | --- |
| | ANALYSIS OF TRANSACTIONS, |

1237
(1)

| | |
| --- | --- |
| | Change in Retained Earnings, |

1237
(1)

| | |
| --- | --- |
| | Accounts Receivable (Net), |

1237
(1)
1237
(1)
1237
(1)
1238
(1)
1238
(1)

| | |
| --- | --- |
| | Equipment and Accumulated Depreciation, |

1238
(1)

| | |
| --- | --- |
| | Building Depreciation and Amortization of Goodwill, |

1239
(1)

| | |
| --- | --- |
| | Other Noncash Charges or Credits, |

1239
(1)

| | |
| --- | --- |
| | Common Stock and Related Accounts, |

1239
(1)
1240
(2)

| | |
| --- | --- |
| | PREPARATION OF FINAL STATEMENT |

1242
(1)

| | |
| --- | --- |
| | Summary of Learning Objectives, Key Terms |

1242
(2)
1244
(1)
1245
(2)
1247
(8)
1255
(8)
1263
(3)

| | |
| --- | --- |
| | Using Your Judgment: Financial Reporting Problems |

1266
(1)

| | |
| --- | --- |
| | Financial Statement Analysis Case, |

1267
(1)

| | |
| --- | --- |
| | Comparatiave Analysis Case |

1267
(1)
1268
(1)

| | |
| --- | --- |
| | International Reporting Case, |

1268
(2)
1270
Chapter 24 Full Disclosure in Fiancial Reporting
271
1271
(1)

| | |
| --- | --- |
| | Vignette: High-Quality Financial Reporting-It's a Necessity, |

1271
(1)

| | |
| --- | --- |
| | FULL DISCLOSURE PRINCIPLE, |

1272
(2)

| | |
| --- | --- |
| | Increase in Reporting Requirements, |

1273
(1)
1274
(1)

| | |
| --- | --- |
| | NOTES TO THE FINANCIAL STATEMENTS |

1274
(4)
1275
(2)
1277
(1)
1278
(15)

| | |
| --- | --- |
| | Disclosure of Special Transactions or Events, |

1278
(2)

| | |
| --- | --- |
| | Post-Balance-Sheet Events (Subsequent Events), |

1280
(2)

| | |
| --- | --- |
| | Reporting for Diversified (Conglomerate) Companies, |

1282
(5)
1287
(6)

| | |
| --- | --- |
| | AUDITOR'S AND MANAGEMENT'S REPORTS, |

1293
(5)
1293
(3)
1296
(2)

| | |
| --- | --- |
| | CURRENT REPORTING ISSUES, |

1298
(5)

| | |
| --- | --- |
| | Reporting on Financial Forecasts and Projections, |

1298
(3)

| | |
| --- | --- |
| | Internet Financial Reporting, |

1301
(1)

| | |
| --- | --- |
| | Fraudulent Financial Reporting, |

1301
(2)

| | |
| --- | --- |
| | Criteria for Making Accounting and Reporting Choices, |

1303
(1)

| | |
| --- | --- |
| | Summary of Learning Objectives, Key Terms, |

1303
(2)

| | |
| --- | --- |
| | APPENDIX 24A Basic Financial Statement Analysis, |

1305
(6)

| | |
| --- | --- |
| | PERSPECTIVE ON FINANCIAL STATEMENT ANALYSIS, |

1305
(1)
1306
(3)

| | |
| --- | --- |
| | Limitations of Ratio Analysis, |

1308
(1)
1309
(1)

| | |
| --- | --- |
| | PERCENTAGE (COMMON-SIZE) ANALYSIS, |

1310
(1)

| | |
| --- | --- |
| | Summary of Learning Objectives for Appendix 24A, Key Terms |

1311
(1)
1312
(1)
1313
(1)
1314
(3)
1317
(3)
1320
(7)

| | |
| --- | --- |
| | Using Your Judgment: Financial Reporting Problems |

1327
(1)

| | |
| --- | --- |
| | Financial Statement Analysis Case, |

1327
(2)

| | |
| --- | --- |
| | Comparatiave Analysis Case |

1329
(1)
1330
(1)
1331
LOGO CREDITS,
LC-1
INDEX,
I-1
OFFICIAL ACCOUNTING PRONOUNCEMENTS,
P-1