Note: Supplemental materials are not guaranteed with Rental or Used book purchases.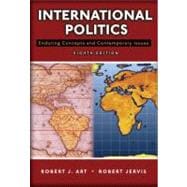 Questions About This Book?
What version or edition is this?
This is the 9th edition with a publication date of 1/1/2009.
What is included with this book?
The Used copy of this book is not guaranteed to include any supplemental materials. Typically, only the book itself is included.
Summary
With an abundance of new essays reflecting the ever-changing landscape of world politics, the eighth edition of this renowned reader provides students with comprehensive coverage of the most important IR concepts, trends, and current issues. Edited by two of the most respected scholars in the field, this best-selling collection places contemporary essays alongside classics of the discipline and includes divergent views to ensure a balanced perspective. The presentation of alternative perspectives provides students with challenging material in the language of the field. The anthology presents clear, theoretical works that inspire a deeper understanding of the forces that shape today's world.
Table of Contents
PREFACE
xiii
PART 1 Anarchy and Its Consequences
1
(136)

| | |
| --- | --- |
| | POWER AND PRINCIPLE IN STATECRAFT |

7
(22)

| | |
| --- | --- |
| | Six Principles of Political Realism |

7
(8)

| | |
| --- | --- |
| | A Critique of Morgenthau's Principles of Political Realism |

15
(14)

| | |
| --- | --- |
| | THE CONSEQUENCES OF ANARCHY |

29
(40)

| | |
| --- | --- |
| | The Anarchic Structure of World Politics |

29
(21)

| | |
| --- | --- |
| | Anarchy and the Struggle for Power |

50
(11)

| | |
| --- | --- |
| | Anarchy Is What States Make of It |

61
(8)

| | |
| --- | --- |
| | THE MITIGATION OF ANARCHY |

69
(68)

| | |
| --- | --- |
| | The Conditions for Cooperation in World Politics |

69
(14)

| | |
| --- | --- |
| | Kant, Liberal Legacies, and Foreign Affairs |

83
(13)

| | |
| --- | --- |
| | Alliances: Balancing and Bandwagoning |

96
(8)
104
(10)

| | |
| --- | --- |
| | The Uses and Limits of International Law |

114
(5)

| | |
| --- | --- |
| | International Institutions: Can Interdependence Work? |

119
(8)

| | |
| --- | --- |
| | The United Nations and International Security |

127
(10)
PART 2 The Uses of Force
137
(124)

| | |
| --- | --- |
| | THE POLITICAL USES OF FORCE |

141
(64)

| | |
| --- | --- |
| | The Four Functions of Force |

141
(8)

| | |
| --- | --- |
| | The Diplomacy of Violence |

149
(14)
163
(14)

| | |
| --- | --- |
| | Offense, Defense, and the Security Dilemma |

177
(21)
198
(7)

| | |
| --- | --- |
| | THE POLITICAL UTILITY OF FORCE TODAY |

205
(34)
205
(16)

| | |
| --- | --- |
| | The Strategic Logic of Suicide Terrorism |

221
(18)

| | |
| --- | --- |
| | THE SPREAD OF NUCLEAR WEAPONS |

239
(22)

| | |
| --- | --- |
| | Nuclear Instability in South Asia |

239
(11)

| | |
| --- | --- |
| | Nuclear Stability in South Asia |

250
(11)
PART 3 The International Political Economy
261
(108)

| | |
| --- | --- |
| | PERSPECTIVES ON POLITICAL ECONOMY |

267
(42)

| | |
| --- | --- |
| | The Nature of Political Economy |

267
(16)

| | |
| --- | --- |
| | Hegemony in the World Political Economy |

283
(13)

| | |
| --- | --- |
| | The Great Divide in the Global Village |

296
(13)

| | |
| --- | --- |
| | THE MEANING OF GLOBALIZATION |

309
(38)

| | |
| --- | --- |
| | Globalization of the Economy |

309
(16)

| | |
| --- | --- |
| | Will Globalization Survive? |

325
(10)

| | |
| --- | --- |
| | Globalization and Governance |

335
(12)

| | |
| --- | --- |
| | THE PROS AND CONS OF GLOBALIZATION |

347
(22)
347
(8)

| | |
| --- | --- |
| | Globalization s Missing Middle |

355
(6)

| | |
| --- | --- |
| | JOHN MICKLETHWAIT AND ADRIAN WOOLDRIDGE |

| | |
| --- | --- |
| | Why the Globalization Backlash is Stupid |

361
(8)
PART 4 Contemporary World Politics
369

| | |
| --- | --- |
| | CONFLICT, WAR, AND TERRORISM |

375
(42)

| | |
| --- | --- |
| | The Era of Leading Power Peace |

375
(16)

| | |
| --- | --- |
| | The Clash of Civilizations? |

391
(15)
406
(11)

| | |
| --- | --- |
| | THE USES OF, AND REACTIONS TO, AMERICAN POWER |

417
(34)

| | |
| --- | --- |
| | Explaining the Bush Doctrine |

417
(15)

| | |
| --- | --- |
| | Can Democracy Stop Terrorism? |

432
(9)
441
(10)

| | |
| --- | --- |
| | FAILED STATES, CIVIL WARS, AND NATION-BUILDING |

451
(44)

| | |
| --- | --- |
| | Failed States, Collapsed States, Weak States: Causes and Indicators |

451
(8)

| | |
| --- | --- |
| | Possible and Impossible Solutions to Ethnic Civil Wars |

459
(22)

| | |
| --- | --- |
| | Nation-Building: UN Surpasses US. on Learning Curve |

481
(9)

| | |
| --- | --- |
| | Deconstructing Nation Building |

490
(5)

| | |
| --- | --- |
| | THE ENVIRONMENT AND CLIMATE CHANGE |

495
(22)

| | |
| --- | --- |
| | The Tragedy of the Commons |

495
(6)

| | |
| --- | --- |
| | Environmental Changes as Causes of Acute Conflict |

501
(7)
508
(9)

| | |
| --- | --- |
| | NEW ACTORS AND NEW FORCES |

517

| | |
| --- | --- |
| | RICHARD K. BETTS AND THOMAS J. CHRISTENSEN |

| | |
| --- | --- |
| | The Rise of China: Getting the Questions Right |

517
(9)
526
(6)

| | |
| --- | --- |
| | MARGARET E. KECK AND KATHRYN SIKKINK |

| | |
| --- | --- |
| | Transnational Activist Networks |

532
(7)

| | |
| --- | --- |
| | NGOs: Fighting Poverty, Hurting the Poor |

539
(7)

| | |
| --- | --- |
| | RHODA E. HOWARD AND JACK DONNELLY |

| | |
| --- | --- |
| | Human Rights in World Politics |

546
(12)

| | |
| --- | --- |
| | The Five Wars of Globalization |

558
(9)

| | |
| --- | --- |
| | The Global Governance of the Internet: Bringing the State Back In |

567
(14)

| | |
| --- | --- |
| | International Law: The Trials of Global Norms |

581