Note: Supplemental materials are not guaranteed with Rental or Used book purchases.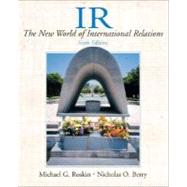 Questions About This Book?
Why should I rent this book?
Renting is easy, fast, and cheap! Renting from eCampus.com can save you hundreds of dollars compared to the cost of new or used books each semester. At the end of the semester, simply ship the book back to us with a free UPS shipping label! No need to worry about selling it back.
How do rental returns work?
Returning books is as easy as possible. As your rental due date approaches, we will email you several courtesy reminders. When you are ready to return, you can print a free UPS shipping label from our website at any time. Then, just return the book to your UPS driver or any staffed UPS location. You can even use the same box we shipped it in!
What version or edition is this?
This is the 6th edition with a publication date of 1/1/2005.
What is included with this book?
The Used copy of this book is not guaranteed to include any supplemental materials. Typically, only the book itself is included.
The Rental copy of this book is not guaranteed to include any supplemental materials. You may receive a brand new copy, but typically, only the book itself.
Summary
This introduction to international relations employs an exceptionally readable style that avoids jargon and abstract theory by blending basic concepts and vocabulary with a substantial amount of historical background and examples from current events. This readable style combined with new pedagogy allows readers to better understand how International Relations can and does affect their lives.Examines the many possible causes of war, ranging from human nature to aggressive states to international anarchy; Discusses the challenge of terrorism (especially the impact of 9/11 and its aftermath); Extensively covers the 2003 war and its aftermath in relation to oil and the Persian Gulf, the Soviet Union to Russian transition, Latin American and Africa, and Key figure profiles.For careers in International Relations, World Politics, and Globalization.
Table of Contents
Feature Boxes
xiii
Preface
xxi

| | |
| --- | --- |
| | Part I The Cold War Come and Gone |

1
(108)

| | |
| --- | --- |
| | Strange New World: Power and Systems in Transformation |

3
(20)

| | |
| --- | --- |
| | The European Balance-of-Power System |

4
(5)

| | |
| --- | --- |
| | The Unstable Interwar System |

9
(2)

| | |
| --- | --- |
| | The Bipolar Cold War System |

11
(2)
13
(5)
18
(1)
19
(2)
21
(1)
22
(1)
22
(1)

| | |
| --- | --- |
| | America's Changing National Interests |

23
(17)
23
(2)
25
(3)
28
(2)
30
(1)
31
(1)
32
(1)
33
(5)
38
(1)
38
(1)
38
(2)

| | |
| --- | --- |
| | ``Wrong, Terribly Wrong'': The United States and Vietnam |

40
(18)

| | |
| --- | --- |
| | The Colonized Colonialists |

41
(2)
43
(3)

| | |
| --- | --- |
| | The United States and the Geneva Accords |

46
(2)
48
(2)
50
(2)

| | |
| --- | --- |
| | Extrication without Humiliation |

52
(2)
54
(3)
57
(1)
57
(1)
57
(1)

| | |
| --- | --- |
| | Can the United States Lead the World? |

58
(18)

| | |
| --- | --- |
| | From Interventionism to Caution |

59
(1)

| | |
| --- | --- |
| | Are Americans Basically Isolationists? |

60
(3)
63
(3)
66
(2)

| | |
| --- | --- |
| | Is the Structure Defective? |

68
(2)

| | |
| --- | --- |
| | Do Bureaucracies Make Foreign Policy? |

70
(3)

| | |
| --- | --- |
| | The Unilateralist Temptation |

73
(1)
74
(1)
74
(1)
75
(1)
75
(1)

| | |
| --- | --- |
| | From Russia to the Soviet Union |

76
(15)
78
(2)
80
(2)
82
(2)
84
(2)
86
(1)
87
(1)
88
(2)
90
(1)
90
(1)
90
(1)

| | |
| --- | --- |
| | From the Soviet Union Back to Russia |

91
(18)

| | |
| --- | --- |
| | Khrushchev and the Loss of China |

91
(1)
92
(2)

| | |
| --- | --- |
| | Khrushchev and the Cuban Missiles |

94
(2)
96
(1)

| | |
| --- | --- |
| | Afghanistan: A Soviet Vietnam |

97
(2)
99
(1)
100
(2)

| | |
| --- | --- |
| | Is Foreign Policy Generated Internally or Externally? |

102
(2)
104
(3)
107
(1)
107
(1)
108
(1)
109
(86)

| | |
| --- | --- |
| | South Africa and the End of Colonialism |

111
(13)
113
(3)
116
(3)

| | |
| --- | --- |
| | Reform instead of Revolution |

119
(1)
120
(2)
122
(1)
123
(1)
123
(1)

| | |
| --- | --- |
| | Eternal Warfare in the Holy Land? |

124
(17)

| | |
| --- | --- |
| | The Making of Jewish Nationalism |

124
(2)

| | |
| --- | --- |
| | The Making of Arab Nationalism |

126
(2)

| | |
| --- | --- |
| | World War I and the Mandate |

128
(3)
131
(1)
131
(1)
132
(3)
135
(1)

| | |
| --- | --- |
| | The Rise of Palestinian Nationalism |

135
(2)
137
(1)
137
(2)

| | |
| --- | --- |
| | Lessons of the Arab-Israeli Conflict |

139
(1)
140
(1)
140
(1)
140
(1)

| | |
| --- | --- |
| | Oil and Turmoil: The Persian Gulf |

141
(17)
142
(5)
147
(2)
149
(3)
152
(2)

| | |
| --- | --- |
| | Could Arabia Go the Way of Iran? |

154
(2)

| | |
| --- | --- |
| | Lessons of Three Gulf Wars |

156
(1)
156
(1)
156
(1)
157
(1)

| | |
| --- | --- |
| | The Troubled Americas: Our Neglected South |

158
(18)

| | |
| --- | --- |
| | Spain Colonizes the New World |

160
(1)
161
(2)

| | |
| --- | --- |
| | Central America and the Caribbean |

163
(1)

| | |
| --- | --- |
| | The Pattern of U.S. Intervention |

164
(4)

| | |
| --- | --- |
| | Cuba Leaves the U.S. Sphere |

168
(2)

| | |
| --- | --- |
| | Mexico: Drugs and Democracy |

170
(2)
172
(2)
174
(1)
174
(1)
175
(1)

| | |
| --- | --- |
| | Economic Development: The Rich and the Poor |

176
(19)
177
(3)
180
(4)
184
(2)
186
(3)

| | |
| --- | --- |
| | Socialist versus Market Paths |

189
(1)

| | |
| --- | --- |
| | Can Capitalism Uplift the Global South? |

190
(3)
193
(1)
193
(1)
193
(2)

| | |
| --- | --- |
| | Part III The Eternal Threats |

195
(58)
196
(14)
196
(3)

| | |
| --- | --- |
| | State-Level Theories of War |

199
(2)
201
(1)
202
(1)
203
(4)
207
(1)
208
(1)
209
(1)
209
(1)
209
(1)

| | |
| --- | --- |
| | National Security: How States Protect Themselves |

210
(14)
212
(1)
213
(2)
215
(3)
218
(3)
221
(1)
222
(1)
222
(1)
223
(1)
223
(1)

| | |
| --- | --- |
| | The Dangers of Nuclear Proliferation |

224
(16)
225
(1)
226
(3)
229
(1)
229
(1)
230
(1)
230
(1)
231
(2)

| | |
| --- | --- |
| | The Nuclear Proliferators |

233
(2)

| | |
| --- | --- |
| | What Would Happen If Nukes Were Used? |

235
(1)
236
(2)
238
(1)
239
(1)
239
(1)

| | |
| --- | --- |
| | The Challenge of Terrorism |

240
(13)
243
(2)

| | |
| --- | --- |
| | How to Modernize the Middle East |

245
(2)

| | |
| --- | --- |
| | Which Way for U.S. Policy? |

247
(4)
251
(1)
251
(1)
252
(1)
252
(1)

| | |
| --- | --- |
| | Part IV The Economic Blocs |

253
(50)
254
(17)

| | |
| --- | --- |
| | The Horrors of Ex-Yugoslavia |

256
(3)
259
(2)
261
(4)
265
(2)

| | |
| --- | --- |
| | The Challenge of Trade Blocs |

267
(2)
269
(1)
270
(1)
270
(1)

| | |
| --- | --- |
| | Asia: China as Number One |

271
(18)

| | |
| --- | --- |
| | A History of Exaggerations |

274
(1)
275
(1)

| | |
| --- | --- |
| | Japan Encounters the West |

276
(2)

| | |
| --- | --- |
| | The Road to Pearl Harbor and Hiroshima |

278
(3)
281
(2)
283
(4)
287
(1)
287
(1)
287
(2)

| | |
| --- | --- |
| | The United States and Globalization |

289
(14)
289
(3)
292
(3)

| | |
| --- | --- |
| | Globalization and Its Enemies |

295
(3)
298
(2)
300
(2)
302
(1)
302
(1)
302
(1)

| | |
| --- | --- |
| | Part V The Politics of a New World |

303
(63)
304
(15)

| | |
| --- | --- |
| | The Rise and Decline of Diplomacy |

305
(3)

| | |
| --- | --- |
| | The Uses of an Anachronism |

308
(1)
309
(2)
311
(3)
314
(4)
318
(1)
318
(1)
318
(1)
319
(16)

| | |
| --- | --- |
| | Consistency and Reciprocity |

320
(2)

| | |
| --- | --- |
| | Origins of International Law |

322
(1)
323
(2)
325
(2)
327
(2)
329
(1)
330
(1)
330
(2)
332
(1)
332
(1)
333
(1)
333
(1)
334
(1)
335
(17)

| | |
| --- | --- |
| | Theory of World Government |

335
(1)

| | |
| --- | --- |
| | The Short, Sad League of Nations |

336
(4)
340
(2)
342
(1)
343
(2)
345
(2)
347
(2)

| | |
| --- | --- |
| | The UN: Humankind's Last, Best Hope? |

349
(1)
350
(1)
350
(1)
351
(1)
352
(14)

| | |
| --- | --- |
| | War as an Instrument of Policy |

352
(1)
353
(3)
356
(1)
357
(1)
357
(1)
358
(3)
361
(2)
363
(1)
364
(1)
364
(1)
365
(1)
365
(1)
Index
366
Excerpts
Most young people now enter college with little or no background in twentieth-century history. Ask students questions about its major events and you are likely to face silence. It is all news to them. But they cannot be blamed; they don't know it because they have never been taught. Accordingly, we take it as our task to do considerable backfilling in recent history, which we arrange largely by geographic area and use to illustrate one or more concepts of international relations. Many instructors have thanked us for this approach. Some new texts in international relations pay relatively little attention to history, leaping instead into the future. These are the "world-order" texts that, we think, implicitly argue the following: "The twentieth century was a horrible century that showed the worst that humans can do to each other. But it was only an episode in the maturation of humankind and has little to teach us. The twenty-first century, a time of global cooperation, ecology, and equality, is upon us. We must concentrate on it and not on the unhappy past." We find "world-order" approaches unjustified, or at least grossly premature. The world became more complex after the Cold War, which kept numerous problems suppressed or frozen. And the mechanisms to deal with these problems still depend on sovereign nations deciding if and when they want to participate. When people are determined to fight for what they believe is justly theirs, UN "peacekeeping" forces are useless. War--"contending by force," in Grotius's classic words--remains a part of international relations and cannot be wished away. Although we admit in the concluding chapter that war is losing its effectiveness in settling disputes, conflict is still the "stuff" of international politics. If world order does break out, rest assured we will be among the first to write a textbook on it. We begin in Chapter I with system change and an overview of the international systems that have marked modern history. The post-Cold War system still defies easy characterization.Multipolaris perhaps too general a term; we considerstratified, globalized, clash of civilizations,and other models, most of them with major economic components. The chapter also introduces the concepts of power, state, and sovereignty, which we believe are still fundamental to international relations. System change has touched almost everything in international affairs, not just the obvious--the end of Cold War bipolarity between the superpowers. Unfortunately, the changes have been hard to anticipate and sometimes have led to increased violence. In the Persian Gulf, a tyrannical ruler strove to expand his realm because his previous superpower patron could no longer restrain him. Economic relations among the major industrial blocs--Europe, the Pacific Rim, America--have grown testier; fear of the Soviets no longer holds them together under a U.S. strategic umbrella. Proliferation of nuclear weapons, a minor issue during the Cold War, has become a major issue. The United Nations, previously little more than a talk shop, has developed as a crisis stabilizer. We discuss these and other spinoffs of system change in this book. We believe that, because system change is occurring before our very eyes, IR is more exciting and relevant than ever. In this new world there are new threats to guard against and new opportunities to take advantage of. As in earlier editions, we are trying to awaken newcomers to the field to its fascinating and sometimes dramatic qualities, as well as acquaint them with its basic concepts and vocabulary. Toward this end we include feature boxes titled "Concepts" and "Classic Thought," as well as "Economics," "Turning Point," "Diplomacy," and "Geography" boxes. We also include "Reflections" boxes, which recall our personal experiences or ponder issues that affect students personally, to show that IR is not a