Note: Supplemental materials are not guaranteed with Rental or Used book purchases.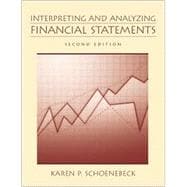 Interpreting and Analyzing Financial Statements
ISBN13:
9780130183767
by
Schoenebeck, Karen
Questions About This Book?
What version or edition is this?
This is the 2nd edition with a publication date of 1/1/2001.
What is included with this book?
The New copy of this book will include any supplemental materials advertised. Please check the title of the book to determine if it should include any CDs, lab manuals, study guides, etc.
Related Products
Summary
For Introductory Financial Accounting courses. Designed for use with Harrison and Horngrens'Financial Accounting, 4th Edition or any financial principles accounting text. This activity workbook helps students analyze real company financial statement information and helps prepare students for a capstone project creating a comprehensive financial statement analysis. Each activity concentrates on only one aspect of the analysis and uses data from well-known corporations to pique students' interest and add relevancy.
Table of Contents
Preface
xiii

| | |
| --- | --- |
| | Introduction to Interpretation and Analysis |

| | |
| --- | --- |
| | Corporations Featured in Chapter 1 |

1
(18)

| | |
| --- | --- |
| | Examining Total Assets: Comparing Companies |

3
(1)

| | |
| --- | --- |
| | Examining Assets: Comparing Companies |

4
(1)

| | |
| --- | --- |
| | Examining How Assets Are Financed: Comparing Companies |

5
(1)

| | |
| --- | --- |
| | Examining Net Sales: Comparing Companies |

6
(1)

| | |
| --- | --- |
| | Ratio Analysis: Current Ratio |

7
(1)

| | |
| --- | --- |
| | Ratio Analysis: Debt Ratio |

8
(1)

| | |
| --- | --- |
| | Ratio Analysis: Return on Sales (ROS) |

9
(1)

| | |
| --- | --- |
| | Ratio Analysis: Asset Turnover |

10
(1)

| | |
| --- | --- |
| | Ratio Analysis: Return on Assets (ROA) |

11
(1)

| | |
| --- | --- |
| | Test Your Understanding: A Review of Ratio Analysis |

12
(1)

| | |
| --- | --- |
| | Trend Analysis: Income Statement |

13
(1)

| | |
| --- | --- |
| | Trend Analysis: Balance Sheet |

14
(1)

| | |
| --- | --- |
| | Common-size Statement Analysis: Income Statement |

15
(1)

| | |
| --- | --- |
| | Common-size Statement Analysis: Balance Sheet |

16
(1)

| | |
| --- | --- |
| | Test Your Understanding: A Review of Trend Analysis and Common-size Statements |

17
(1)

| | |
| --- | --- |
| | Internet Research: Using Hoover's Online, The Business Network |

18
(1)

| | |
| --- | --- |
| | Analyzing the Balance Sheet |

| | |
| --- | --- |
| | Corporations Featured in Chatper 2 |

19
(18)

| | |
| --- | --- |
| | Strategies for Analyzing the Balance Sheet |

21
(1)

| | |
| --- | --- |
| | Preparing and Interpreting a Classified Balance Sheet: Assets |

22
(2)

| | |
| --- | --- |
| | Preparing and Interpreting a Classified Balance Sheet: Liabilities and Stockholders' Equity |

24
(2)
26
(2)
28
(1)

| | |
| --- | --- |
| | Industry Norms: Eating Places |

29
(1)

| | |
| --- | --- |
| | Analysis of Southwest Airlines |

30
(2)

| | |
| --- | --- |
| | Analysis of America Online, Inc. |

32
(2)

| | |
| --- | --- |
| | Test Your Understanding: Analyzing the Balance Sheet |

34
(2)

| | |
| --- | --- |
| | Internet Research: Using a Company Web Site |

36
(1)

| | |
| --- | --- |
| | Analyzing the Income Statement |

| | |
| --- | --- |
| | Corporations Featured in Chapter 3 |

37
(18)

| | |
| --- | --- |
| | Strategies for Analyzing the Income Statement |

39
(1)

| | |
| --- | --- |
| | Preparing and Interpreting a Multi-step Income Statement |

40
(3)

| | |
| --- | --- |
| | Analyzing the Income Statement: Using PepsiCo |

43
(2)

| | |
| --- | --- |
| | Trend Analysis: Using the Best Buy Company |

45
(2)
47
(1)

| | |
| --- | --- |
| | Industry Norms: Air Transportation, Scheduled |

48
(1)

| | |
| --- | --- |
| | Analysis of Yahoo! Corporation |

49
(1)

| | |
| --- | --- |
| | Analysis of Apple Computer |

50
(1)

| | |
| --- | --- |
| | Test Your Understanding: Analyzing the Income Statement |

51
(2)

| | |
| --- | --- |
| | Internet Research: Using a Company Web Site |

53
(2)

| | |
| --- | --- |
| | Analyzing the Statement of Cash Flows |

| | |
| --- | --- |
| | Corporations Featured in Chapter 4 |

55
(16)
56
(3)
59
(2)
61
(2)

| | |
| --- | --- |
| | Operating, Investing, or Financing? |

63
(1)

| | |
| --- | --- |
| | Operating, Investing, or Financing? |

64
(1)

| | |
| --- | --- |
| | List Operating, Investing, and Financing Activities |

65
(1)

| | |
| --- | --- |
| | Analysis of Pfizer Incorporated |

66
(2)

| | |
| --- | --- |
| | Analysis of Deckers Outdoor Corporation |

68
(1)

| | |
| --- | --- |
| | Test Your Understanding: Statement of Cash Flows |

69
(1)

| | |
| --- | --- |
| | Internet Research: Using a Company Web Site |

70
(1)

| | |
| --- | --- |
| | Corporations Featured in Chapter 5 |

71
(20)

| | |
| --- | --- |
| | Researching Industry Norms |

73
(1)
74
(1)

| | |
| --- | --- |
| | Days' Sales in Receivables |

75
(1)

| | |
| --- | --- |
| | Accounts Receivable Turnover |

76
(1)
77
(1)
78
(1)
79
(1)
80
(1)
81
(1)
82
(1)
83
(1)

| | |
| --- | --- |
| | Price/Earnings (P/E) Ratio |

84
(1)
85
(1)
86
(1)

| | |
| --- | --- |
| | Test Your Understanding: A Review of Further Ratio Analysis |

87
(2)

| | |
| --- | --- |
| | Internet Research: Using the Fortune Magazine Web Site |

89
(2)

| | |
| --- | --- |
| | Interpreting and Understanding Specific Accounts |

| | |
| --- | --- |
| | Corporations Featured in Chapter 6 |

91
(19)

| | |
| --- | --- |
| | Cash and Cash Equivalents |

92
(1)
93
(1)
94
(1)

| | |
| --- | --- |
| | Ethics Affecting Financial Statement Amounts: Accounts Receivable |

95
(1)
96
(1)

| | |
| --- | --- |
| | Ethics Affecting Financial Statement Amounts: Inventory |

97
(1)

| | |
| --- | --- |
| | Property, Plant, and Equipment |

98
(1)
99
(1)

| | |
| --- | --- |
| | Current and Long-term Liabilities |

100
(1)
101
(1)

| | |
| --- | --- |
| | Current Market Interest Rates |

102
(1)
103
(1)

| | |
| --- | --- |
| | Examining the Bond Market |

104
(1)

| | |
| --- | --- |
| | Examining the Dow Jones Industrial Average: Using The Wall Street Journal |

105
(2)

| | |
| --- | --- |
| | How to Read Stock Quotes: Using The Wall Street Journal |

107
(1)

| | |
| --- | --- |
| | Following the Stock Market: Using The Wall Street Journal or the Internet |

108
(2)

| | |
| --- | --- |
| | Internet Research: Using the Internet to Research Stock Information |

110
(24)

| | |
| --- | --- |
| | Corporations Featured in Chapter 7 |

111
(18)

| | |
| --- | --- |
| | Transactions Affecting Total Assets |

112
(1)

| | |
| --- | --- |
| | Transactions Affecting Total Liabilities |

113
(1)

| | |
| --- | --- |
| | Transactions Affecting Total Stockholders' Equity |

114
(1)

| | |
| --- | --- |
| | Transactions Affecting Net Income |

115
(1)

| | |
| --- | --- |
| | Which Financial Statement? |

116
(1)

| | |
| --- | --- |
| | Financial Statement Preparation |

117
(2)

| | |
| --- | --- |
| | Test Your Understanding: Comprehensive Analysis |

119
(4)

| | |
| --- | --- |
| | Test Your Understanding: Comprehensive Analysis |

123
(4)

| | |
| --- | --- |
| | Internet Research: Using the EDGAR Database |

127
(2)

| | |
| --- | --- |
| | Corporate Analysis Purpose |

129
(5)

| | |
| --- | --- |
| | Part I: Tell Me About Your Company |

130
(1)

| | |
| --- | --- |
| | PART II: Prepare Financial Statements in Condensed Format and a Written Analysis |

131
(1)

| | |
| --- | --- |
| | Part III: Compute Ratios and Compare to Industry Norms |

132
(1)

| | |
| --- | --- |
| | Part IV: Would You Advise a Friend to Invest in this Company? |

133
(1)
Corporate Analysis Forms
134