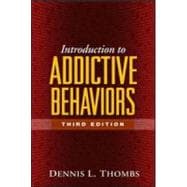 Questions About This Book?
What version or edition is this?
This is the 3rd edition with a publication date of 3/14/2006.
What is included with this book?
The eBook copy of this book is not guaranteed to include any supplemental materials. Typically only the book itself is included.
Related Products
Summary
Univ. of Florida, Gainesville. Textbook on addictive behaviors offers a review of major contemporary perspectives on substance abuse and addiction. Addresses disease models including psychoanalytic, conditioning, cognitive, and family systems formulations. For psychologists. Previous edition: c1999. DNLM: Substance-Related Disorders-etiology.
Author Biography
Dennis L. Thombs, PhD, FAAHB, is Associate Professor in the Department of Health Education and Behavior at the University of Florida. The focus of his scholarship is addictive behavior, with special interests in the epistemology of addiction and in alcohol and drug use during the period of emerging adulthood. Dr. Thombs's research has been supported by the National Institute on Alcohol Abuse and Alcoholism. He is a Fellow in the American Academy of Health Behavior.

Table of Contents
CHAPTER 1 The Multiple Conceptions of Addictive Behavior and Professional Practice Today
1
(17)

| | |
| --- | --- |
| | Conceptions of Addiction in U.S. History |

1
(3)

| | |
| --- | --- |
| | Addiction as Immoral Conduct |

4
(2)
6
(2)

| | |
| --- | --- |
| | Addiction as Maladaptive Behavior |

8
(1)
9
(1)

| | |
| --- | --- |
| | What Exactly Is a Theory? |

10
(1)

| | |
| --- | --- |
| | Attributes of a Good Theory |

11
(1)

| | |
| --- | --- |
| | The Dissemination of Evidence-Based Practice |

12
(2)

| | |
| --- | --- |
| | Effective Prevention and Treatment Programs |

14
(2)
16
(1)
17
(1)
CHAPTER 2 The Disease Models
18
(36)

| | |
| --- | --- |
| | Different Disease Conceptions |

19
(1)
20
(1)

| | |
| --- | --- |
| | Addiction as a Primary Disease |

21
(2)

| | |
| --- | --- |
| | Genetic Origins of Addiction: The Susceptibility Model |

23
(14)

| | |
| --- | --- |
| | Effects of Drugs on Brain Structure and Function: The Exposure Model |

37
(5)
42
(2)

| | |
| --- | --- |
| | Addiction as a Progressive Disease |

44
(4)

| | |
| --- | --- |
| | Addiction as a Chronic Disease |

48
(1)
49
(1)

| | |
| --- | --- |
| | Strengths of the Disease Models |

50
(1)

| | |
| --- | --- |
| | Weaknesses of the Disease Models |

51
(1)
52
(2)
CHAPTER 3 Public Health and Prevention Approaches
54
(47)
54
(6)

| | |
| --- | --- |
| | Healthy People 2010: The National Health Priorities on Tobacco, Alcohol, and Drug Use |

60
(1)

| | |
| --- | --- |
| | Public Health Surveillance of Substance Abuse |

60
(7)

| | |
| --- | --- |
| | Age of Onset and the Gateway Hypothesis |

67
(4)

| | |
| --- | --- |
| | Types of Prevention Programs and Strategies |

71
(13)

| | |
| --- | --- |
| | Community Coalition Building |

84
(2)

| | |
| --- | --- |
| | Results from Community Intervention Trials |

86
(9)

| | |
| --- | --- |
| | The Participatory Research Approach |

95
(1)

| | |
| --- | --- |
| | The Community Mobilization Approach |

96
(2)

| | |
| --- | --- |
| | Current U.S. Drug Control Policy and the Prospects of a Public Health Approach |

98
(1)
99
(2)
CHAPTER 4 Toward an Understanding of Comorbidity
101
(19)

| | |
| --- | --- |
| | The Epidemiology of Comorbidity in the United States |

102
(7)
109
(6)

| | |
| --- | --- |
| | Integrated Treatment for Dual Diagnosis |

115
(3)
118
(1)
118
(2)
CHAPTER 5 Psychoanalytic Formulations
120
(15)

| | |
| --- | --- |
| | Psychoanalysis: A Type of Psychotherapy |

120
(3)
123
(2)

| | |
| --- | --- |
| | Anxiety, Defense Mechanisms, and the Unconscious |

125
(2)

| | |
| --- | --- |
| | Insights into Compulsive Substance Use |

127
(5)

| | |
| --- | --- |
| | Stages of Recovery from Addiction |

132
(1)

| | |
| --- | --- |
| | Psychoanalytic Concepts in Clinical Practice Today |

132
(2)
134
(1)
CHAPTER 6 Conditioning Models and Approaches to Contingency Management
135
(24)
136
(4)

| | |
| --- | --- |
| | Initiation of Alcohol and Drug Abuse |

140
(1)
141
(1)

| | |
| --- | --- |
| | Relationship between Addiction and Physical Dependence |

141
(1)
142
(1)

| | |
| --- | --- |
| | Principles of Contingency Management |

143
(2)

| | |
| --- | --- |
| | Applications of Contingency Management |

145
(11)

| | |
| --- | --- |
| | Effectiveness of Contingency Management Approaches |

156
(1)
157
(2)
CHAPTER 7 Cognitive Models
159
(30)

| | |
| --- | --- |
| | Basic Social-Cognitive Concepts |

159
(3)

| | |
| --- | --- |
| | Modeling and Substance Use |

162
(2)

| | |
| --- | --- |
| | Self-Efficacy and Treatment Outcomes |

164
(3)

| | |
| --- | --- |
| | Role of Outcome Expectancy in Alcohol and Drug Use |

167
(9)

| | |
| --- | --- |
| | Alcohol and Stress: Cognition as a Mediating Process |

176
(4)

| | |
| --- | --- |
| | Tiffany's Model of Drug Urges and Cravings |

180
(1)
181
(5)

| | |
| --- | --- |
| | Project MATCH: A Test of Cognitive Therapy |

186
(1)
186
(1)
187
(2)
CHAPTER 8 The Family System
189
(41)

| | |
| --- | --- |
| | Clinically Generated Concepts |

189
(11)

| | |
| --- | --- |
| | Bowen's Family Systems Theory |

200
(7)
207
(3)

| | |
| --- | --- |
| | Children in Alcoholic Families: Clinical Accounts |

210
(3)
213
(4)

| | |
| --- | --- |
| | Findings from the Research Literature |

217
(10)
227
(1)
228
(2)
CHAPTER 9 Social and Cultural Foundations
230
(23)

| | |
| --- | --- |
| | The Influence of Culture on Diagnostic Determinations |

230
(2)

| | |
| --- | --- |
| | Sociological Functions of Substance Abuse |

232
(1)
233
(2)

| | |
| --- | --- |
| | "Time Out" from Social Obligations |

235
(2)

| | |
| --- | --- |
| | Promoting Group Solidarity/Establishing Social Boundaries |

237
(4)

| | |
| --- | --- |
| | Drug Subcultures: Repudiation of Middle-Class Values |

241
(9)

| | |
| --- | --- |
| | Implications for Counseling |

250
(1)
251
(1)
252
(1)
CHAPTER 10 Conditions That Facilitate and Inhibit Change in Addictive Behavior
253
(14)

| | |
| --- | --- |
| | Stages of Change in Addictive Behavior |

254
(4)
258
(3)
261
(1)
262
(1)

| | |
| --- | --- |
| | Harm Reduction Approaches |

263
(2)

| | |
| --- | --- |
| | The Impact of Managed Care |

265
(1)
266
(1)
References
267
(33)
Author Index
300
(10)
Subject Index
310