Note: Supplemental materials are not guaranteed with Rental or Used book purchases.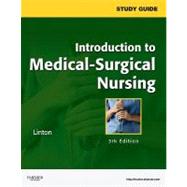 Introduction to Medical-Surgical Nursing (Study Guide)
ISBN13:
9781437722147
by
Maebius, Nancy K.
Elsevier Science Health Science
Customer Reviews
Great textbook!
June 26, 2011
by





Terrific textbook! It is definitely an advantage to use when learning the fundamentals of nursing. There is a lot of information that you need to know in the med field, this prepares you. Highly recommend!

Flag Review
---
Introduction to Medical-Surgical Nursing (Study Guide)

:
stars based on
1
user reviews.
Summary
Student-friendly and easy to use, the Study Guide for Introduction to Medical-Surgical Nursing, 5th Edition, is designed to help you master content and evaluate your progress through practical, useful exercises and activities, including a wealth of multiple-choice and alternate-format questions. This edition places an increased emphasis on higher-level application questions, including exercises to encourage practice in setting priorities, to prepare you to transfer your knowledge of medical-surgical concepts to patient care in the clinical setting.
-Helps you hone critical thinking skills essential for success on licensure exams and in clinical practice.
-Reinforces textbook content and provides ample opportunity for self-assessment with a wide variety of learning activities, including matching (key term and vocabulary review), completion, listing, labeling (illustrations), ranking/ordering, and application questions for textbook nursing care plans.
-Includes textbook page references, making self-assessment easier and faster.
-Emphasizes application of nursing concepts with new knowledge and comprehension exercises and activities that ask you to apply your knowledge to patient care situations.
-Features a new section at the end of each chapter: Challenge Yourself! Getting Ready for the NCLEX includes both standard multiple-choice and alternate-format questions (over 1,800) that test your knowledge of chapter content while providing practice for the Boards.
-Provides valuable practice in prioritizing (deciding what to do first) and assignment (giving specific tasks to health care providers who may be supervised by LPNs) -- skills that are essential for providing effective nursing care and are covered on the NCLEX-PN Examination.
-Links you to online Evolve resources, where you'll find an additional set of review questions, encouraging utilization of and familiarity with an electronic format.
Table of Contents
Patient Care Concepts
The Health Care System
Patient Care Settings
Legal and Ethical Considerations
The Leadership Role of the Licensed Practical Nurse
The Nurse-Patient Relationship
Cultural Aspects of Nursing Care
The Nurse and the Family
Health and Illness
Nutrition
Developmental Processes
The Older Patient
The Nursing Process and Critical Thinking
Physiologic Responses to Illness
Inflammation, Infection, and Immunity
Fluid and Electrolytes
Pain Management
Acute Care
First Aid and Emergency Care
Surgical Care
Intravenous Therapy
Shock
Long-Term Care and Home Health Care
Falls
Immobility
Confusion
Incontinence
Loss, Death, and End-of-Life Care
Cancer
The Patient with Cancer
The Ostomy Patient
Neurologic Disorders
Neurologic Disorders
Cerebrovascular Accident
Spinal Cord Injury
Respiratory Disorders
Acute Respiratory Disorders
Chronic Respiratory Disorders
Hematologic and Immunologic Disorders
Hematologic Disorders
Immunologic Disorders
HIV/AIDS
Cardiovascular Disorders
Cardiac Disorders
Vascular Disorders
Hypertension
Digestive Disorders
Digestive Tract Disorders
Disorders of the Liver, Gallbladder, and Pancreas
Urologic Disorders
Urologic Disorders
Musculoskeletal Disorders
Connective Tissue Disorders
Fractures
Amputations
Endocrine Disorders
Pituitary and Adrenal Disorders
Thyroid and Parathyroid Disorders
Diabetes Mellitus and Hypoglycemia
Reproductive Disorders
Female Reproductive Disorders
Male Reproductive Disorders
Sexually Transmitted Diseases
Integumentary Disorders
Skin Disorders
Disorders of the Eyes, Ears, Nose, and Throat
Eye and Vision Disorders
Ear and Hearing Disorders
Nose, Sinus, and Throat Disorders
Mental Health and Illness
Psychological Responses to Illness
Psychiatric Disorders
Substance-Related Disorders
Table of Contents provided by Publisher. All Rights Reserved.