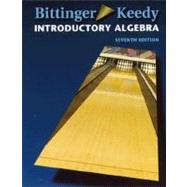 List Price: $56.75
Currently Available, Usually Ships in 24-48 Hours

More New and Used
from Private Sellers
Questions About This Book?
What version or edition is this?
This is the 7th edition with a publication date of 1/1/1995.
What is included with this book?
The New copy of this book will include any supplemental materials advertised. Please check the title of the book to determine if it should include any CDs, lab manuals, study guides, etc.
Summary
"The Bittinger System for Success Make It Work For You! "Building on its reputation for accurate content and a unified system of instruction, the Tenth Edition of the Bittinger paperback series integrates success-building study tools, innovative pedagogy, and a comprehensive instructional support package with time-tested teaching techniques.
Table of Contents
1
(41)
2
(1)
3
(6)
9
(10)
19
(8)
27
(4)

| | |
| --- | --- |
| | Exponential Notation and Order of Operations |

31
(10)
37
(2)
39
(2)

| | |
| --- | --- |
| | Introduction to Real Numbers and Algebraic Expressions |

41
(70)
42
(1)
43
(6)
49
(10)
59
(6)

| | |
| --- | --- |
| | Subtraction of Real Numbers |

65
(8)

| | |
| --- | --- |
| | Multiplication of Real Numbers |

73
(6)
79
(6)

| | |
| --- | --- |
| | Properties of Real Numbers |

85
(12)

| | |
| --- | --- |
| | Simplifying Expressions; Order of Operations |

97
(14)
105
(2)
107
(2)
109
(2)

| | |
| --- | --- |
| | Solving Equations and Inequalities |

111
(66)
112
(1)

| | |
| --- | --- |
| | Solving Equations: The Addition Principle |

113
(6)

| | |
| --- | --- |
| | Solving Equations: The Multiplication Principle |

119
(6)

| | |
| --- | --- |
| | Using the Principles Together |

125
(10)
135
(10)
145
(6)
151
(4)
155
(10)

| | |
| --- | --- |
| | Solving Problems Using Inequalities |

165
(12)
169
(2)
171
(2)
173
(2)

| | |
| --- | --- |
| | Cumulative Review: Chapters 1--2 |

175
(2)
177
(78)
178
(1)
179
(10)

| | |
| --- | --- |
| | Exponents and Scientific Notation |

189
(10)

| | |
| --- | --- |
| | Introduction to Polynomials |

199
(10)

| | |
| --- | --- |
| | Addition and Subtraction of Polynomials |

209
(8)

| | |
| --- | --- |
| | Multiplication of Polynomials |

217
(6)
223
(10)

| | |
| --- | --- |
| | Operations with Polynomials in Several Variables |

233
(8)
241
(14)
247
(2)
249
(2)
251
(2)

| | |
| --- | --- |
| | Cumulative Review: Chapters 1-3 |

253
(2)
255
(64)
256
(1)

| | |
| --- | --- |
| | Introduction to Factoring |

257
(6)

| | |
| --- | --- |
| | Factoring Trinomials of the Type x2 + bx + c |

263
(6)

| | |
| --- | --- |
| | Factoring Trinomials of the Type ax2 + bx + c, a ≠ 1 |

269
(6)

| | |
| --- | --- |
| | Factoring ax2 + bx + c, a ≠ 1 Using Grouping |

275
(4)

| | |
| --- | --- |
| | Factoring Trinomial Squares and Differences of Square |

279
(10)

| | |
| --- | --- |
| | Factoring: A General Strategy |

289
(8)

| | |
| --- | --- |
| | Solving Quadratic Equations by Factoring |

297
(6)
303
(16)
311
(2)
313
(2)
315
(2)

| | |
| --- | --- |
| | Cumulative Review: Chapters 1--4 |

317
(2)

| | |
| --- | --- |
| | Rational Expressions and Equations |

319
(72)
320
(1)

| | |
| --- | --- |
| | Multiplying and Simplifying Rational Expressions |

321
(10)
331
(4)

| | |
| --- | --- |
| | Least Common Multiples and Denominators |

335
(4)

| | |
| --- | --- |
| | Adding Rational Expressions |

339
(8)

| | |
| --- | --- |
| | Subtracting Rational Expressions |

347
(8)

| | |
| --- | --- |
| | Solving Rational Equations |

355
(8)

| | |
| --- | --- |
| | Solving Problems and Proportions |

363
(10)
373
(4)

| | |
| --- | --- |
| | Complex Rational Expressions |

377
(14)
383
(2)
385
(2)
387
(2)

| | |
| --- | --- |
| | Cumulative Review: Chapters 1--5 |

389
(2)

| | |
| --- | --- |
| | Graphs of Equations and Inequalities |

391
(60)
392
(1)
393
(8)

| | |
| --- | --- |
| | Graphing Linear Equations |

401
(10)

| | |
| --- | --- |
| | More on Graphing Linear Equations |

411
(6)

| | |
| --- | --- |
| | Slope and Equations of Lines |

417
(8)

| | |
| --- | --- |
| | Parallel and Perpendicular Lines |

425
(4)

| | |
| --- | --- |
| | Graphing Inequalities in Two Variables |

429
(6)

| | |
| --- | --- |
| | Direct and Inverse Variation |

435
(16)
443
(2)
445
(2)
447
(2)

| | |
| --- | --- |
| | Cumulative Review: Chapters 1--6 |

449
(2)
451
(50)
452
(1)

| | |
| --- | --- |
| | Systems of Equations in Two Variables |

453
(6)
459
(6)
465
(10)
475
(12)
487
(14)
493
(2)
495
(2)
497
(2)

| | |
| --- | --- |
| | Cumulative Review: Chapters 1--7 |

499
(2)

| | |
| --- | --- |
| | Radical Expressions and Equations |

501
(52)
502
(1)

| | |
| --- | --- |
| | Introduction to Square Roots and Radical Expressions |

503
(6)

| | |
| --- | --- |
| | Multiplying and Simplifying with Radical Expressions |

509
(8)

| | |
| --- | --- |
| | Quotients Involving Square Roots |

517
(8)

| | |
| --- | --- |
| | Addition, Subtraction, and More Multiplication |

525
(8)
533
(8)

| | |
| --- | --- |
| | Right Triangles and Applications |

541
(12)
545
(2)
547
(2)
549
(2)

| | |
| --- | --- |
| | Cumulative Review: Chapters 1--8 |

551
(2)
553
(50)
554
(1)

| | |
| --- | --- |
| | Introduction to Quadratic Equations |

555
(6)

| | |
| --- | --- |
| | Solving Quadratic Equations by Completing the Square |

561
(8)
569
(6)
575
(4)
579
(8)

| | |
| --- | --- |
| | Graphs of Quadratic Equations |

587
(16)
593
(2)
595
(2)
597
(2)

| | |
| --- | --- |
| | Cumulative Review: Chapters 1--9 |

599
(4)
Final Examination
603
(4)
Table 1 Fractional And Decimal Equivalents
607
(1)
Table 2 Square Roots
608
(1)
Videotape Index
609
Appendix: Using A Scientific Or Graphing Calculator
C-1
Answers
A-1
Index
I-1