Note: Supplemental materials are not guaranteed with Rental or Used book purchases.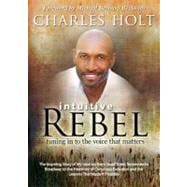 Summary
In his dynamic book Intuitive Rebel: Tuning in to Voice That Matters,Charles Holt describes the Voice as one's most precious possession-an innate gift that holds the keys to our greatest achievement and our greatest potential. For those of us who can hear and understand it, the divine truth spoken through the Voice can gracefully lead us through life's mazes, helping us understand the powerful meaning behind our challenges, our victories, and ourselves. Charles Holt takes us on a journey within, showing us how to recognize this voice of inspiration by delving into Universal principles such as Excellence, Community, Freedom, Forgiveness, and Service. Holt's teachings-combined with poignant, personal stories of heartbreak and transformation-celebrate the message of freedom being spoken from the core of our existence. As he leads us from his early days growing up in the South, to his work in corporate America, to his performances in some of Broadway's greatest productions and beyond, Charles offers us a deeper awareness of the inner broadcast happening every moment of our lives. This higher call is unmoved by circumstance and impervious to the effects of any outside chatter or disturbance. The principles in Intuitive Rebeloffer fresh tools for cracking ourselves open to reveal our authentic self-expression and self-worth. They offer the reader a clear road map on how to access and to trust their own intuitive guidance system. The Voice that matters is always speaking to a listening inner ear in ways that we can understand, telling us more of who and what we are, and why we came here in the first place.
Table of Contents
Foreword
p. 1
Cleaning Up Your Mental Garbage
p. 5
The Seed of Conscious Choice
p. 19
learning How to Listen Again
p. 35
Losing Your Dreams, Gaining Yourself
p. 51
Silencing the Angry Voices
p. 63
Stepping Into the Unknown
p. 80
Let's Be Honest
p. 94
Having the Courage to Surrender, to Shine, and to Share
p. 107
Making Choices
p. 120
Putting it to Practice
p. 137
The Healing Power of Forgiveness
p. l45
The Beauty of Release
p. 157
Love: What it All Boils Down To
p. 171
The Voice Will Always Remind Us of Who and What We Are
p. 187
And the Two Shall Become One
p. 200
Table of Contents provided by Ingram. All Rights Reserved.