Note: Supplemental materials are not guaranteed with Rental or Used book purchases.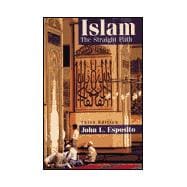 Islam : The Straight Path
ISBN13:
9780195112344
by
John L. Esposito
Oxford University Press, USA
Related Products
Summary
This is the third edition of Esposito's very successrful introduction toIslam, designed for use in courses in Islam and comparitive religions. Espositohas updated throughout, and has added a substantial amount of new material aswell. To the existing country-by-country survey, a study of Pakistan has beenadded, for the first time broadening the scope of the volume beyond thecountries of the Middle East. Also new is a section on Islam in the West,exploring the significance of the Muslim presence in the U.S., Great Britain,and Europe, and examining some of the issues it has raised. Figures like MalcolmX, Warith uddin Muhammad, and Louis Farrakhan are considered. As a result, thisnew edition more accurately reflect the true diversity of Muslim cultures. Inthe final chapter, Esposito discusses more fully fresh Muslim thinking on suchissues as religious pluralism, democracy, and human rights.
Author Biography
John L. Esposito is Professor at and Director of the Center of Muslim-Christian Understanding at Georgetown University.
Table of Contents
Preface to the Third Edition
Preface to the Second Edition
Preface to the First Edition
Introduction
Muhammad and the Quran: Messenger and Message
The Muslim Community in History
Religious Life: Belief and Practice
Modern Interpretations of Islam
Contemporary Islam: Religion and Politics
Islam and Change: Issues of Authority and Interpretation
Glossary
Notes
Select Bibliography
Index
Table of Contents provided by Publisher. All Rights Reserved.