Note: Supplemental materials are not guaranteed with Rental or Used book purchases.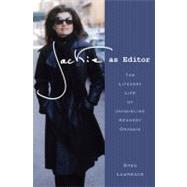 Jackie as Editor : The Literary Life of Jacqueline Kennedy Onassis
ISBN13:
9780312591939
by
Lawrence, Greg
Summary
An absorbing chronicle of a much overlooked chapter in Jacqueline Kennedy Onassis's life--her nineteen-year editorial careerHistory remembers Jacqueline Kennedy Onassis as the consummate first lady, the nation's tragic widow, the tycoon's wife, and, of course, the quintessential embodiment of elegance. Her biographers, however, skip over just as equally an important stage in her life: her nearly twenty year long career as a book editor.Jackie as Editor,written by one of the authors Jackie edited, is the first book to focus exclusively on this remarkable woman's editorial career.At the age of forty-six, one of the most famous women in the world went to work for the first time in twenty-two years. Greg Lawrence, who was one of her authors and had three of his books edited by Jackie, draws from interviews with more than 125 of her former collaborators and acquaintances in the publishing world to examine one of the twentieth centuries most enduring subjects of fascination through a new angle: her previously untouted skill in the career she chose. Over the last third of her life, Jackie would master a new industry, weather a very public professional scandal, and shepherd over a hundred books through the increasingly corporate halls of Viking and Doubleday. Away from the public eye, Jackie quietly defined life on her own terms.Jackie as Editorgives intimate new insights into the life of a complex and enigmatic woman who found fulfillment through her creative career during book publishing's legendary Golden Age.
Author Biography
GREG LAWRENCE is the author or coauthor of seven previous books, including Colored Lights (with John Kander and Fred Ebb), Dance With Demons, Time Steps (with Donna McKechnie), the New York Times bestselling Dancing on My Grave, The Shape of Love, and The Little Ballerina and her Dancing Horse, the last three edited by Jackie Onassis.
Table of Contents
Introduction: Jackie's Secret Garden
p. 1
A Special Destiny
p. 7
In the Russian Style, by Way of Paris
p. 35
A Tale of Two Houses
p. 58
An Office with a Window
p. 99
Unseen Vistas and Avant-Gardensp121
Moonwalk and the Power of Myth
p. 145
Bon Courage
p. 180
When Life Comes First
p. 208
All Will Be Well
p. 232
Books Published by Jacqueline Kennedy Onassis
p. 271
Sources
p. 275
Bibliography and Archives
p. 293
Acknowledgments
p. 299
Index
p. 303
Table of Contents provided by Ingram. All Rights Reserved.
Excerpts
1
 
A Special Destiny
During the summer of 1975, after entering her second widowhood, Jackie resumed her life in Manhattan with her children, hoping somehow to establish some normalcy in their lives. At the time, some of Jackie's friends noticed that she seemed to have fallen into a malaise, with fitful bouts of boredom and restlessness. Society chronicler Stephen Birmingham had dated Jackie briefly when she was a Vassar undergraduate and kept in touch with her in later years. Of this dismal interlude while Jackie was cast adrift, Birmingham said, "When she telephoned friends to chat, she seemed to have little to chat about." More than just an episode of midlife ennui, it was to be a prolonged period of mourning that sometimes found Jackie listless and lingering for hours over breakfast and the morning newspapers in her apartment at 1040 Fifth Avenue. Jackie once admitted, "I have a tendency to go into a downward spiral of depression or isolation when I'm sad."
The world was not about to leave her in peace. On a visit she made in August to the amphitheater at Epidaurus, a hostile Greek crowd taunted Jackie with jeers and cries of "You left your dead husband." Her tormentors were apparently unaware of how sudden and unexpected Ari's death had been, and blamed Jackie for not being with him when he died. On March 15, 1975, in Neuilly-sur-Seine, France, Onassis had succumbed to bronchial pneumonia, a complication of the myasthenia gravis with which he was afflicted in his last years. Jackie was in Manhattan at the time. Though the marriage was failing, Jackie had stayed in Paris dutifully to support Ari through his surgery earlier that month, until being assured by his doctors that he was stable. She then returned to New York to be with Caroline for the airing of an NBC documentary that her daughter had worked on as a member of the production crew, under the tutelage of film producer Karen Lerner. Karen was the ex-wife of Alan Jay Lerner, lyricist for the musicalCamelot,and a friend of JFK's going back to their schooldays at Choate.
Karen was staying as a guest in Jackie's opulent apartment, sleeping in Onassis's bed in a bedroom next to Jackie's. "On the morning of March 15," Lerner remembered, "she came in and said, 'Ari's dead.' You know, she got a lot of criticism for being in New York because she was giving a party on the day this little documentary aired for Caroline." With her dinner party scheduled to take place the following evening, Jackie told Karen, "I am going to Paris, so you stay here and you be the hostess.… I don't want anything to disturb this—it's for Caroline and I just want it to go ahead."
Lerner, who had known Jackie during the Kennedy era and through her marriage to Onassis, later observed, "Jackie changed more during the year after Ari died than at any other time I knew her." At least in part, Jackie was simply reacting that year to events beyond her control, but that gut-wrenching interval would lead her into another world. After enduring the public ordeal of Ari's funeral in Greece, Jackie's conflicts with Ari's daughter, Christina, and her efforts to reach a financial settlement with the Onassis estate became the subject of much tabloid speculation. In AprilTheNew York Timesreported that Ari had been planning to divorce Jackie in the months before he died and that Christina felt great bitterness toward her former stepmother, a story that circulated widely but was later denied by Christina in theTimesat Jackie's request.
The supposed conflict between Christina and Jackie was apparently exaggerated, though there was surely no great affection between them while their lawyers negotiated a settlement of the Onassis inheritance. The photographer Marc Riboud, a friend of Jackie's, later described one occasion during which he saw no sign of hostility between them. "Once I was visiting Jackie in her New York apartment, after Ari Onassis died, when all the papers were full of stories about a fight between Jackie and Christina Onassis. Christina unexpectedly dropped in, and I tried to excuse myself, but Jackie said, 'Oh, no, stay and we'll have a good time.' She and Christina sat there telling stories about Ari and laughing together. They certainly were not fighting."
Jackie remained publicly mum on the subject. A close friend of Jackie's at the time, Cheray Duchin (now known as Cheray Zauderer Duchin Hodyes), the first wife of society bandleader Peter Duchin, blamed the Onassis camp for Jackie's travails, saying, "Nobody gave her a chance to grieve because the nastiness kept pouring out."
While picking up the pieces and avoiding the media as much as possible, Jackie soon fell back into her familiar Manhattan routines. Caroline, then seventeen years old, was planning to go to London to take art courses at Sotheby's, while fourteen-year-old John, the last member of the Kennedy family to have Secret Service protection, was attending Collegiate, a school on the city's Upper West Side. With her children requiring fewer hours of attention, Jackie had time on her hands.
One morning, as she jogged through Central Park, wearing her customary blue jogging suit and white running shoes, she was accosted by a reporter and asked for an interview. She stopped only long enough to put him off, explaining, "My life is very dull right now. I'm doing just very ordinary everyday things. Really, my life at the moment would make very uninteresting reading. Do you think it would be of much interest for anyone to know that I go shopping at the local A&P?" Jackie added, "I'm sure I'm going to be watched closely for the next year or so. Maybe people will find out what Jackie is really like and write something different for a change."
Jackie had her share of detractors who added gratuitous insult to injury, including Truman Capote, with whom she had had a falling-out after he published his "Ladies Who Lunch" short story installments inEsquire,excerpts from his bookAnswered Prayers: The Unfinished Novel(published posthumously in 1987). Capote heaped ridicule on Jackie: "And, in life, that is how she struck me—not as a bona fide woman, but as an artful female impersonator impersonating Mrs. Kennedy." Capote also disparaged Jackie for treating her friends "like red rubber balls—playing with them, rolling them into obscurity, and then exclaiming six months later, 'Oh, I've missed you.' "
The distinguished author and attorney Louis Auchincloss, with the advantage of having known his stepcousin since he was young, explained, "I have some reason to suspect that Jackie was a person of peculiarly visual memory. I believe with her it was a case of out of sight being literally out of mind. If she had chanced on me in Washington, she might well have exclaimed, 'Where have you been?… Why don't you come around?' I have heard other people complain of being forgotten or dropped by Jackie, and I think this may well have been the reason."
During this down period, as she tried to come to terms with her losses, grieving for Jack again as well as for Ari, she was visiting a shiatsu-acupuncturist, Lillian Biko, and a psychoanalyst, Nadine Eisman. Biko later toldCosmopolitanmagazine, "Jackie's tension is the result of her anxiety. She has problems because she's so secretive. Which is why she sees me." While secrecy and enforced discretion were no doubt part of her defensive armature, Jackie was reexamining herself as never before and assessing her options with an eye to her future.
Two years earlier, while married to Onassis, she had considered taking on a TV project for NBC, when the network offered her a half million dollars to anchor a show about the endangered art treasures of Venice and Angkor Wat. Jackie was tempted, but Onassis reportedly dissuaded her with the imperious dictum, "No Greek wife works." After some heated discussion, sensitive to Onassis's failing health and not wishing to provoke more acrimony than already existed between them, she gave up on the idea. Still, the desire to find creative outlets would stay with her, though it was mostly stifled until Ari was gone.
Aware that Jackie was floundering that summer, Letitia (Tish) Baldrige, who had served as social secretary for the former First Lady, suggested the idea of pursuing a career as a way for her to lift her spirits and challenge herself. Baldrige, then running a public relations firm in Manhattan, toldTheNew York Times,"I really felt she needed something to get out in the world and meet people doing interesting things, use that energy and that good brain of hers. I suggested publishing. Viking was my publisher, and I said to her, 'Look, you know Tommy Guinzburg—why don't you talk to him?' "
At an afternoon tea with Baldrige, Jackie initially responded to the idea of entering the workforce with lighthearted skepticism, "Who, me—work?" But by the fall of 1975, she was seriously contemplating the prospect of embarking on a career. Baldrige later said, "Jackie reached that moment every woman reaches when she needs to get involved, to put her mind to work." Hardboiled journalist Jimmy Breslin offered his outspoken advice to her: "You should work as an editor. What do you think you're going to do, attend openings for the rest of your life?"
Jackie had known publisher Thomas Guinzburg for at least twenty years. At Yale, he roomed in the same hall as Jackie's stepbrother, Hugh D. Auchincloss. Guinzburg had been part of the originalParis Reviewcircle in the 1950s, a group that included George Plimpton and Peter Matthiessen, and he later inherited Viking Press from his father, Harold K. Guinzburg. While Tom Guinzburg was initially "thunderstruck" by the prospect of having Jackie join his house, he discussed the idea of her becoming an editor over lunch one afternoon at Manhattan's Le Périgord. By the end of their meeting, they agreed the discussions would continue.
Viking was not the only publishing house that Jackie approached. A former editorial director at Random House, Jason Epstein, wrote in his memoir,Eating,"One day Jackie Onassis called me to ask if she could take me to lunch at Lutèce. We met a week or so later.… My friend Pete Hamill, who had once taken Jackie out, said it was like 'taking King Kong to the beach.'… We took a table upstairs, in one of the small rooms, and ordered shad roe, the first of the season. She asked if there was a job for her at Random House. She wanted to be an editor.… However, there was a problem. Entry-level editorial jobs were scarce and much in demand.… I told Jackie that I believed she would take the job seriously, be a good colleague, and learn the ropes easily. But I also told her that we would have to create an opening for her, and this might not be fair to the assistants. Before I could ask her to let me talk it over with my colleagues, she said that she understood my problem and didn't want to impose."
Reminiscing wistfully, Tom Guinzburg told me, "I have a favorite anecdote. During that summer before she came to work, I was sitting with Jackie at her apartment on Fifth Avenue. Caroline was coming in from one school or another, and Jackie went to answer the phone. And Caroline said to me … 'It's not true, is it, that my mother's gonna come and work with you in the publishing thing?' I said, 'I think it is true, I hope it's true. You ought to talk about it with her yourself.' She just looked at me with contempt, the disdain of a teenager, and said, 'But what's she going todo?' "
It was a fair question, and an ambivalent Jackie mulled it over at length. Guinzburg told her, "You're not really equipped to be an editor. It's not that you don't have the talent for it, the ability for it, but you don't have the background and the training and you, I think, would suffer in a publishing house because that would set up some kind of competitive atmosphere with the other editors. But what you can do is to be a consulting editor … somebody who doesn't have what we call line responsibilities, they're not assigned books, they don't even have necessarily to work out of the office. Their primary job is to acquire books." Guinzburg said, "I then explained to her that as she became more familiar with publishing procedures, she could work on the books and with the writers to whatever extent appealed to her. She could create books and so on."
Characterizing Jackie's naïveté about the then male-dominated business world, Tish Baldrige toldPeoplemagazine, "Jackie was not a feminist. Now, she might have had feminist leanings without really knowing it.… She never had to fight for anything in a man's world. It would never have occurred to her to question why there wasn't a woman on a board of directors."
Betty Friedan characterized Jackie as "a closet feminist." Gloria Steinem likewise felt that Jackie's sympathies were on the side of the emerging women's movement, if only privately. "One doesn't have to act in public to be a feminist. Wherever Jackie was, she definitely spoke in her own voice. She was warm, funny, loyal and a great girlfriend in the best sense. I think she just found public life too shallow, simpleminded, intrusive, too likely to make her—and others—into symbols rather than real and nuanced people.
"I don't think she used men as beards or worked through them, but rather found them amusing companions—in somewhat the way worldly men find women to be. One key is probably her father, 'Black Jack' Bouvier. By most accounts, she adored him, and he adored her, [and] confid[ed] in her which mothers of her classmates he had affairs with. Perhaps this gave her a view of sexuality that wasn't so dependent on loyalty or singularity in the way that, say, friendship was loyal. I've always hoped and assumed—based on no evidence—that she had affairs before and after her marriage, too, and possibly during (though certainly not on Jack's scale). In any case, I don't believe she saw Jack's affairs as threatening to her or to their permanency in each other's lives.
"I doubt this was her mother's attitude about her father's affairs—but then, her mother was a much more conventional woman. This was symbolized to me by the fact that she once said, according to Jackie, 'The trouble with you, Jackie, is you never play bridge with your bridesmaids.' "
Steinem added, "As a very small and utterly unsexual example of Jackie's attitude, she once seated me next to Onassis at a small dinner in New York, because, as she said, 'You will disagree with him, and that will keep him interested and amused.' "
One of Jackie's former editorial colleagues, author Harriet Rubin, offered another interpretive spin, suggesting that she "found, I think, a better strategy than feminism's defiance and insistence on a woman's voice being heard. Jackie didn't practice defiance but rather besting the existing order. She didn't confront men and injustice. She was a student of the eighteenth-century Frenchwomen salonistes who advanced revolutionary principles through conversation and wit. She didn't stand alone but allied herself with powerful men and had her say through them, sort of like a master puppeteer. In the eighties, we feminists considered Gloria Steinem brilliant for speaking in her own voice. Jackie did not speak in her own voice, not in public, anyway. She seemed always to be speaking through a Kennedy, an Onassis, or a Tempelsman. Feminism didn't understand that, given the way the world is structured, a too-smart woman needs a man as a cover, a beard."
In the publishing world, Jackie would act on her own and rely on her own resources, and often had to win over both male and female colleagues to get her way. Hired by Guinzburg at the end of the summer of 1975 as a consulting editor at Viking, she was to be paid $200 a week, working part-time four days a week. Of course, Jackie didn't need the money—she had inherited a substantial trust from JFK and eventually settled with Christina Onassis for $26 million. Financial considerations aside, Jackie's decision to become a working woman had not been undertaken lightly. She became enamored with the idea of finding a calling, and she would soon be able to achieve a different kind of independence than she had ever known before.
*   *   *
Jackie told a writer forNewsweekwhat she anticipated her new job would entail: "I expect to be learning the ropes at first. You sit in at editorial conferences, you discuss general things, maybe you're assigned to a special project of your own." Even before the press and public had accepted this sudden change of employment status, Jackie felt compelled to defend her career move, and the fact that she, of all people, had been hired. She explained, "It's not as if I've never done anything interesting. I've been a reporter myself and I've lived through important parts of American history. I'm not the worst choice for this position."
Jackie had not had a paying job since 1953, when she was a $42.50-a-week inquiring camera girl for theWashington Times-Herald.But she did have previous experience editing and consulting on several biographies of JFK that came out not long after his death. The first of these,John F. Kennedy, President,by veteranTimemagazine journalist Hugh Sidey, was published in 1964. Sidey's editor at Atheneum, Simon Michael Bessie, later recalled that Jackie read the galleys and submitted copious detailed notes on them, although Sidey himself did not acknowledge Jackie's contribution in the book.
A year later, Jackie performed the same service for JFK's former presidential aide and speechwriter Theodore (Ted) Sorensen for his bookKennedy.Sorensen told me, "After I finished the first draft of my first big book, I gave Jackie the manuscript and asked her to take a look, because I thought she could be helpful, and she wasenormouslyhelpful. In her handwriting on long yellow-lined notepads, she gave me comment after comment."
In his memoir,Counselor,Sorensen lauded Jackie's assistance: "Jackie proved to be a superb editor, correcting typographical errors, challenging mistaken assumptions, defending some of her husband's personnel decisions, suggesting useful clarifications, and repeatedly setting the record straight on matters not known to me, specifically noting whom JFK privately admired and whom he did not.… In addition to asking me to tone down my references to JFK's praise of LBJ, she made a number of specific suggestions."
Sorensen offered a number of examples of Jackie's editorial critiques. He quoted her notes verbatim in his book with regard to JFK's sensitivity to press criticisms, with Jackie suggesting that Jack "had learned how to roll with the punches and they bemused rather than upset him. He became so tolerant—like a horse you see in the field in summer—the flies have annoyed him at first—but there are long months before they will go away—so he does his work—which is eating grass—and just flicks his tail—Whenever I was upset by something in the papers—he always soothed me and told me to be more tolerant—if you want examples of this—I have many to give you. They even extend into international relations.…"
Voicing her maternal concerns, Jackie also tried to set the record straight with reference to her children, writing, "His father never called him John-John—only John. That nickname now plagues the little boy—who may be stuck with it all his life. I know your book deals with more important things—but it would be great if you could put that nickname to bed."
Sorensen had included in his manuscript a reference to young Caroline's "firmly ordering a cameraman at an airport 'No Pictures.' " Jackie wrote, "Please delete—not fair to her—She is such a tender little girl and she got that horror of the press from me." Referring to both Caroline and John, she explained, "I had to teach them all over again—that cameramen were all right—a part of their father's life and they must behave in front of them in a way that would show they had the same good manners their father had."
Jackie's involvement with the authors of two subsequent books about JFK was more problematic and disheartening for her and for Robert Kennedy as well. The two of them were consulted first by William Manchester, for his book about JFK's assassination,The Death of a President,and later by Paul B. Fay Jr., known as Red, for his memoir,The Pleasure of His Company. With regard to Manchester and his book, Ted Sorensen remembered, "Bill had interviewed me at length for his book, while I was writing mine on Cape Cod. I found it difficult to talk about the assassination, and from time to time broke off the interview simply to recompose my thoughts and emotional balance. When it was finally published, his book stirred enormous hostility to the point of litigation from the Kennedy family."
Jackie had granted interviews to Manchester, and later had reservations about his rendition of the assassination and what she had shared with the author. When the book was about to be serialized byLookmagazine, which paid Manchester $665,000 for the rights (a record at the time), Jackie voiced her disapproval and became mired in unsuccessful legal efforts to block publication. She felt after the fact that she had provided too many intimate details and private recollections to Manchester. Her requests for deletions in the book mostly went unheeded by Manchester. RFK's aide John Seigenthaler suggested, "Bill was an excellent journalist, but I had the feeling that in some ways he had taken advantage of her vulnerability."
Even after winning concessions and agreeing to an eleventh-hour court settlement, Jackie came to regret having attempted to micromanage JFK's memory and uphold the Kennedy family agenda. Ironically, in just the first few years after the book's publication, in 1967, the John F. Kennedy Library received a generous financial reward of more than a million dollars in royalties, but the library didn't allow public access to the book or to the author's papers. Despite the fact that the book's profits helped build the library, it was effectively written out of history.
Jackie and Robert Kennedy were also invited to review the manuscript for Fay's book about his relationship with JFK, which dated back to when both men served as PT boat commanders during World War II. Fay, nicknamed "Red" for his striking mane, had served as an usher at the Kennedys' wedding. Sorensen described him as "one of the president's two or three best friends." But Jackie and Bobby were not pleased with his book, deeming it overly candid and, according to Jackie, rife with vulgarities. With one critical note, she couldn't resist putting a needle into Fay, suggesting with regard to a questionable passage, "Leave it. Don't you see it makes Red look awful." For his part, Fay rejected most of the proposed changes from the Kennedy camp, but this time they decided to avoid the discord and pitfalls of trying to take legal action to prevent the book from being published.
While these early editing experiences involved Jackie in dealing with books about the fallen president, she might also have had a hand even earlier in JFK's Pulitzer Prize–winningProfiles in Courage. Ted Sorensen's role in the writing of that book was for a time a source of controversy for Kennedy, besmirching his reputation as sole author, but the matter was later put to rest with Sorensen testifying that he had played only a supportive part, in much the same way that he had worked with JFK on speechwriting. In his preface toProfiles in Courage,JFK acknowledged, "This book would not have been possible without the encouragement, assistance and criticisms offered from the very beginning by my wife, Jacqueline…"
During a recent conversation, Sorensen said of Jackie, "I don't think she had anything to do withProfiles in Courage." Yet at the same time, he allowed for the possibility that Jackie may have offered her husband the benefit of her editorial feedback during the writing process. "It was being written under nose, so to speak, both in Florida and in Washington. I haven't the slightest doubt, knowing JFK's proclivities, that he would have read the chapters to her. And since she was a natural-born editor, it's very possible that she made suggestions here and there; but if so, that was never related to me, so I don't really know. As I say, that is my assumption, but I really have no hard information. I wasn't there."
In addition to those books for which she gave editorial advice, Jackie also organized the publication of two books while she was First Lady, which afforded her experience in other aspects of the book trade. The first evolved from her campaign to renovate the White House. Realizing that she would need large sums of money in order to purchase the historical furnishings and artwork that would have to be acquired, she instigated the publication of an official White House guidebook to help fund the project.The White House: An Historic Guidewas entirely her idea, undertaken with assistance from the National Geographic Society. Jackie also took the initiative to establish the White House Historical Association to oversee a variety of publications, including a book entitledThe Presidents of the United States,which was ultimately completed only after the JFK assassination.
Assigned to oversee Jackie's White House guide, Robert Breeden was then a staff member ofNational Geographic. He remembered that she chose all of the art and furnishings to be pictured in the book, and even selected the typeface. According to Breeden's assistant, Don Crump, "She was very outspoken and very precise in what she liked and what she didn't like. And her ideas were really quite good. She carefully went through the final version page by page." Even during her years as First Lady, Jackie was already displaying the incisive literary sensibility and wielding the clout that she would one day use to great advantage in the publishing world.
*   *   *
As a prospective editor, Jackie brought a great many assets to the table, with her activism on behalf of the arts and the exclusive social circles to which she had access. She also possessed a world of experience to draw on, along with her own modest writing accomplishments, which went back to boarding school and college days. At the beginning of 1974, Jackie and her sister, Lee, published a journal they coauthored under the titleOne Special Summer, about their trip to Europe in 1951, with illustrations by Jackie that showed off what critics praised as a deliciously naughty wit.
Jackie had immersed herself in literature and the arts her entire life. Indeed, her mother found her reading Chekhov plays at the age of six. As a precocious child, in addition to studying ballet and competing in equestrian shows, she wrote poetry and filled sketchbooks with drawings and artwork. Interviewed for a PBS documentary in 1999, her cousin, author John Davis, said, "I used to remember how her personality would change from this rather delicate dreamy young girl of let's say seven or eight years old to a fearless equestrian in total command of the horse, always winning the blue ribbon. But then she would retire to read poetry, history, Shakespeare—as a little girl—so she mixed sensitivity with a certain toughness."
While in college, she took an interest in both journalism and fiction. She later admitted, "Like a lot of people, I dreamed of writing the Great American Novel." Before graduating in 1951 from George Washington University (where she had transferred for her senior year, after spending her junior year at the Sorbonne), Jackie had decided to pursue some form of writing professionally and wrote a series of essays that wonVoguemagazine's Prix de Paris contest. The prize was the opportunity to work as a staff writer in the magazine's Paris and New York offices, but Jackie's mother pressured her into turning it down, wanting to keep her close to home. Looking back, Jackie admitted her angst about accepting the prize and moving to France. "I guess I was too scared to go. I felt then that if I went back I'd live there forever, I loved Paris so much."
In one of Jackie'sVogueessays, she was already thinking like an editor, as she described how the magazine might present perfume to its readers. "Perfume was just as effective in piquing the male olfactory glands before our era of adjective-laden advertisements. Why not quote some of the poetry it has inspired? It is also analogous to wine. Both are liquids that act upon the closely related senses of taste and smell to produce an intoxicating effect. Wine has had an even stronger appeal in literature, from Omar Khayam to Colonel Cantwell and Renata. Why not pilfer some of its drawing power and incorporate it into an article on perfume?"
Late in 1974, with Ari's tacit approval, Jackie approached the formidableNew Yorkermagazine editor William Shawn and persuaded him, over lunch at La Caravelle, to allow her to write an anonymous piece for the Talk of the Town pages. Jackie's article was a savvy interview essay entitled "Being Present," celebrating the opening of the International Center of Photography (ICP). She described how this new museum was dedicated to photojournalism and documentary photography in the tradition of three fallen leaders of the field "who were killed in the nineteen-fifties while on picture assignments: David Seymour (Chim), Werner Bischof, and Robert Capa." ICP was destined to become one of the world's leading centers for the preservation and teaching of photography, and Jackie played a key role at its inception.
Jackie had been encouraged to lend her support by Karl Katz, the head of the Metropolitan Museum's special projects division. She and Katz became founding board members of ICP, supporting the renowned photographer Cornell Capa (Robert's younger brother) and his quest to establish a photography museum at the old Audubon house on Fifth Avenue. A frequent escort of Jackie's, Katz was dubbed by the press as "Jackie's intellectual boyfriend." In the years ahead, thanks to his connections and position at the Met, he would promote a number of authors and book projects, faithfully steering them to her.
The work of French photographer Marc Riboud was featured in one of the early ICP exhibitions in 1975, and Jackie would later champion his work in America. Riboud related his memory of meeting her for the first time. "I was invited for dinner with her at Maxim's in Paris. There was Jackie, Aristotle Onassis, and a couple of friends of Jackie I didn't know then, and me. My wife [artist, author, and poet Barbara Chase-Riboud] was invited, but happened not to be in town. Jackie was traveling back from a Greek island, with Onassis, and she was in Paris for two days.
"I was at that time covering the war in Cyprus between the Greeks and Turks.… I missed them in Athens, where I was just back from the war. But they found me later in Paris. Jackie called my home … and I was out … but myfemme de ménage,the lady taking care of the house, heard that it was a message from Madame Onassis. She told me, 'Madame Onassis called and told you that you must go to dinner.'
"At this dinner I found that I was sitting opposite the most important woman in the world, and we talked. And Aristotle Onassis was not in the very best mood, and talking not too elegantly. Whenever there would be a pretty girl passing by in the restaurant he would speak about pretty girls, and Jackie was a little bit embarrassed. We talked about photography.… Cornell Capa was about to start the International Center for Photography, and we spoke about that. And we spoke about politics, and we laughed. She loved laughing, and loved making jokes and gossiping nicely.
"I remember walking out of Maxim's that night and the throng of photographers waiting for her. She asked me if I wanted to drive home with them by car. I don't know why I said, 'No, It's all right. Thank you very much.' Then we decided to meet again in New York." Without yet knowing that she would soon become an editor, Jackie had struck up a friendship with one of her future authors.
Another photographer friend who was involved with Jackie and the International Center of Photography was Peter Beard, famous not only for his photographs of endangered African wildlife but also for portraits of supermodels and rock stars such as Mick Jagger, David Bowie, Iman, and Veruschka. On the rise at the age of thirty-seven, Beard was charismatic and iconoclastic, with movie-star looks. His retinue included Jackie's sister, Lee Radziwill (with whom he had a romantic affair), Andy Warhol, Truman Capote, Andrew Wyeth, Terry Southern, and Francis Bacon. Jackie wrote an afterword for Beard's lavishly illustrated workLonging for Darkness: Kamante's Tales from Out of Africa,which was published in November 1975. This wondrously evocative tome was inspired by the African adventures of the Danish aristocrat Baroness Karen von Blixen (better known as Isak Dinesen, her nom de plume) and her classic memoir,Out of Africa. That book chronicled many of Blixen's personal experiences in Kenya, where she owned and maintained a coffee plantation from 1914 to 1931.
Beard recalled, "Jackie lovedLonging for Darknessand wrote an essay for Kamante Gatura, Blixen's Kikuyu cook and manservant, who was a central figure inOut of Africa." Beard told me that Jackie's participation allowed for the book to be published. "She was very irritated. Holt, Rinehart and Winston turned it down, and I think Doubleday … and she had some quite amusing suggestions of what we might do, like having some native dances up in Newport [Rhode Island].… Basically, she wrote the afterword, and it was only on that ground that the book was accepted."
In her afterword, which was printed in her elegant longhand, Jackie wrote, "What an extraordinary surprise and gift it was when Peter Beard first showed me the fables and drawings of Isak Dinesen's beloved Kamante. I had not known he was still alive. To hold his drawings was like touching a talisman that took you back to a world you thought had disappeared forever. Maybe I was so affected becauseOut of Africahas always meant more to me than any other book.… It seems to me that so many of the movements of today, ecology, anti-materialism, communal living—were all inOut of Africa."
Jackie quoted one of her favorite Dinesen passages, which read, in part, "If I know a song of Africa, of the Giraffe, and the African new moon lying on her back, of the ploughs in the fields, and the sweaty faces of the coffee-pickers, does Africa know a song of me?" Jackie concluded, "Yes, it does have a song for her. It is Peter Beard and Kamante who made it for her. Kamante's drawings and Peter Beard's photographs share a purity—of a wild animal looking at the camera with free and vulnerable eyes."
The tales in the book were recorded by Beard, and hand-lettered in their English translation by Kamante's sons, accompanied by line drawings and by photos showing the Kenyan landscape and lifestyle that surrounded Dinesen during her years there. Jackie accurately portrayed Dinesen as one of the first white people to realize that "black is beautiful," and she related with approval Dinesen's redefinition of "true aristocracy" as nobility of spirit. That nobility shines through in the Kikuyu, Maasai, and Ngong stories. Jackie also recognized that the way of life this book and Dinesen's story depict was imperiled by the forces of development.
No wonder Beard's book captured Jackie's imagination. The tales themselves are not like conventional animal fables, where the anthropomorphized animals learn lessons from their deeds and eventually come to a moral à la Aesop. Instead, they are autobiographical accounts of instances in Kamante's life—how he worked as a cook, how he related to the Kikuyu chiefs, and the mixture of Africans and Europeans who always populated Dinesen's farmstead. In some ways, these tales are a supplement to the extraordinary life of the Baroness von Blixen herself, recounting how she advised Kamante not to fear death, how she could shift from the everyday world to the world of fabulist imagination by sighting a single bird in the woods. This book is one of those rare objects, like Peter Beard's earlier masterpieceEyelids of Morning,that combine visual splendor and discerning commentary in an irresistible volume.
While the book clearly held a special appeal for Jackie, before it came out she had second thoughts about her contribution, according to the publisher William Jovanovich. In his memoir,The Temper of the West,Jovanovich revealed that one of Jackie's lawyers called him and asserted that she wanted to withdraw her essay after the book was "already printed, in proofs." Jackie may have balked due to her literary insecurities, or perhaps she was giving in to her sister's spite after her romantic fling with Beard soured that summer. While preparing for her entrance at Viking, Jackie acquiesced to the publication of the book with her afterword included, and she would maintain her friendship with Beard in the years ahead. He represented the kind of cutting-edge artistic resource that Jackie had at her disposal and would bring with her to the job.
Early in 1975, Jackie again entered the public arena, joining the Municipal Art Society and embracing the cause of saving New York's venerable Grand Central Terminal, fighting to prevent the building from being torn down and replaced by a skyscraper. Then-congressman Ed Koch said, "She was very gutsy and determined—a real fighter. Even though it was Grand Central Station, Jackie gave the battle a visibility and a legitimacy it might not have had otherwise."
A trustee of the Municipal Art Society, Fred Papert, described Jackie's involvement with the group as hands-on activism rather than merely symbolic posturing, telling Dominick Dunne forVanity Fair,"It's easy to get the impression that what she brought to the cause was just her celebrity. But before that she was in on strategy meetings. Showing up at rallies, concerts, and train trips was the least of it."
Jackie's work with the group would lead to several books, and some years later, she contributed a foreword to the commemorative bookGrand Central Terminal,published by the Municipal Art Society. The book's author and editor, Deborah Nevins, said that Jackie played no direct role in the book's publication: "Jackie wasn't involved in that project, even though, of course, it was close to her heart." Jackie's commitment to the cause traced back to her efforts with Jack in the 1960s to save Lafayette Park and preserve historic Washington. In her introductory essay, Jackie offered heartfelt praise for the landmark preservation movement: "New York City is the center of civilization in our day as Athens, Rome, Persepolis were in theirs. Her citizens have recognized that by banding together they can save its loved buildings from destruction."
With her citizen-of-the-world mentality, Jackie was cautiously selective with respect to the causes to which she chose to lend her support, and she would bring that same discriminating judgment into the editorial domain from her first day on the job. Once she embraced a project, she proceeded with boundless zeal. The quixotic ideal of preserving works of literature and enriching cultural discourse would be a touchstone she would use to acquire and develop literary properties and to line her own cherished bookshelves.
*   *   *
On Monday, September 22, 1975, after rising from bed promptly at 8:00 A.M. in her fifteen-room apartment overlooking Central Park and the Metropolitan Museum of Art, Jackie boiled herself an egg, donned a conservative gray shirt-dress, and eventually hailed a taxi in front of her building that would take her to the offices of Viking Press, at 625 Madison Avenue. That cab ride was destined to lead her to a monumental turning point, a fact that no one, not even Jackie, realized at the time. She was stepping into a rich chapter of publishing history, as Viking was a house with a prestigious heritage and a stable of brilliant editors, whose authors included, over the years, James Joyce, D. H. Lawrence, John Steinbeck, Sherwood Anderson, Dorothy Parker, Arthur Miller, Saul Bellow, and Thomas Pynchon. At the time employees of the house referred to it as "The Viking Press."
Jackie's new job had been announced the week before inTheNew York Times,and a mob gathered on the sidewalk along Madison Avenue at Fifty-eighth street, awaiting her arrival, which had been postponed several days. The gawk-stalkers caught barely a glimpse, as she kept a low profile exiting the cab, evading the crowd through an entrance at the side of the building. The scene outside resembled a Hollywood opening, and the serene grace she projected under the circumstances was itself an accomplishment. Any public appearance by Jackie during these years was heralded as an"event."Tom Guinzburg described the scene: "It was a circus, of course, because of who she was, how she would accommodate herself to normal life. There were bomb threats, security people, and press people dressed up as messengers."
That morning Guinzburg introduced Jackie to her fellow employees, took her out to a lunch of chicken salad in the Edwardian Room at the Plaza Hotel, and then led her to a photographic shoot with the renownedLifemagazine photographer Alfred Eisenstaedt. He had taken JFK's official presidential portrait and had photographed Jackie on previous occasions. Eisenstaedt photographed her in the spartan office she had been assigned, with its small, workmanlike desk, swivel chair, filing cabinets, and one window overlooking Madison Avenue. The photographer later said, "In that little office at Viking, with all her books and papers piled up around her, she looked like a kid straight out of college, all excited about her first job."
When Jackie arrived at Viking, Gael Towey was a mechanical artist who worked on many of the illustrated books published by Viking's Studio Books division. Now chief creative officer at Martha Stewart Living Omnimedia, Towey observed Jackie's routine when having to face the ever-present paparazzi: "She liked to have hamburgers across the street, and there was a side door to the building that led out to Fifty-eighth Street, and there was a hamburger joint directly across the street—I mean the simplest kind of deli with a counter. And we always knew that there were photographers lurking everywhere, and she would stand on the inside of the door and hold herself upright, put her shoulders back, look up, and say, 'Smile!' And then she'd walk out smiling. As soon as the door opened, you knew that there would be all these flashbulbs."
Jackie was endlessly photographed outside the office despite her efforts at disguise and the many available freight entrances she dashed through in Manhattan. In the office, Guinzburg encouraged his employees to help Jackie get her bearings. One of her fellow editors, Barbara Burn, said, "Tom Guinzburg came to me and said, 'Would you take her to lunch and explain what a consulting editor does? You two have so much in common.' Her daughter had gone to Concord Academy, which is where I went, we both were horse people, and we had a special interest in art and art history.
"So I asked her to lunch, and she said, 'Oh, absolutely, that would be great.' I made a reservation up at the Carlyle hotel, which I figured would be convenient to her apartment. When we went into the restaurant, I said, 'Burn, two,' but they paid no attention tomeand immediately cleared a table for eight and sat us down.
"We had a terrific lunch. She said, 'Look, the only other consulting editor at Viking is Malcolm Cowley. I couldn't begin to do what he does.' He was a very important writer, we had published a number of his books, and at the time his job at Viking was editing the Portable Library and a series of critical texts for students. And Jackie said, 'So I don't know exactly what it is I'm supposed to do.' We talked about what she would be interested in doing, and we discussed the possibilities. Then she paid for lunch, and I said, 'Be sure to keep the receipt.' She said, 'Oh, never mind, I paid in cash.' I said, 'No, no, you're supposed to charge it and keep the receipt.'
"Then we went back to the office. Walking down the street with her was like being on the prow of a ship. People just parted in front of us, staring at her. She was never impolite. She never looked anybody in the eye, but she never complained about it. She was completely comfortable with herself. She was determined to become an editor at that point, so she did what we all do—she apprenticed. In those days you learned at the feet of the people who knew what they were doing, and then you could do it yourself. Eager young people go to Radcliffe and NYU publishing programs, but they don't learn much about editing there. You can memorize the Chicago style manual, but that doesn't make you an editor. You learn by doing, and Jackie was willing to start at the beginning, reading manuscripts and writing reports and so on."
Rich Barber, who had worked in publishing for a number of years and was Viking's public relations director, remembers being deputized by Tom Guinzburg to familiarize Jackie with the basics of book publishing and its seasonal production demands. "Tom said, 'I want you to teach Jackie what publishing is about, what the time frame is.' That was my assignment. He knew that editors like Alan Williams and Cork Smith would take care of the editorial side. There's nothing in publishing that's really hard to learn; it tends to come with repetition and being around the business, and knowing why things are done this way and not some other way.
"We had a very elaborate production schedule for all books that basically went into effect the minute a book was bought. Normally from the time a book was transmitted to its publication ran anywhere from nine months to a year. All the little stages along the way were marked off and dated—all of the different steps that went on with each book. I spent a number of session hours with Jackie using that as the template for each of the kinds of books we did, and telling her about the kind of problems we were going to have. She was a really quick study … and she took notes … she asked very intelligent questions, and it gave her a leg up on at least knowing the mechanics of what was going on."
The office next door to Jackie's was occupied by another one of Viking's gifted editors, Elisabeth Sifton, who is now senior vice president of Farrar, Straus and Giroux and editor at large of Hill & Wang. The daughter of noted theologian Reinhold Niebuhr, Sifton suggested, "Jackie never became completely integrated into the editorial department. The rest of us were in and out of each other's offices all the time, arguing and squabbling about how much money to pay for what kind of project, or discussing procedural issues of getting books ready, manuscripts ready for composition and so on. And she was not much involved in all of that, as we'd expected. After all, she hadn't been a book editor before, and she was obviously a very special kind of book editor. Jackie was cordial, pleasant, I liked her, but given the nature of her history and her fame, she was of course not like the rest of us."
Jackie made every effort to fit in, bringing to the job an attitude of unassuming professionalism, making her own coffee, placing most of her own phone calls, and making her own copies at the Xerox machine. Working part-time, she would phone in conscientiously on her days off. Viking office memos were addressed by initials, and Jackie preferred "JBO," perhaps an act of independent self-assertion, with the "B" for her maiden name, Bouvier, rather than "JKO."
Another up-and-coming Viking editor, Daniel Okrent, who later served as the first ombudsman ofTheNew York Times,said his exchanges with Jackie were positive and collegial. "I remember in the very beginning, I was involved with a project—I can't remember what it was about—but I was soliciting her support for it. And she really didn't understand the politics of the publishing house. I think that she was a little bit appalled and kind of taken aback by my probably overly coarse representation of why her support for this project, whatever it was, was necessary. I remember her eyes kind of popping. 'Really? I'm supposed to do that?' "
According to Okrent, for her projects, Jackie operated to some extent outside the company's editorial meetings, having direct access to Tom Guinzburg, as they were old friends and traveled in the same social circles. "If she wanted to do something," Okrent explained, "she went to Tom, and Tom said yes, whereas at most publishing houses you go through a much more attenuated process." Okrent also remembered his colleagues' initial skepticism about Jackie and her position as a consulting editor: "We were all excited when we heard that she was coming, a little bit nonplussed. This was the biggest celebrity in the world, and she's going to work with us. Tom knew a lot of well-known people—I remember when Princess Grace came to the office, and that created a lot of buzz.… When Jackie came we were happy to have her. But there were some—I wouldn't say it rose to the level of resentment, but there was some rolling of the eyes: What the hell does she know about book publishing or about editing? She's never done this before; she's here because of her name, because of her social connections with Tom, yaddee-yaddee-yadda. But when she came in she did not have any airs that reflected any of that, so I think that even those who might have been skeptical … were convinced."
Guinzburg remembered discussions with Jackie about potential books they might pursue. "Jackie and I used to go out and talk and she had marvelous ideas. And we would sometimes double-team a prospect. I remember we were going to do a book on the interiors of yachts, we were going to do that before anybody got around to doing it. It was an obvious idea, but she had access to those yachts. We almost had Frank Sinatra, and he was a friend of mine, too, and he worshipped Jackie, and he wanted to do a book. We all had an evening together, and then his lawyer pulled the plug on that."
Guinzburg also described one of Jackie's first mentors, Bryan Holme, who ran Studio Books. "Jackie loved illustrated books, and she was training under the most benevolent eyes of Bryan Holme, who specialized in them. He was one of nature's noblemen, and a genius, and nobody could ever figure out how he did it. I know in principle he worked backwards. He went from a retail price and then just put in numbers for every single thing in the budget, and then when he got to the end, the agent would say, 'Well, that only leaves twelve cents for my author.' And Bryan would say, 'Hmm, we don't have to use that glue. We could use another glue and save money. And we don't really have to take the paper from the bowels of interior Japan.' He would tinker with it to the point where everybody was happy, and Jackie worked with him on several projects.
"I think Jackie got along with the ones who were acolytes. I mean, the first couple of weeks were tough because all the kids put on their best clothes and Jackie put on her black pants and T-shirt. That was her way of meeting them halfway. Jackie wasn't going to put on any airs. She was really willing to learn and to be collegial.… The atmosphere was pretty intense at the beginning because there was this assumption that this was … a public relations stunt, and that I was just pulling a fast one—that I was able to do based on the fact that I had known her a long time and her kids—and people assumed there was nothing substantive."
Barbara Burn described the unique atmosphere at the house just before Jackie arrived. "One of the nice things about Viking in those days, before Penguin bought us, is that we were a gentlemen's publisher and had been since the twenties. When I got there—I started there in 1965—and Ben Huebsch had just died, so had Pascal Covici, and they were two great editors. Tom Guinzburg's father, who had founded Viking with Ben Huebsch, had also died, and Tom was sort of a playboy in those days. He had helped foundTheParis Reviewwith George Plimpton, and he was not an un-serious guy; but he suddenly found himself in charge, and it was quite a change. It was a great pleasure to work for him, because he got better and better and better. He was not always incredibly serious, but that added a light touch to the place. He served aquavit to us one morning when one of our authors won the Nobel Prize, and bells were rung whenever we made the best-seller list. People were really devoted to him and to the company."
Burn continued, "Jackie had a good innate sense of what made a fine illustrated book, and I know she learned a tremendous amount from Bryan Holme, who had run Studio Books since the thirties; his father before him had runStudiomagazine in London and Studio Books in England. And she learned a great deal from him about layout and the way in which text and pictures should work together. And of course Bryan was one of these people that you just had to watch in order to understand how he worked; he didn't explain much, so you had to stand there and see what he did. Jackie kind of apprenticed herself to him and learned how he put books together. It was a pleasure to watch them."
Bryan Holme's son, Christopher, worked with his father and described the special relationship Bryan established with Jackie. "I know Jackie and my father often met and talked about this and that … and worked on their own projects as well.… He would take her down in the elevator and see her out sometimes in the evening, and she mentioned how the worst moment of her day was going from the lobby of the building into a cab while having to avoid all the people. She was there at Viking as an ordinary employee, and no one was supposed to pay special attention or bother her. My father was a very kind person, and everybody loved him. He got along well with everybody; but he wouldn't have put up with her if he thought she was just a dilettante and wasn't relatively serious about the work. They had similar taste, and it was more than a working relationship. I think there was more of a friendship there."
Gael Towey described an exchange between Jackie and Bryan Holme regarding a book of Alfred Eisenstaedt's photographs that brought up one of JFK's infamous infidelities. "Bryan was mocking up the cover, making a collage of photographs, so there was a composite of this cover sitting on a table. And Jackie walked in and looked at it, and then kind of discreetly asked Bryan if she could speak to him. She noticed that on the cover there was a picture of President Kennedy right next to a picture of Marilyn Monroe. Bryan was just thinking he was going to put all the famous pictures on the front because that will sell the book, never really putting the two and two together. After they came out of the office together, Bryan asked me to move the pictures around and put the Marilyn Monroe picture on the back. I think she just didn't want President Kennedy next to Marilyn Monroe. It was as simple as that."
Jackie's first assistant, Becky Singleton, recalled in a series of e-mails, "I joined Viking in 1973 shortly after college graduation. Since then, I had roamed through every department and can tell you firsthand, Viking's informality and the talent level in every department made it a learner's paradise. The news that Jackie had decided to start a career in publishing, that she would do so at Viking, and that Tom Guinzburg wanted me to work for her was delivered to me by Tom himself—all within the space of one very interesting minute. Although I wasn't particularly fascinated by the Kennedy mystique, and had never aspired to work for a celebrity, I immediately agreed to take on the job, simply because Tom asked me to do it.…
"I expected to like Jackie. I tend to like people unless they hit me on the head with a hammer or something. But I had no preexisting infatuation. In that sense, when she arrived, we would both be working with a blank slate. On Jackie's first day at the firm, I went down to the lobby to greet her. It was filled with photographers and flashing cameras. That didn't surprise me. Upstairs in my cubicle, dozens of manuscripts—many from reputable agents—awaited in towering stacks, along with several large canvas sacks of assorted types of 'Jackie mail.' For the past several days the phones had been ringing constantly, and as Jackie's assistant, I had already received the first of several offers of generous financial compensation from supermarket tabloids if I would agree to tell their readers 'the real story.'
"What surprised me in the lobby that morning was Jackie herself. I had expected her to be rather elegant and reserved. Instead, she was immediately gregarious. Ignoring the presence of photographers, she chatted in a lively way as we entered the elevator and by the time we got to the sixteenth floor, she had covered a remarkable range of topics—her passion for books, her career hopes, how each of her children had reacted to her decision to take a full-time job, what her friends thought, her concerns … etcetera. (No, the elevator wasn't slow that day and I'm not exaggerating.) By the time we emerged from the elevator, her sense of humor and apparent candor had totally charmed me.…
"I showed Jackie into her office, which was smallish but of workable size and it definitely had a window. Then I took her to my cubicle, which was located about thirty feet away from her door. When Jackie got her first glimpse of the stacks of manuscripts and mail that awaited her, she looked at me and started to laugh. By the time I had finished explaining my improvised call screening system—our phones weren't connected by intercom, so I intended to transfer legitimate calls to her, then rush down the hall to her office to let her know who was calling before she picked up the phone—we were both laughing. I remember feeling this incredible sense of relief. I thought,She knows things are going to be crazy around here and she's okay with that.
"Then Tom came in to whisk her away. I saw very little of her for the rest of the day. Jackie's crash course in publishing started on her first day. Tom took her on a tour of every department. On her second day, she attended a lengthy editorial meeting with other editors in senior trade. Immediately afterwards, she drafted a few query letters and began to make calls, as she put it, 'beating the bushes' for books. By the end of the week, she had drafted a long memo that contained more than twenty potential book projects she thought might be feasible, which was circulated to the other editors for their comments.
"Jackie caught on to the importance of query letters and she sent out quite a few. The one she sent to John Kenneth Galbraith immediately comes to mind. I can't recall what the letter said, but his response greatly amused her. She came into my cubicle, threw herself down on the chair, and said, laughing, 'He says that he wants to be wooed!' Actually I think she was delighted by his reply. She really didn't want special treatment. While he'd made it clear that she wasn't going to get any, at least not from him, he also managed to convey that he relished the idea of being wooed by her and felt that she would be marvelous at this particular aspect of her job. I think his response meant a lot to her. It was just what she needed to hear at that time."
Singleton also remembered photographer Peter Beard visiting the office on occasion to schmooze and discuss projects with Jackie. His bookThe End of the Gamehad been published by Viking's Studio Books in 1965. Singleton said of Beard, "He relished his own outlandishness, which meant that she could laugh with him, rather than at him. She was quite amused by the material he'd submitted for a book that detailed the plight of African elephants. She always referred to the project as '101 Dead Elephants,' which aptly described the subject matter of his photographs.…"
Singleton went on to describe Jackie's office routine. "To jump-start her apprenticeship, Jackie's plan was to be at her desk most mornings by 9:30, to read the circulating file of editors' correspondence and make some calls while she sipped coffee, then spend the rest of the day immersed in 'learning the ropes.' Putting this schedule into effect should have been easy. Unfortunately, to many people, both rabid fans and many others whose motives seemed less sentient, Jackie's entry into publishing had made her tantalizingly available. In order to clear a path for Jackie to get to her desk, Rich Barber usually had to go down to the lobby in the morning to dissuade people who were waiting there, because for one reason or another, they were determined to intercept her as she entered the building. Upstairs, Rich, myself, and Patti Rizzo, our stellar receptionist, combined forces to deal with those who actually made it to the sixteenth floor, where they camped out in the visitor's lounge and waited for her to emerge from the elevator.
"To give you some idea of the frenzied level of public interest that Jackie had to navigate through in order to begin her career in publishing, I will describe a portion of the events that occurred on a fairly typical morning: At about 10:00 A.M. Patti Rizzo called to summon me to the visitors' waiting area, where a person who wanted to see Jackie was causing a bit of a commotion. I went out to the lounge area and found there a very large gentleman who had managed to capture the attention of everyone else in the visitors' lounge by announcing that he had sticks of dynamite strapped to his chest. After an interesting discussion, I managed to persuade him to leave the manuscript he'd brought for Jackie with me, then made sure he wasn't actually wired with explosives before I began steering him towards one of the elevators.
"As I loaded him into one car, a familiar figure emerged from the other elevator. This gentleman, who always dressed in clerical garb, was mild-mannered but distinctly eerie. He had arrived several times before, always with the same request, which was to see Jackie before he died. After another very interesting discussion, I was able to turn him around and send him home for the day, and then quickly returned to my cubicle, where all of the phone lines were ringing.
"In rapid succession, I took calls from (1) Mike Wallace, who was determined to get Jackie to do a60 Minutesinterview and professed to be amazed I wasn't interested in helping him out; (2) a woman who called daily to ask to speak to Jackie and, when told that this wasn't possible, would ask instead for a detailed description of what she was wearing that day (no to that as well); (3) another woman who called regularly but was much easier to deal with, as she simply wanted Jackie to know that Clive Barnes, a noted theater critic at that time, had parked a van in front of her apartment building and was engaged in the process of stealing her furniture, one piece at a time."
Singleton continued, "Throughout the early weeks, a mild form of pandemonium attended Jackie's comings and goings. Most of it was created by the media and by fanatic but harmless eccentrics. Sometimes it was far more serious. One day, at Jackie's request, I cleared the pile of manuscripts from the chair in my cubicle to make room for an FBI agent, who spent the day with me. He was there to record the conversation if a second call had come from a man whose previous call had delivered an alarming, seemingly genuine threat. Fortunately, that second call never came and the first call was eventually seen as a hoax. Jackie wasn't a detached person, particularly when threats to her family were involved. Yet her demeanor during this period suggested that the only thing on her mind was to listen admiringly as Bryan Holme explained the preparation process for sending photographs and artwork to the printer.
"She had been well aware that her attempt to assume a full-time position as a book editor would incite a fresh wave of public interest and that many in the media would be eager to print juicy tidbits that suggested she was falling flat on her face. The persistence she showed during those initial turbulent months convinced me that her passion for books, which she spoke of so eloquently, was completely genuine. She wasn't simply looking for something to do, as some had speculated. She had sensed a vocation."
Barbara Burn was also impressed with how serious Jackie was during her apprenticeship. "She absolutely dug right in. She came to editorial meetings. Sometimes she laid out her books by lining up the pictures along the corridor and got down on her hands and knees to sort and organize them. Everybody got used to her pretty quickly, I must say. I think we were all a little shocked that she smoked. There was a little bit of resentment, not a lot, at the beginning because she was going to make two hundred dollars a week, which in those days was not insignificant. In fact, it was what several full-time employees were getting, so they felt this wasn't quite fair. After all, she had only had experience as a roving photographer/reporter. In any case, everybody got over that pretty quickly.…
"I remember one time the Irish writer J. P. Donleavey called and said he wanted to talk to Jackie about a book project: he wanted to interview her on the subject of fox hunting. She was very gracious, and as he left she escorted him back out to the elevators; then she turned to me and said, 'You know, he really just wanted to meet me.'
"I gave her manuscripts to read, and other editors did, too. She would write reports in her handwriting.… The first report she wrote for me was on a book on Baudelaire, which was in French and had been sent by Gallimard or another French publisher. She read it promptly and wrote a perfectly straightforward report, describing what was in it and why it wouldn't be suitable for an American audience—just what the doctor ordered. And she was always willing to be edited herself, with her forewords and stuff. She was fine."
As far as the avalanche of publicity and requests for interviews at the time she joined the company, Guinzburg told me, "Rather than do interviews, we decided we would just have one get-together, so we invited a few folks up to the Carlyle hotel and sat around a table. There was a woman reporter fromTheWashington Postand she more or less implied that hiring Jackie was just a public relations stunt. She said, 'She's got no previous experience as an editor,' and I said, 'No, she doesn't. But I wonder who you had lunch with today or who you're going to have dinner with tomorrow. I can promise you on any given week Mrs. Onassis will be having dinner with somebody or with people out of which will come some of the most interesting books of the next decade. How can you think otherwise?' "
In January 1976, Jackie threw a dinner party at her apartment, arranged with three round tables, each seating six guests, who included Peter and Cheray Duchin, Arthur and Alexandra Emmet Schlesinger, Roger and Emma Jeanne Mudd, Barbara Walters, and Candice Bergen. Jackie beamed that evening when her guests stood and toasted her for rejoining the workforce.
*   *   *
Jackie's first book,Remember the Ladies: Women in America, 1750–1815, confirmed Guinzburg's faith that she could deliver, at least with respect to acquisitions. The project combined her passions for art and history, and reflected her awareness of an emerging women's market. Jackie soon proved that she was able to seize upon opportunities that would never have materialized for other editors who lacked her social entrée. Referring toRemember the Ladies, Guinzburg suggested the project "wouldn't have come to Viking if she hadn't been involved."
For the nation's bicentennial, a landmark preservation committee in Plymouth, Massachusetts, was mounting an exhibition about the role of women in the eighteenth century. The committee included Mabel H. "Muffie" Brandon, who spearheaded the effort, and would later serve as social secretary in the Reagan White House. She was then the wife of Henry Brandon, Washington bureau chief of the SundayTimesof London (now Muffie Brandon Cabot, mother-in-law of George Stephanopoulos). Among the other members of the committee were society figures such as Joan Kennedy, Nancy Kissinger, Susan Mary Alsop, Barbara Howar, and Constance Mellon.
Brandon's idea was to publish a companion book for the exhibition. She toldTheNew York Times,"My appointment at Viking was with Tom Guinzburg, and when I walked into the meeting, I was quite surprised to see Jackie there—she'd only been with Viking for a few days. As I explained the idea, I saw her eyes begin to light up.… She caught the idea immediately, and for the next two hours, she asked the most penetrating questions. She wanted to know what proportion of the text would be devoted to black women—to working women, to Indian women.… Finally, Tom Guinzburg turned to her and said, 'What do you think?' She said, 'Oh, let's do it.' Later, she took me on a tour of Viking—showed me the art department, the marketing department, the paperback division. She was so proud, so professional. It's obvious she's made her peace, that she was born for this. As for what she's been through in the past—well, life is a river and one searches one's way. Now she's made the quantum leap."
Describing Jackie as "a blend of iron and silk," Brandon remembered reviewing various items with her for inclusion in the book from historical sources. "We discovered that there was a root that women chewed to induce abortions. Jackie said, 'Put that in the book—we want it to be factual, and also earthy.' " According to Brandon, when they came across a letter from Martha Washington describing Georgetown, where Jackie had lived, as 'a dirty hole,' the former First Lady broke into laughter. They discovered that Martha Washington had written, "I lead a dull life—a state prisoner." Jackie was again thoroughly amused.
The discoveries of the abortion-inducing root and the Martha Washington letter were actually made by the two credited authors of the book, originally entitledA Special Destiny.The author-researchers, Linda Grant De Pauw and Conover Hunt, were academic authorities on this period of American history. Looking back, they offered points of view that contrast with the account given by Brandon at the time.
De Pauw, of George Washington University, who was given the title "consultant," recalled how she first became involved. "It was the eighteenth of April in nineteen seventy-five. I was giving a paper at an historical conference in Boston—I think it was the Organization of American Historians. And it was on Revolutionary War women, which was the field that I had been researching. After the presentation, a woman approached me and said her name was Muffie Brandon. I had never known anybody named Muffie before, and I wasn't going to hold it against her. She was very keen on having something done at the Mercy Otis Warren house for the bicentennial. This is an historical site in Plymouth, Massachusetts, and Mercy Otis Warren certainly was a significant woman of the American Revolutionary War period.
"At that point I was aware that what was known about women in the American Revolution was basically Betsy Ross and Molly Pitcher. So I said to Muffie, 'Mercy Otis Warren was an important person, and her house is important; but I really have a larger vision that I would like to pursue.…' I told Muffie that if she'd like to do something that had a little more breadth to it, I would be delighted to do it. And that is how the whole thing started. I was very young; I was thirty-five. I knew nothing about the 'fancy ladies'—that was how Conover Hunt and I referred to them—Muffie and the Kennedys and so on; they were totally off my radar."
Conover Hunt is now deputy director of the Fort Monroe, Virginia, Federal Area Development Authority. She remembered, "Muffie Brandon knew everyone in the county—a big Democrat from Boston. Her father was a Chinese professor at Harvard and had houses in Plymouth, and so on. So she knew Ted, she knew Jackie, she knew Ted's wife, Joan, and just about everybody else.… What she asked Jackie to do was get a book published. I was hired as the curator for a national traveling exhibition, and Professor De Pauw was hired as the academic historian. And the two of us together wrote the book."
Hunt described the watershed moment of history that gave birth to the book and informed the collaboration. "Remember that was nineteen seventy-six—the ERA, the whole nine yards, Betty Ford, the conference in Houston to get it passed, and so on. So that was a movement that was gaining.… The wholeRemember the Ladiesproject came together in nine months, like birthing a baby. And then it traveled for two years. It was one of the official bicentennial exhibitions by the American Revolution Bicentennial Commission. And Muffie raised a million dollars. She got the most incredibly diverse group together. If they had all ever been in the same room, they would have killed each other. She had the Mount Vernon Ladies' Association, and the National Organization for Women, the Kennedy clan, and hard Right Republicans as sponsors—it was just a hoot. And it was a very big success.
"We had one editing session in New York.… We worked primarily with an editor named Barbara Burn, who did most of the work. And Jackie came in during this session. What we were doing was design layout, and we were all down on the floor. And in she comes. Much shorter than I thought she was. Of course you always think Jackie O should be six feet tall. That funny little voice, wonderful sense of humor, and very, very interested in what we were doing.… The designer was talking about having the captions flush left, ragged right. And Jackie said, 'Now walk me through what you mean by that, these various design editing terms.' She wanted to know about the type style that would be used, and so on."
Released after resounding victories by crusaders for civil rights and women's rights, it was a sign of the time that the book and exhibition celebrated not only colonial pioneer women but also enslaved women of color and Native Americans. While incorporating a minimum of text, the book achieved considerable impact through the artifacts it displayed, and extensive captioning of those objects.
Remember the Ladiesis an early example of how history was being transformed by advances in alternative scholarship, and Jackie was to play a leading role in this enlightened revisionism. The proliferation of slave narratives that were hardly known by earlier generations would become a recurrent theme in several later works that she undertook to develop and publish. She knew very well that history can only be accurate if all peoples are included. With lessons accumulated from her own past, Jackie was prepared to bring that kind of critical awareness into book after book, despite the entrenched resistance that she sometimes had to contend with along the way.


 
Copyright © 2011 by Greg Lawrence