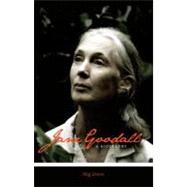 Summary
Recent polls identify Jane Goodall to be the most recognizable living scientist in the Western world. This is a fascinating story of a na´ve young woman who started her work without even a college degree and eventually developed into a dedicated scientist and a world-famous conservationist and humanitarian.
Author Biography
Meg Greene is an independent writer, researcher, and historian. With degrees in history and historic preservation, she also works as an architectural historian who documents and writes about historic buildings and landscapes
Table of Contents
Preface to the Paperback Edition
p. vii
Preface to the Hardcover Edition
p. ix
Introduction
p. xi
Timeline
p. xv
A Child of Destiny
p. 1
Africa Calls
p. 13
A Momentous Meeting
p. 23
The Hidden World of the Chimpanzee
p. 33
Gombe
p. 45
The Banana Club
p. 59
The Journey Deepens
p. 71
Expanding Horizons
p. 87
Money, Murder, and Mourning
p. 105
The Celebrity and the Crusader
p. 119
Bibliography
p. 137
Index
p. 141
Table of Contents provided by Ingram. All Rights Reserved.