Note: Supplemental materials are not guaranteed with Rental or Used book purchases.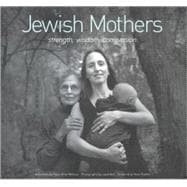 Summary
In this celebration of Jewish women and motherhood, stunning black and white duotones are paired with intimate profiles that evoke the lives of fifty Jewish mothers. Each extraordinary woman featured in this collection shares her powerful insights into the meaning of family, Judaism, love, and community with recollections and observations of Jewish life in America. From rabbis and scholars to activists and artists, these frank and powerful women discuss their views on how to raise a Jewish child in today's world and how they have come to understand their own mothers. A beautiful and inspiring commemoration of Jewish motherhood, Jewish Mothers is the perfect gift for any mother, grandmother, or mother-to-be.
Author Biography
Lloyd Wolf is an award-winning photographer from the Washington, DC area. His photographs have appeared in magazines including Vogue, Elle, People, Utne, and Ms., and in Facing The Wall , a book about the Vietnam Veteran's Memorial. His photographs are in

Paula Wolfson a writer and social worker in Washington DC. Her writing has appeared in International Jewish Monthly and New York Jewish Week.

Anne Roiphe is the author of many including Fruitful and 1185 Park Avenue: A Memoir.
Table of Contents
Foreword
8
(1)
Introduction
9
(5)

| | |
| --- | --- |
| | historian, expert on Jewish women |

14
(4)
18
(2)

| | |
| --- | --- |
| | mother of slain civil rights hero, psychologist |

20
(4)
24
(4)
28
(2)

| | |
| --- | --- |
| | teacher and Russian immigrant |

30
(2)

| | |
| --- | --- |
| | rebbetzin, domestic abuse counselor |

32
(4)
36
(2)

| | |
| --- | --- |
| | convert to Judaism, journalist |

38
(4)

| | |
| --- | --- |
| | Dr. Rachel Birtha Eitches |

| | |
| --- | --- |
| | winner of religious harassment lawsuit |

42
(4)
46
(2)
48
(2)
50
(2)
52
(2)

| | |
| --- | --- |
| | mother-daughter medical team |

54
(2)
56
(2)
58
(2)
60
(4)
64
(2)
66
(2)
68
(2)

| | |
| --- | --- |
| | marathon runner, philanthropist |

70
(2)
72
(2)
74
(4)
78
(4)

| | |
| --- | --- |
| | director of mikveh society, zionist |

82
(4)

| | |
| --- | --- |
| | recovering alcoholic, bal teshuvah |

86
(2)
88
(2)
90
(4)
94
(2)
96
(2)

| | |
| --- | --- |
| | mother of HIV-positive son |

98
(4)
102
(2)

| | |
| --- | --- |
| | Dr. Rosalyn Sussman Yalow |

104
(2)
106
(4)
110
(2)
112
(2)

| | |
| --- | --- |
| | saleswoman, breast-feeding activist |

114
(2)
116
(2)
118
(4)

| | |
| --- | --- |
| | Jewish educator, rebbetzin |

122
(2)

| | |
| --- | --- |
| | conflict resolution consultant |

124
(2)

| | |
| --- | --- |
| | expert on Jewish women's prayers |

126
(4)
130
(4)

| | |
| --- | --- |
| | psychotherapist, musician |

134
(2)

| | |
| --- | --- |
| | cookbook author and TV host |

136
(2)
138
(2)
140
(2)
142
(2)
Glossary
144